Dare to make unexpected moves
What drove the meteoric rise of David Droga's trailblazing agency Droga5? A series of daring, unexpected leaps — tactics he's now applying at mega-scale as head of Accenture Song. Conventional wisdom tells you to 'climb the ladder' of success linearly — as an individual or a company. But David's unexpected moves — leaning into creative partnerships and controversial programs — accelerated his path to scale. David tells us: "I'm more scared of repetition than I am of failure."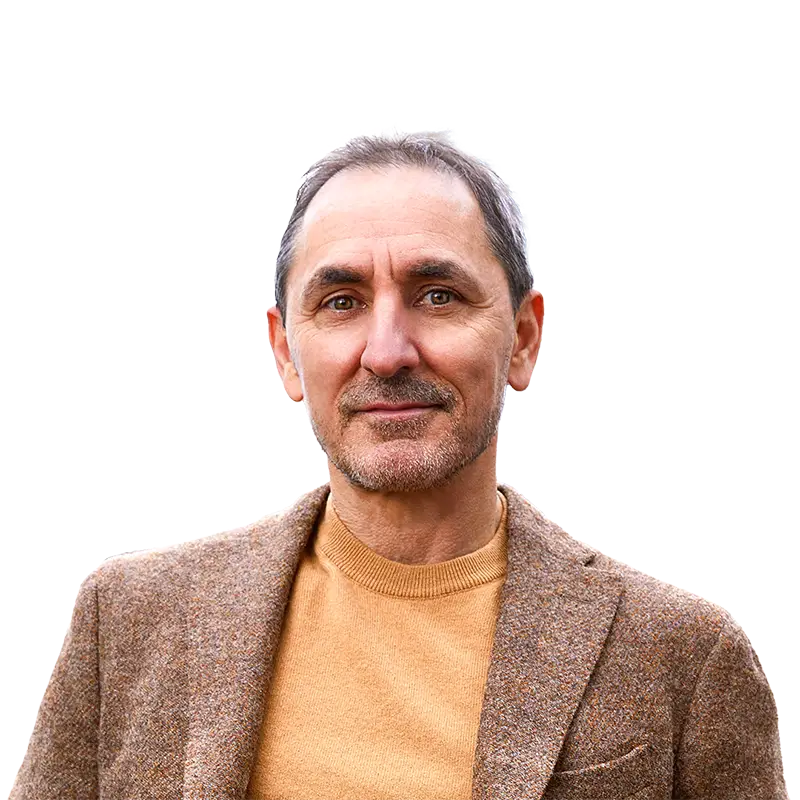 What drove the meteoric rise of David Droga's trailblazing agency Droga5? A series of daring, unexpected leaps — tactics he's now applying at mega-scale as head of Accenture Song. Conventional wisdom tells you to 'climb the ladder' of success linearly — as an individual or a company. But David's unexpected moves — leaning into creative partnerships and controversial programs — accelerated his path to scale. David tells us: "I'm more scared of repetition than I am of failure."
Transcript
Transcript:
Dare to make unexpected moves
TERRY BRENNAN: When I was a kid, the jungle gym was my favorite thing. We used to play jungle gym tag in the morning, and my nickname was "Monkey" because I would just swing, and I could catch most anybody. 
When I go through, the city is my favorite because when you're downtown in any city, there's just so many things to jump on, climb on, swing on. And that's all I think about is: Could I go there or could I go there? Could I get over there?
REID HOFFMAN: That's Terry Brennan. He's a summer camp director and coach at the Philadelphia School of Circus Arts. He also practices and teaches parkour, the sport where practitioners try to reach Point A to Point B — often in urban environments — using creative moves with their body. It's called "running a line."
BRENNAN: The big ones are dash. We talk about vaulting a lot. There's muscle-ups, there's pull-ups, there's laches, there's fulls, which is where you swing around a bar completely extended 360 degrees. There's leaps, bounds, catches because on the bars there's a lot of leaping and catching, you know, a Kong vault, a dash vault, a tunnel flip. It's where you're running forward, and you jump, and you rotate sideways while continuing to travel forward.
HOFFMAN: Terry, as a practitioner of parkour, sees the urban landscape differently than your average city dweller. He doesn't just walk on a sidewalk — he's looking for spots to climb, vault, and swing to. He's looking for creative, fun ways to run a line.
BRENNAN: I was diving over a giant concrete ledge that was adjacent to the stairs. So I would run, and then I'd get there. I'm like, no, no, because suddenly a 10-foot drop onto more concrete is just staring at you, and you're jumping.
HOFFMAN: With around 20 to 30 people watching, in the afternoon sun, Terry bounced out his nerves and imagined what it would be like to take the jump and safely land.  
BRENNAN: And so a lot of that day was managing my own fear about it because there wasn't a mat at the bottom. And I knew I'd be fine, but there is the chance that I wouldn't be.
HOFFMAN: Then, Terry made the jump.
BRENNAN: So I jumped feet first. And then I landed, and I did what we call a slapout, which means that I land, you bend your knees because you have a ton of downward force, and then you put your hands down to pad the landing. But I did land, touch the ground, pop up, and run off even though people definitely saw it, and they're like, whoa. They were like, "that guy jumped over that railing, and he is gone." So I'm sure that it was quite the spectacle to witness, but in some cases, it really is about being like, can I? And then doing it being like, yes.
HOFFMAN: Parkour isn't just about looking cool, but finding another way to use the environment and getting from Point A to Point B.
In business, we often need to push ourselves in a new, or even unusual, direction to reach a goal. We not only need a long list of moves to reach that goal, but also the courage to make those moves. You need to jump, roll, pull up, hop, vault, and leap your way into new scale opportunities. 
That's why I believe you should swing through the jungle gym rather than climb the ladder. Instead of just climbing up towards scaling opportunities, you should jump in unexpected directions. 
[THEME MUSIC]
Jump in unexpected directions
HOFFMAN: I'm Reid Hoffman, co-founder of LinkedIn, partner at Greylock, and your host. And I believe you should swing through the jungle gym rather than climb the ladder. Instead of just climbing up towards scaling opportunities, you should jump in unexpected directions. 
It's an old saying that you must climb the ladder to succeed. You move upwards, one step at a time. By building on what you've achieved and making incremental progress, each rung takes you higher. It's a tried-and-true, repeatable process, one step after another, on the career path and the road to growing a company. 
But actually, a single trajectory approach is rarely enough to propel you to scale. Instead, you need to jump from the ladder at key moments and move like you're on a jungle gym. You need to swing, leap, stretch, careen, and hop in all directions. When everyone is zigging, you zag.
Jungle gym climbers use networks, and adjust to competition, markets, and the evolving tools of their trade. They make unusual, but successful alignments. 
While a ladder only goes up (or down), a jungle gym offers multiple directions and possibilities.
A jungle gym also gives its climber a sense of play. And the more room for creativity within your business, the better. Ask any kid: what's more fun? A ladder or a jungle gym? 
What you need to keep in mind, though, when you leave the ladder, you need to be intentional with your leaps throughout the jungle gym. The more direction and purpose, the better. 
I wanted to talk to David Droga about this because as founder of the creative advertising firm Droga5, and now as CEO and creative chairman of Accenture Song, the world's largest digital marketing agency with $16 billion in annual revenue, David has made multiple jungle gym moves to scale. 
In 2006, David founded Droga5 after building a distinctive reputation for creativity at advertising icons like Saatchi & Saatchi. If you haven't heard of Droga5, you have likely seen their creations: Super Bowl commercials, campaigns with big names such as rapper Jay-Z and President Barack Obama. In 2019, Accenture acquired Droga5, where it kept its name and continued to grow with offices around the world. Worldwide, Droga5 won Agency of the Year more than 25 times. And in 2020 was named Adweek's Agency of the Decade.
David built Droga5 on strategic jungle gym moves aligning narrative storytelling and creativity with the business world, and taking that alignment to scale. David's knack for creativity didn't come out of some program or special training, or even from a big, creatives-filled city. Rather it came from the environment he grew up in.
David Droga on growing up in the Snowy Mountains
DAVID DROGA: I grew up about as far away from here where I am now in New York from a geography point of view and also from an industry point of view as you could. 
HOFFMAN: David grew up inside Australia's Kosciuszko National Park. 
DROGA: It was one of the tiny parts of Australia that has mountains with snow. Everyone thinks of Australia with beaches and sharks and crocodiles. Well, there's also a tiny part with snow and wombats and koalas called the Snowy Mountains.
One of the great things about it was also the contradiction of this mountain. In winter it was a ski resort. We were kings of the hill as such and would spend our days skiing and out and about. Then in summer, it would transfer into this moonscape where there were only two families who lived there. It sounds horrendous and desolate, but it was actually magical.
HOFFMAN: In his childhood landscape, David found magic and ways to power his imagination. While David's business-minded father ran the ski resort, his mother was an artist and a poet, and surrounded David and his six siblings with books and art.
DROGA: I had a built-in group of friends as such and playmates, and it was so remote that apart from being outside all the time, you kind of had to use your imagination very much as a toy chest.
HOFFMAN: Instead of accepting his circumstances, he leapt into what such a place did give him. Through play, the outdoors, and the books and art, he cultivated his own source of entertainment. He developed a set of skills and mindset that would prepare him to make jungle gym moves.
DROGA: I didn't know that I was growing up to have a creative career, but I found that relying on my imagination and playing with the world around me, that opened up a whole new category of opportunity for me.
HOFFMAN: At first David thought he might become a writer or a journalist — those were what he knew for creative careers.
DROGA: Advertising wasn't even something that I registered particularly at that time when I was growing up in the mountains because I didn't really watch TV either.
HOFFMAN: But advertising connected the business experience of his father and the creative influence of his mother. Once David was introduced to advertising, he leapt at it.
DROGA: It was very much, "Oh, here, you get paid to solve people's problems, and you get to write things all the time as a creative, and you get a new challenge every day or every week or every month," and I thought, "Well, that sounds fun to be able to try and make something creative with a business angle to it."
Then I bit the bullet and thought, "I applied for a job in the mailroom of an advertising agency." 
HOFFMAN: For many, the ladder of going to college is a great choice, but for David, the mailroom offered a peek into the jungle gym world of advertising.
As part of his job, David could pop into meetings all over the agency. He saw other creatives work, and had informal chats. He was absorbing knowledge and experience of the inner workings of an ad agency at a higher concentration than he would have had at an institution.
The mailroom job itself wasn't a jungle gym, but it's how David approached the job, and David's mailroom acrobatics paid off. 
After securing top honors at a night school for the advertising industry, he landed a job as a junior writer at a local agency. He had a clear career ladder ahead of him. But soon he felt the call.
How David Droga got his start in advertising
DROGA: A new agency started in Australia, but it was run by some young successful people, they were mid-20s, and they asked me to be their first employee. Now, this is a time where they didn't have any clients, they didn't even have any furniture in the office, they didn't really seem to have a business plan, they actually offered me half of my salary of what I was earning as a junior writer anyway, which was next to nothing, and I figured, "I'm just making enough to get by. Having less than that doesn't make a difference anyway."
And I still remember going, saying to my father. He just couldn't figure it out. He's like, "Why would you leave a job for less money, less certainty or that thing?" I said, "Because it's about, I want to believe in something. They have a mission, and I believe in the quality of the work, and they want to make…" I did that, and it was one of the best decisions I've ever made, because that had such a massive influence for the speed of my career and the learning and who I was surrounded with.
HOFFMAN: David saw something in the new opportunity. OMON, the new start-up, aligned with David's aspirations and desires for what he wanted to make. So he hopped off the ladder. This move would set the tone for David's entire career. He flourished and began to make his name as a writer for advertising.
After OMON, David made more dashing jumps. He took a job in Singapore to lead the local agency of Saatchi & Saatchi. Later, at the age of 29, he became Executive Creative Director at Saatchi & Saatchi in London. In 2000, Saatchi & Saatchi was bought by a French company called Publicis. David was soon offered the position at Publicis, "Worldwide Chief Creative Officer." The position took him to New York City. 
As David settled into the role, however, he began to feel like a collected trophy when he wanted to be an active athlete. Instead of being at the top of the ladder, he wanted to be out there, playing.  
DROGA: Repetition is something that scares me. I'm more scared of repetition than I am of failure. I felt from when I was in Asia or when I was in the UK, that if I could see, no matter how much success we'd had, if I could see that I was going to be having the same conversations next year, and then I'm not growing as a person, and I'm not contributing, and I'm not challenging myself. That's why I'd always put myself in a situation to try and up the ante on myself.
I'm going to quit the job that no one would quit. I had the global job, that big salary, corner office, all the perks and accouterments that people aspire to, think they want, and I'm like, "That doesn't make me happy."
HOFFMAN: The thing about people who climb a jungle gym is that they tend to get bored if they stay in one spot for too long. They need to reach for new sections, test themselves, and welcome unusual climbing challenges. For David, he was ready to take the next leap.
The origin story of Droga5
DROGA: The only way to really do the work that I genuinely believe needs to happen in our industry is to do it from the start where you're not inheriting that I can build something and build it with the people I want, with the clients I want, with the work I want.
I know what I'm really good at, which is I think that I'm really good at, is creative from a business perspective from a marketing advertising building brand.
That's why I said, "I'm going to start this agency called Droga5." 
HOFFMAN: David took the entrepreneurial leap and started his own company. He did this in part because he missed the joy of creating every day, sitting across the table, and solving a problem. To get back to the jungle gym, and off the ladder in his corner office, he realized he was already in the advertising capital of the world: New York City. Droga5 functioned as a way to get back into the jungle gym. But first he needed to create his own ropes course to reach the clients and opportunities he needed to get started. 
He was stepping into a completely different environment. 
DROGA: The first real space that we rented was down on Broadway by Canal Street, and it was a really long, skinny top floor with completely slanted floors. So any furniture, if you had a chair with wheels on it, you would literally roll down, so you always had to sort of hold your desk a little bit when you were writing or working or hook your leg around it.
Everything was pinned up on the walls, it was makeshift but spectacular, and clients probably felt uncomfortable getting up in a lift that was the size of a coffin. It was just wonderful as a set. It was a collection of oddballs and odd furniture.
HOFFMAN: Despite their office situation, David felt at home — and felt that this was the type of place where he could build his company. The furniture and scrappiness of the place matched the culture David wanted to build. 
Droga5's first major campaign with Marc Eckō
DROGA: Everything felt sort of "run-and-gun it," they had a choice to go to some very big corporate headquarters in Madison Avenue, literally, where good furniture doesn't make for good work or good culture. And they would come down, not that it was dangerous down where we were, but it definitely felt like it was out of their comfort zone.
I look back on those offices, and as crappy as they were, they're some of the fondest memories I have, because every single thing about it was distinctive and important because it was ours. And there was just an energy in that floor from the slanted floors, from the furniture, nothing matching, but there was a bravado and a confidence of us presenting what we presented because we weren't trying to think about, "Well, we have to pay this big lease and pay for big furniture." We're like, "We're just going to present what we've got. We're going to present what we believe," and I think clients liked that. 
HOFFMAN: It was one client, fashion designer and graffiti artist, Marc Eckō, and the campaign Droga5 created for his brand, Eckō Unltd, that would impress every advertiser who had dared to get on the jungle gym. It would become a cultural phenomenon. 
Because Marc was a graffiti artist, and part of his brand was being creative and gritty, David and his team thought of an ultimate location to leave a graffiti tag. What if we could tag one of the most famous planes in the world?
DROGA: We drove past Andrews Air Force Base with cameras hanging out windows to get real security people. It was so ridiculous, and people were saying to me, "You're insane to do this, and if you do this you could be breaking the Patriot Act." I was like, "I don't care."
[AD BREAK]
HOFFMAN: We're back with David Droga of Droga5 and Accenture Song on swinging through the jungle gym rather than climbing the ladder. If you're enjoying this episode, tell your friends to listen too. Just tap the Share button on your podcast app. And to hear my complete interview with David, become a Masters of Scale member at Mastersofscale.com/membership. Or, you can join through the Masters of Scale Courses app, found in the app store of your choice. 
There are so many moments we didn't have time for in this episode, more on David's leadership style and nurturing creatives. And you'll hear about the funny origin of where the name "Droga5" came from. Plus, hear how David created an ad campaign for President Barack Obama. You won't want to miss it. 
Before the break, David told us why after he'd had a successful advertising career, he decided to start his own independent agency, Droga5. For one of their early clients, Marc Eckō, David got an idea that required getting footage of where Air Force One is stationed. 
DROGA: We drove past Andrews Air Force Base with cameras hanging out windows to get real security people. It was so ridiculous, and people were saying to me, "You're insane to do this, and if you do this you could be breaking the Patriot Act." I was like, "I don't care."
HOFFMAN: What led David to do something that might break the Patriot Act? It was rooted in the vision of what David wanted Droga5 to be as an advertising agency. 
DROGA: Part of my M.O. — what I wanted to build was — I wanted to do work where I thought, "Okay, it's not going to rely on just bombarding people into submission where we spend money or interrupt them. I wanted to create work that has a gravitational pull to whatever the intended audience is." We create stuff that's memorable, that's effective, that touches people or connects with people and lots of different categories, and they all do it in different ways.
HOFFMAN: For Droga5's first major campaign, they would put these theories to the test. 
DROGA: For Marc Eckō, he was a fashion label based out of New York City, and it was a very streetwear type of clothing. 
His backstory and background is that he started as a graffiti artist, so I just read some books about graffiti and trying to understand the culture and the dynamics of it.
Every so often there's beautiful graffiti where you'll see under bridges or murals or things that are really hard to get, and they're called heavenly sights. And I thought, "Wouldn't it be interesting to create the ultimate heavenly sight for him? What if I could create something that I knew the news channels would use to try and get viewers to their channel?"
HOFFMAN: David didn't want to make an ad. He wanted to create attention and curiosity, which in this case involved finding the "ultimate heavenly sight." He wanted that piece of creativity to be something for a specific audience. 
That meant he needed to make an intentional choice before he jumped across the jungle gym.
He wanted to paint graffiti on Air Force One. 
Although not the real one, they needed a plane to look like Air Force One, and they needed the video to look like it was really at Andrews Air Force Base.
DROGA: We rent a 747, which is not an easy task. We painted it.
HOFFMAN: Along with a "set" that included a rented and painted 747, David and his team drove past Andrews Air Force Base. They got shots of the highway sign at night, the real fence perimeter. Later, they mixed real footage with their staged footage. 
DROGA: We did this whole video, we made it a little long-winded because that's what someone would've done if they'd actually filmed it.
HOFFMAN: Droga5 hired an actor to hop a fence and stage a tagging (spray painting Eckō's brand) of the — not real — Air Force One. They edited the video to make it look like a group of graffiti artists filmed the stunt. Then, Droga5 released the video online and to news agencies. The final product looked nothing like a formulaic, traditional promotion. 
DROGA: It just struck at the right time. When we put it out, we just launched it very stealth-wise on some news channels and some graffiti sites, and it just boomed. It just went so big so quickly because everyone wanted to believe it's real. Even friends were sending me notes about it thinking that it was real saying, "Have you seen this video?" That's when I think, "This is really interesting. Exciting, dangerous but exciting." Then, when the Pentagon had to come out on CNN three times and deny it, I'm like, "Okay, we're onto something."
HOFFMAN: The video of course was a hoax. It was also a different kind of advertisement and strategic branding than anyone had seen before. 
DROGA: It just struck a nerve where everyone was, it showed that advertising could be very cultural, it could be irreverent. Lots of other brands came to me afterwards saying, "Can you do that?" I'm like, "No, because that's a different audience, a different culture, a different moment in time. We'll do something appropriate for you, but it's not going to be a viral stunt where it has to be a hoax."
HOFFMAN: Droga5 was not going to pump out assembly lines of hoax videos — even with the Air Force One success. David wasn't going to follow the typical formula, or ladder progression of a branding and advertising strategy. Every client would get something that was appropriate for them and their audience. Some of Droga5's other clients would include Microsoft, Kraft Foods, and President Barack Obama. 
The Honeyshed experiment
Of course, a jungle gym approach doesn't mean you succeed every time you leap for a new area. Soon after the Marc Eckō project, and the establishment of Droga5 as a force to reckon with, David tried to create a novel platform, Honeyshed. 
DROGA: I thought that I was going to rewire the entire ad industry, which was a thing called Honeyshed, which we called at the time was QVC meets MTV, and the idea was we create an online show where what is now influencers basically sell products to you, and they don't hide the fact it's advertising, you have experts telling you about it. You have sneakerheads telling you about sneakers. You have girls of all different shapes and sizes telling you what jeans fit. You have gamers talking about gaming. We had a studio in LA, and I got backing for it and all this stuff, and I still, to this day, it was one of the best ideas I ever had, but it was also one of the most flawed executions of anything I did, because I built a terrible platform. I realized I'd started something that wasn't going to work.
HOFFMAN: When playing in a jungle gym, you sometimes fall when you take a sideways leap. It hurts with lost revenue, time, and resources. 
For David, Honeyshed was an experiment that ended in a fall. The trick is when you fall from an experimental move, to learn from it, dust yourself off, and get back to traversing.
In general, creativity is about taking risks — being willing to leave the ladder. Most high-impact creations depend on this willingness to test a new idea or break the formula. 
Gail Anderson on designing a special U.S. postal stamp
For one example of how an unexpected leap can unlock opportunity, we talked with educator, writer, and designer Gail Anderson. She was asked to help design a special U.S. postal stamp commemorating the Emancipation Proclamation by one of the postal Art Directors.
GAIL ANDERSON: The first thing he said was, "You can't use words on a stamp." I was like, "Oh okay, what do I do?" I'm not an illustrator; I'm a designer, and I design. I like to design with words, and here I am being offered the chance to design the stamp that's commemorating the 150th anniversary of the signing of the Emancipation Proclamation. And this is a big deal, and all I can think of words that would be, that's the way to go and I needed to get that out of my system.
HOFFMAN: With the directive to "not use words," on the stamp, Gail quickly did a stamp with words — with little hope the committee would change their minds. 
ANDERSON: The one that I was really excited about was with the words, "Henceforward shall be free." And even though the directive was not to use words, that's the one they went for instantly. And so I was glad I got it out of my system. And I went down to Nashville, and we used big old wood type that I hope is powerful and that feels like a tiny poster, and it's got the year 1863 and Abraham Lincoln: "Henceforward shall be free." So it's bold and simple and free is the important word.
HOFFMAN: Despite breaking the rules, the stamp would sell out the 40 million first run, then another 10 million more, which was rare for a limited-edition printed stamp. 
ANDERSON: Sort of a dream come true that was just wonderful and is still the biggest and smallest thing I've ever done.
HOFFMAN: Gail followed her instinct and left the ladder of what she was "supposed to do" and made her own jungle gym decision. It's a lesson not only artists and creators can learn, but also companies. 
When it came to working with clients, Droga5 was at home in their jungle gym. They leapt, swung, and vaulted high and above the competition, towering over the playground. Droga5's work collected the Agency of the Year award multiple times and later won Adweek's Agency of the Decade.
Nearly every year, Droga5 increased their revenue and staff, and more importantly they influenced not only the advertising industry, but also many cultural moments. 
DROGA: It wasn't a one-note agency. I used to always say every client walked in the door because of our work, because of our creative work, but they hired us because of our strategic thinking.
Inside Droga5's campaigns with Jay-Z and The New York Times
HOFFMAN: Take the strategy with hip-hop legend Jay-Z for the launch of his autobiography. Instead of just promoting his book with traditional ads, they made a jungle gym move: Droga5 pasted words from the book in locations linked and inspired by the text. From the pool bottom at a Miami hotel to the hood of a Cadillac, Droga5 posted the pages across cities around the world. To find these, you'd search for these locations in a type of scavenger hunt using the Bing search engine, which also engaged another one of Droga5's clients, Microsoft.  
DROGA: We thought, "What's the ultimate way, Jay-Z way to launch a book?", which is actually, I'm going to give you all the content anyway and you are still going to buy the book. 
HOFFMAN: Besides hip-hop moguls, Droga5 also worked with institutions during inflection points in the market and culture. At a time when its journalism was under fire, and given the label "fake news," The New York Times hired Droga5 to help resist this label. David also wanted to convince consumers that news was worth paying for, especially when there was free content elsewhere online. 
DROGA: We just wanted people to understand and really appreciate what goes into real news. It wasn't just for the New York Times; it was for real journalism as well. Our thing was: the truth is worth it was the banner that we built this entire campaign around. The journalists out there and photographers, and all that, who are really risking their lives and limbs and all that to get to the truth and understand the story of that. People started to end up buying t-shirts with our manifestos we'd written on their behalf, which is, when you realize it's more than just about selling newspapers, it's standing up for something.
HOFFMAN: It wasn't just his approach to clients where David practiced leaving the ladder for the jungle gym. David took this same approach when it came to Droga5's business. He wanted to do something different than most agencies, whose aspiration was to become part of one of the mega-holding companies that dominated the ad industry.
DROGA: I had no interest in us selling to a holding company. Since almost day one, all the holding companies had tried to buy us, and I was like, "I have no interest, because all you want to do is collect us, roll us up, and just mitigate anything interesting about us."
Why Droga5 partnered with William Morris Endeavor
HOFFMAN: Then, Ari Emanuel, Hollywood power player and co-CEO of William Morris Endeavor (WME), one of the entertainment world's leading talent agencies, asked David to dinner to see about a potential deal with Droga5. 
DROGA: I remember thinking, "I had no interest in doing a deal. I didn't even know what he was going to propose.
HOFFMAN: Droga5 represented clients like Coca-Cola, Prudential, and Spotify. WME represented talent like Lady Gaga and Oprah Winfrey. Ari was interested in combining the resources between the advertising and entertainment world.
DROGA: He's so transparently ambitious and bullish that I found that actually really refreshing. From the gate, he's like, "We need to buy you," da da da. I was like, "I don't want to sell," da da da. But just the idea of potentially doing a collaboration or a partnership I thought was really interesting, because Hollywood does touch, all that we rub up against, pretend to touch but don't really, television, theater, books, literature, music, all that stuff. The more I thought about it, I thought actually, we could blow our whole industry up and change the dimension of it. And we could change the face of what advertising is.
HOFFMAN: Instead of making a conventional move of selling to a larger holding company, David made the jungle gym move and partnered with an agency that had similar creative goals. WME were similar jungle gymnasts, and David thought they could conquer the playground better together. In 2013, David sold minority shares to William Morris Endeavor, and started a collaboration of content deals between the two businesses.
DROGA: It freaked our industry out because they were like, "Droga5 is prepared to make alliances that we would never consider," and it suddenly opened up the potential of what could happen because I still really believe in creativity being asserted in different places. Why should we sit in a shrinking iceberg when we can make camps in other places?
HOFFMAN: As David says, you don't know when markets or environments might shrink or shift. You have to be willing to jump sideways, or vault into the unknown. This is not just for career changes, but it is also for companies looking for partnerships, mergers, or acquisitions. For David and Ari, this partnership paid off.
DROGA: I know for a fact we're one of the best deals he's ever done. I'd get that once a week rolling phone call that he does. I'd been always like, "Nope, don't need anything from you, don't need a talk." They're a phenomenal company and do phenomenal things. I made him hundreds and hundreds of millions of dollars, so he should definitely send me a Hanukkah card.
HOFFMAN: A few years into the partnership, after WME became Endeavor, Ari and his co-CEO, Patrick Whitesell, tried to buy the rest of Droga5. David wasn't certain this was the right direction.
DROGA: It was a strong partnership, and we both brought our superpowers to the table. We just sort of did different things, and I think that they were looking to go public, and even though they had a minority stake in us, they had an option to buy the rest of us if they went public in a certain amount of time, which they didn't do.
But I guess I realized, as the partnership went on, that there is more divide between our industries than we work at different paces and different speeds, not better or worse. And I felt like there was too much short term, which is the nature of entertainment a lot. And I think a lot of our clients wanted a little bit more long-term strategy.
HOFFMAN: Around the same time, Droga5 experienced its first round of layoffs, a relatively small setback after constant steady growth throughout the agency's history, but it was a gut check for David. David also wanted to create something more secure as he thought about Droga5's next phase of growth.
DROGA: And that's why we've probably started looking at different partnerships and collaborations. And Ari and Patrick have made some great acquisitions. But it wasn't as consistent, and there wasn't as much clarity for us, how we fit in there.
I could understand on paper and academically the role we would play, but I didn't feel that we would have the agency as such to be pushing and leading where we would go, and I say this half in jest and half in seriousness. Ari could have turned around tomorrow and said, "We're going to invest in buying a casino. And I needed a little bit more alignment for us."
HOFFMAN: Despite the enormous success with WME, now Endeavor, and opening up the possibilities of the industry, David knew that there were limits. He needed to hop to a new part of the jungle gym — or create his own. To do that, he looked towards a partnership that started a few years prior. 
David Droga on Accenture's acquisition of Droga5
DROGA: Accenture asked if we would pitch with them, Accenture Interactive. I had to be schooled on what Accenture Interactive was and what they did and all that stuff. That was a digital marketing consumer company. We decided to do a joint pitch together for the census and, again, no interest in this is going to lead to a deal, we were just going to pitch for this $500 million account together.
And I remember being actually blown away because it suddenly made me realize, they could actually roll things out, and they could capture things and amplify things from a technology point of view, from a systems thing and from a data perspective that I had never seen before.
Then, they proposed buying us. Again, I was like, "No, that's great. I love working with you, but we are fiercely independent." It took two or three years for us to do the deal because we weren't in a rush to do it. They weren't in a rush to do it, which makes for a great partnership because there isn't a vulnerable partner in that thing. Again, I just thought it's where the industry is going. Every company is a digital company now. They have absolute, as I said, the deepest, most robust digital capabilities of anybody.
HOFFMAN: In Accenture, David saw something he couldn't resist: a company that could amplify Droga5's capabilities from a technology and data perspective. This was David finding an entirely new, more robust, and complex jungle gym. 
David sold Droga5 to Accenture in 2019. They kept their name and independence under Accenture Interactive. David stayed on as Droga5's Creative Chairman. 
How David Droga became the CEO of Accenture Interactice
David made a strategic move to reposition his agency for a new environment. He saw a future coming, and with Accenture, a potential partner that had a foundation for growth for years to come. It became a way for Droga5 to evolve into that future. Remember, jungle gym moves are often ways of adapting to changing environments in markets, technology and tools.
DROGA: So, we'd moved a lot of people up into higher positions within Droga5, some had moved into Accenture as well. So, I felt like I was sort of laying this marriage together very well. And I'd convinced myself that I was going to retire, to be honest.
I thought that I'd ticked every single box that I wanted to tick in the industry that I was in. So that, in my head, I'd sort of felt like I'd been honorable to all parties in this one, to the people at Droga5, to Accenture with the deal.
HOFFMAN: Thinking he would end his jungle gym days and retire, David then went to lunch with Accenture's CEO, Julie Sweet. 
DROGA: So when I went to lunch with Julie, she's a force. I mean, she's intense, super intelligent. I've never met anyone who worked harder than Julie, and all I was thinking was, oh, maybe they're worried that my earn out is over and all this sort of stuff, that they're going to try and lock me down. And I remember leaving, and my wife's like, "Don't you agree to anything." I'm like, "No, it's just going to be a lovely lunch. I like Julie, and we're going to have some great chat, and I'll sort of give us some honest point of view about what I think is going…" And it was that classic thing, two minutes of genuine small talk, and then she cut straight to the chase. Again, I like people who cut to the chase. And she just said, "Look, I really want you to be the CEO of what was called Accenture Interactive." And I was like, "What?"
HOFFMAN: Instead of David's retiring, Accenture wanted to bring David into a higher leadership role as CEO of Accenture Interactive, which oversaw multiple ad agencies and marketing firms, thousands of employees, had billions of dollars of revenue and worked in countries across the globe. 
DROGA: And I honestly was sort of taken aback. So, I spent maybe two minutes trying to talk her out of that because I kept on thinking, does she really know what it means to put a creative person in that chair? I kept on saying, "I'm not the operations person that you think I am. I'm not that linear thinker. I'm not…" But I was thinking, well, you know what? She's right, a creative person has to occupy that chair.
It is weird to sort of suddenly … I climbed the corporate ladder, or jungle gym, escaped that to open my own playgrounds, which achieved more than I deserve. And then I threw myself back into even more corporate thing. It's just kind of a strange, funny thing.
HOFFMAN: Despite it feeling strange, for David, the Accenture job was a place where he could oversee more playgrounds. He had more slides, ropes, alleys, bars, and poles to swing from than he ever had before. This was the ultimate jungle gym and he was in the ultimate position to help build something new.
DROGA: I think I really wanted to flee the corporate world as a creative when I was growing up, because creatives never had the influence or power that I thought they deserved within their industry. They were sort of collected mascots or wrapping paper. They were never making decisions that would actually affect the business. They were sort of brought in as to be a celebrated star and told to do great things, but they could never actually influence and architect the business.
So, this was a chance, I think, where I was like, okay, there's some delicious irony in actually as a creative person being inserted right to the top.
HOFFMAN: David of course knew he was one CEO inside of a massive public company with many CEOs. But this was his chance to use his creative mindset and experience to build something original. 
Soon, he would rename this massive jungle gym: In 2021 he rebranded Accenture Interactive to Accenture Song.
DROGA: So instead of Droga5 being the tail that wagged the dog, why not walk the whole dog? You know what I mean? And it just struck me that I should definitely try it.
HOFFMAN: Taking a leap isn't just its own reward — although it can be a rush that puts a smile on your face. Rather, by jumping through the jungle gym, you can unlock new routes to scale and discover the unexpected opportunities that are closer to your grasp than you imagine.
I'm Reid Hoffman, thanks for listening.