While many retail businesses have struggled to cope with a wave of disruptions — from pandemic to supply chains to inflation — Lululemon has continued to scale, even when retail sales elsewhere dipped. CEO Calvin McDonald shares how mid-term strategic planning, control over inventory, and a culture that climbs mountains together has fueled agility and versatility. When it comes to brand-building and community building, Calvin says, it's critical to lean into listening, so you can amplify what makes your business truly distinctive.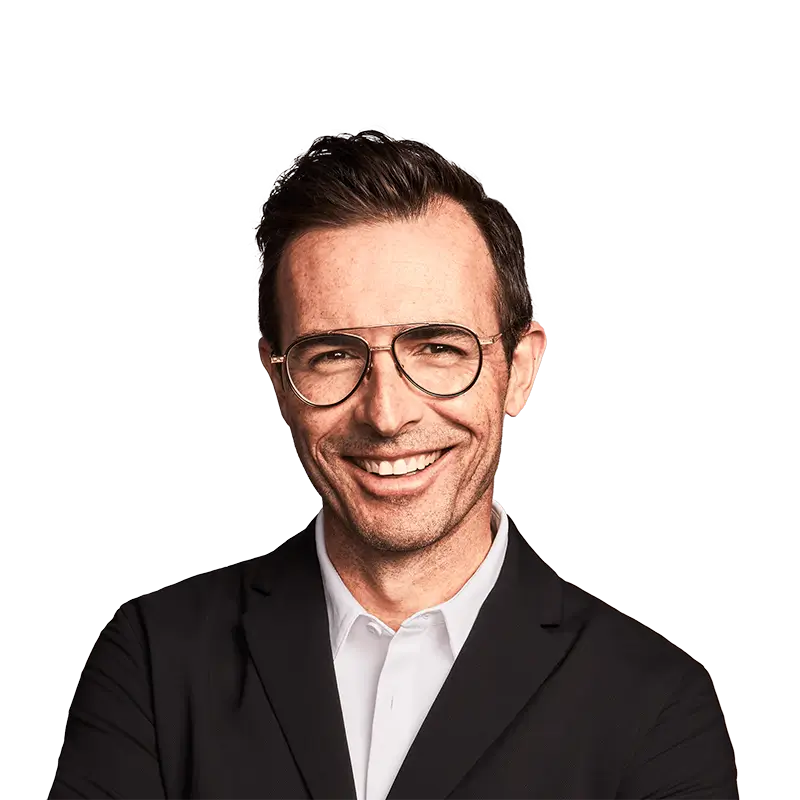 While many retail businesses have struggled to cope with a wave of disruptions — from pandemic to supply chains to inflation — Lululemon has continued to scale, even when retail sales elsewhere dipped. CEO Calvin McDonald shares how mid-term strategic planning, control over inventory, and a culture that climbs mountains together has fueled agility and versatility. When it comes to brand-building and community building, Calvin says, it's critical to lean into listening, so you can amplify what makes your business truly distinctive.
Transcript
Transcript:
Stay versatile
CALVIN MCDONALD: We have fun together, but we equally get out and move together. And on every trip I'm sweating with the local team. When I was in Seoul, I think I was only less than a day off of the plane and we were hiking up Nam Mountain in the center of Seoul with 30 of the local store managers. 
I learn from them. A lot of what we do around the organization comes from ideas inside.
People wanted to put brands into pandemic winners or pandemic loser buckets, and I'd always try to point to a third, which is, you could be both. I get that that is a unique position, but this is a unique brand with some unique differentiators.
BOB SAFIAN: That's Calvin McDonald, CEO of Lululemon Athletica, the specialty athletic apparel company that has grown into a $40 billion direct to consumer retail brand.
I'm Bob Safian, former editor of Fast Company, founder of the Flux Group and host of Masters of Scale: Rapid Response. I wanted to talk to Calvin because while other retailers have seen sales decline recently, Lululemon continues to push ahead and grow — defying the fate of many other so-called "pandemic" businesses. 
Calvin is the former head of beauty retailer Sephora, and a current board member at Disney,
but as a fitness fiend, he describes Lululemon as his dream job. How he's kept the company pumping in a range of challenging environments is a story of brand building, agility, and embracing the new.
[THEME MUSIC]
SAFIAN: I'm Bob Safian. I'm here with Calvin McDonald, the CEO of Lululemon. Calvin, thanks for joining us.
MCDONALD: Thanks, Bob. Excited to be here today.
How Lululemon has stayed afloat
SAFIAN: The retail business certainly requires lots of stamina and effort, especially as the economy has come under pressure. Just last week there were big banner headlines about retail sales posting a decline in December. Despite that environment, Lululemon has been mostly smooth sailing. How have you managed that? 
MCDONALD: Well, it starts with product innovation. Anybody who is a guest of Lululemon, knows the quality is fundamentally different. It goes through our unique approach to Science of Feel, which creates versatile product. But then it extends into our community relationships that we build through our educators, through our event activations. And our D2C model. That is our sole way of connecting with our guests, and it allows us to be agile. And one thing we've learned over the last few years is you need to be agile to be successful.
Supply chain is definitely an area that all retailers have had to reprioritize. One of the benefits of a D2C model is we control our purchase orders, we control the relationships with our manufacturing partners, and our resale channels. You're able to really determine what the volume is you want to buy, have those relationships with manufacturers, commit to them, and then work on selling strategies. And in a wholesale environment, there are so many other dynamics that can change. Orders can be cut, how your product is showing up, if it's being liquidated, marked down, you don't control as well.
40% of our goods are not very seasonal… core product that sells 52 weeks of the year. We were able to lean in, invest in air freight to have the product here. And having it here early in '22 proved to continue to drive the momentum of our business.
SAFIAN: A lot of organizations talk about this importance of agility, but sometimes it's hard for folks to pinpoint what that really means.
MCDONALD: So continuing to manage that growth during uncertainty is a very interesting leadership challenge. I believe that had we overcorrected for some of the risk with supply chain and inventory and not invested in air freight, if we had overcorrected with the fear, will guests and customers come back to physical retail stores, if we had over-corrected on investing in the present and the future, we would not have the momentum that we have today. And I understand why other businesses may have to make the decisions that they have to make. For us, we've always continued to balance the momentum we have with the macroeconomic conditions. While at the same point, not overextending or setting ourselves up to be exposed, if ultimately, those headwinds start to impact this organization. 
I thought maybe post pandemic, we'd get back to business as usual, and maybe this is business as usual and it's you just don't have a clue what these economic conditions will be, and agility's going to win out. 
The importance of mid-term perspectives
SAFIAN: You had said at one point that businesses often focus on the short term and the long term, but they miss the mid-term. And I wonder if you could explain what that means. I know some of that you were thinking about in the pandemic. And it sounds like you're thinking about it now when you're thinking about how to manage the uncertainty going forward too.
MCDONALD: Yeah, very much so. It was one of the areas during the pandemic that we did focus on. I talked a lot to my leadership team about keeping that share of mind balanced, not just on the immediate. We had every store in the world closed. But that mid-term period, to me, runs the risk of being lost as you bookend your mental time and thought process.
For us, I knew eventually stores would open. I didn't know exactly when. And we knew that the shift we were seeing with digital was more of a sustainable shift by the guests than not. During the first 60 days when every store in the world was still closed, we'd leave one meeting and talking about, how are we going to get these stores open, how are we going to continue to pay and protect our educators? To… what does it mean for our digital business six months from now? What are we going to need that we don't have today, and our stores, as they open and traffic comes back? And it gave us a head start on investing in the digital foundation. Had we not started the thinking process six months earlier in 2020 when holiday came and stores were still closed, and our online channel grew close to 100%, we would not have been able to support and sustain that had we not thought about that time horizon. 
It's an interesting challenge for all leaders that when we're faced with adversity, to focus not just on the here and now, and on the future, but that in between because you can really accelerate your business, get back to the momentum sooner, and gain share over your competitors. 
Calvin McDonald on transitioning from Sephora to Lululemon
SAFIAN: You and I initially met when I was at Fast Company and you were running Sephora, and you made the switch over to Lululemon coming on almost five years ago. What prompted you to make that transition? Because Lululemon had had its troubles and your predecessor left under some controversy.
MCDONALD: Lululemon really is my dream job. The reason for that is professionally, I like to describe myself as a brand builder. And equally, personally, I'm a weekend warrior, love to stay fit. Being able to combine both my professional enjoyment with my personal enjoyment, which is what Lululemon has done has definitely been an incredible experience.
SAFIAN: How is Lululemon different today under your leadership than it might have been under someone else?
MCDONALD: That might be a good question to ask my leadership team, but I believe any leader impacts an organization based on the impact you can have on the broader culture. I start with what my drivers of leadership are… curiosity. And curiosity therefore drives everybody inside the organization I hold accountable to owning innovation. Not just an innovation hub tucked in the corner, but everybody at Lululemon owns innovation. I like to debate. I like being in conversation. I want to hear from everybody around the table that has an opinion, and part of our value is to hold ourselves accountable to be part of that conversation.
SAFIAN: My sense of you always was that you got enthusiastic about things that were new. I remember you being very excited about the Virtual Try-On tool that you had at Sephora for customers, which was ahead of its time. Are you looking for those kinds of things that you can plug in Lululemon in similar ways?
MCDONALD: Very much. I remember one of the first early on meetings I had with the product team around footwear. They were talking to me about what they've identified as a potential area of opportunity, which is, majority of women's athletic footwear is built and designed off of alas of a male's foot. They just simply shrink it down for her sizing and that's what they build the footwear around.
I still remember where the light bulb went off. I got excited and it's like, you got to be kidding me. We can transform performance athletic wear for her by simply creating a shoe that's designed off of her foot? And we dramatically made changes. We held off our men's footwear launch because I really wanted to disrupt with this statement about a woman's first design performance shoe. When we disrupt and create something that doesn't exist, how can you not get excited about that?
SAFIAN: You made some investments in new areas and tools like Mirror and in building Lululemon Studios' content for workouts. It's a little bit like a Peloton model in putting those things together.
MCDONALD: Lululemon's Studio really is designed and intended to be a community first platform in which people can sweat and connect on.
The piece of hardware is much more versatile than what other offerings may be in the marketplace. We offer more genre of workouts and we've been able to work with our studio partners to create a streaming service that brings their workout brand to our guests. We're excited about how that innovates our community relationship.
We know we can drive incrementality through those relationships. So I get excited about the space that Lululemon plays where we can really disrupt and innovate in a unique way within retail, build the brand.
SAFIAN: What are things you think business people underestimate or miss about building a brand?
MCDONALD: You truly need to understand what your differentiators are. I try to bring focus and clarity to innovating behind what should only be two or three really differentiated elements. For us, it starts with how we choose to innovate and the unmet needs of our guests. Second is our product, the versatile nature of our product. Versatility isn't a word I use lightly.
Anybody who uses and buys Lululemon knows exactly what I mean when it comes to the versatility of the product. Although we talk through lenses of activities, the fact of the matter is you can use the aligned tight for multiple activities beyond yoga, which is what it was designed for. That is a very unique positioning, as is the quality and being in this wellbeing space.
SAFIAN: Can I ask you about Shine? It's this phenomenon that's come on with such force, does this sort of fast fashion disposable fashion, does that have an impact on the industry, on the way you strategize for the future? 
[AD BREAK]
SAFIAN: Before the break, we heard Lululemon CEO Calvin McDonald talk about how he's leaned into brand-building to generate momentum.
Now, he delivers some leadership insights about the difference between sharing opinion and sharing experience, why intelligence is less important than building relationships, and why 'wants' versus 'needs' may dictate the future of retail.  
So at Sephora, I remember the workforce was super enthusiastic, which is a characteristic that you have also cultivated at Lululemon. What have you done to facilitate that? 
MCDONALD: I think it starts with communication, but you need to do it authentically. I spend time in conversation with everybody in this organization. I just came back from Tokyo, Seoul, Paris, London. I frequently travel stores here in North America. I spent time chatting with store managers. I learn from them. A lot of what we do around the organization comes from ideas inside.
So I think a big part of creating the organization that people want to work at starts with a leader being authentic, approachable, and respectful. And these might sound like values that you were taught from your parent when you were a child. And somehow along the way, leaders I think lost what it meant to lead and to work for others versus them working for you. And…I want to win. But how I win matters and we win through each other and find inspiration in that.
Lululemon's Calvin McDonald on how he assesses stores
SAFIAN: Some retail leaders, they talked about going to visit stores to sort of check out the merchandise. It sounds a little bit like your priority there is as much or more about the people than it necessarily is about the way the stores look.
MCDONALD: It's always about the people. If I wanted to just do a store product check, I can pop in unannounced. I can observe.
But my assessment of the store, of the product begins by chatting with the store manager and the teams inside the store, what's working? What's not?
What can we do to help you be more successful? What ideas do you have? What can I bring back to the product team? What are the guests looking for that we don't offer today? So absolutely to me, the greatest takeaway that I have from every store visit is by being in the conversation.
Why Calvin McDonald focuses on wellbeing and mental health
SAFIAN: You've made wellbeing and mental health a priority for your team. You've instituted these rest and recovery days, for instance. This is something that obviously fits with the Lululemon brand, but it also seems like it's something that's rising overall in business culture. Does this get a different emphasis from you now than when you were leading other organizations?
MCDONALD: I believe I've brought it to almost every organization that I've worked for. But here at Lululemon, it is absolutely a big part of who we are.
One of our practices when I go out is we have fun together, but we equally get out and move together. And on every trip I'm sweating with the local team. When I was in Seoul, I think I was only less than a day off of the plane and we were hiking up Nam Mountain in the center of Seoul with 30 of the local educators and store managers. 
And I think we continue to see and find ways that we can invest more behind our view of wellbeing, which is both physical, social and mental wellbeing.
SAFIAN: As you're hiking up those hills, even you need to take a break sometimes, right?
MCDONALD: Always need to take a break. Recovery's a big part of moving forward and everyone needs to figure out when they need their moment of recovery.
Joining the board of Disney
SAFIAN: In the midst of this journey at Lululemon, you joined the board at Disney in 2021. I doubt you expected the level of tumult that you've had to be part of there, bringing Bob Iger back as CEO, pressure from certain big shareholders. How do you approach being a leader on a board as opposed to being a leader as a CEO?
MCDONALD: It's similar in a lot of ways. One of the aspects of leadership, I think that's very important is the balance between sharing experiences over opinions. Because I think a lot can be drawn when one shares their experiences and can be applied to different situations.
So, in a lot of cases I'll default to sharing experiences and allow the conversation and the co-creation to continue. And then at some point, obviously we make a decision and go. But I think you need to make sure you're not overly influencing the outcome too early as you're co-creating.
The opportunity in a board setting is to provide support and guidance to any management team. So you definitely want to share your thoughts and perspective on some of the challenges that the business is having.
And it's what I look to from my board here at Lululemon as well, which is they are there as allies, they're there as thought partners, and they're there to challenge us in the management team to make sure that we are pushing the business forward. 
You always have to balance between telling and doing, which is a lot easier at times, but may not set up the long-term benefit and strength of the collective.
Ultimately, I believe the role of a CEO is as much, if not more, coach than player. And I think a board member similar in that regard.
SAFIAN: I love your differentiation between sharing experience versus sharing opinion.
MCDONALD: I tell everybody who joins Lululemon in their first 100 days to respect that mantra of experiences over opinions.
Leaders joining organizations that are declining… they're easier to join because everybody knows if they keep doing things the way they're doing that they're not going to get a different outcome.
And to be successful, they have to change. 
You join a successful growth organization as an executive from the outside, it's a very different challenge. Yet we're all wired the same way. Most cases, we're probably A type, we're doers, we just can't stop or control ourselves from jumping in.
One of the areas that we had created at Sephora, was the Beauty Insiders program and created the community around that.
And when I joined Lululemon early on, there were a lot of conversations around community, moving it into the digital membership space. And I had to be cautious of how many times I'd share my opinion of what I thought that should be. And I really tried to step back and share, well, the experiences of Sephora.
It just creates more space for the other folks in the team to say, "Well, here's how we could apply that here."
Absolutely. It brings them into the conversation. And the reality is this, 50% of the time, your opinion's going to be wrong, especially in the first 100 days. So you don't do yourself any service. All you're doing is feeding your own ego.
All you're doing is feeding this need to be an action versus the opportunity to pause and listen and to build relationships. 
Successful leaders that come into this organization are successful, not because they're the smartest. It's because they build relationships first. And through those connections they can get the most out of themselves and the teams.
Calvin McDonald on what's at stake for Lululemon
SAFIAN: So you've been there almost five years. What's at stake right now for Lululemon? What are you thinking about going forward?
MCDONALD: When I think of retail moving forward, I'm excited about the innovation. I think it will start with separating retailers into two categories. Needs versus wants. My belief is retailers that sell needs will continue to be laggers. They're complacent. They will not be the innovators because they don't have to. Guests need what they sell. The food industry is a good example to me of one in which I think could be much more innovative than they are today. But I think you can ask, how innovative do they truly need to be because they are selling needs.
Most of us, you can put into the want category, and we better innovate if we're going to be successful because we're competing with others. So I'm going to look to the wants as those that are going to be innovating and leading. I think three drivers are going to come out on top.
One, we're going to continue to see what I call an omni revolution. We call it an experiential store, an experiential opportunity inside the store. The reality is, this seamless, frictionless experience between stores and digital is just going to be what guests expect.
Second is community. I do believe authentic connection beyond transactional with guests are going to differentiate the strongest brands. Humans need this means of connection. And I think certain brands will be able to extend that lifetime value with their guests.
And then third, just these value-driven organizations. More and more guests are not going to accept or allow brands to operate and function differently than how they want or hold themselves and their communities accountable.
SAFIAN: Well, Calvin, this has been great. Thanks so much for spending time with us. I really appreciate it.
MCDONALD: Great. Thank you.