Some aspects of your brand will be defined by what customers tell you; others, by what you tell them. In their stories of how they scaled Warby Parker from scrappy e-commerce site to comprehensive eyewear and eye care juggernaut, co-founder and co-CEOs Neil Blumenthal and Dave Gilboa give a master class in how to articulate crystal-clear brand values while also building and iterating based on fast customer feedback. Their lesson? Branding isn't static. It's a conversation.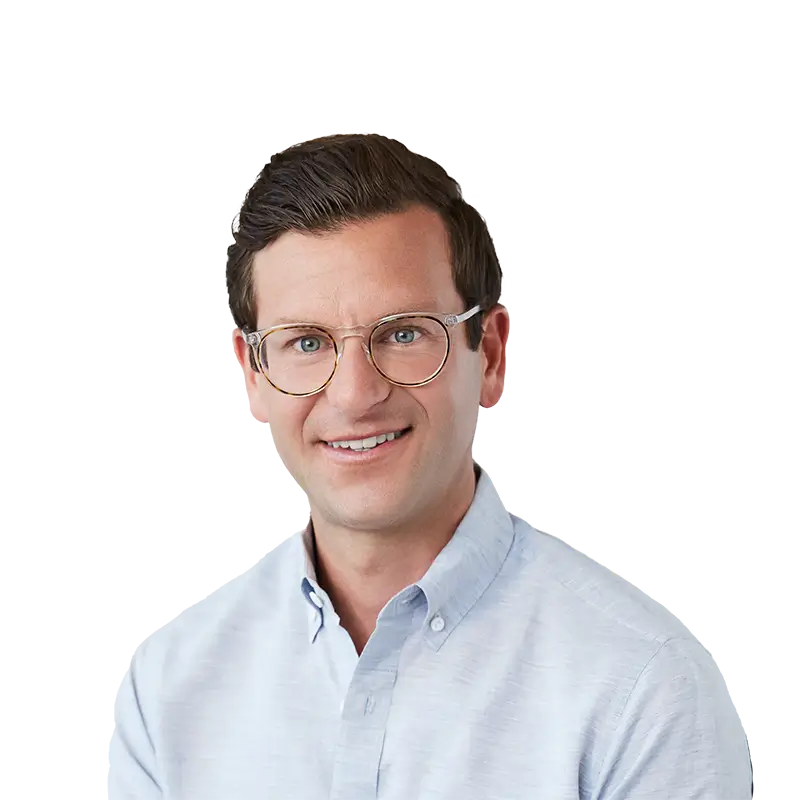 Some aspects of your brand will be defined by what customers tell you; others, by what you tell them. In their stories of how they scaled Warby Parker from scrappy e-commerce site to comprehensive eyewear and eye care juggernaut, co-founder and co-CEOs Neil Blumenthal and Dave Gilboa give a master class in how to articulate crystal-clear brand values while also building and iterating based on fast customer feedback. Their lesson? Branding isn't static. It's a conversation.
Transcript
Transcript:
Brand while you build
DAVE GILBOA: It looks like a penguin, almost looks like it's wearing a tuxedo from the waist up, but then it has this bright pop of blue feet that is really unexpected.
The fact that it lives in the Galápagos Islands means it's worldly. It has this quizzical and quirky look to it.
REID HOFFMAN: That's Dave Gilboa, co-founder and co-CEO of Warby Parker. And he's describing a distinguished-looking marine bird with a somewhat less distinguished name. 
GILBOA: The blue-footed booby is the unofficial mascot at Warby Parker.
NEIL BLUMENTHAL: And the Warby blue is directly inspired by these blue feet.
HOFFMAN: That second voice belongs to Neil Blumenthal, Dave's co-founder and co-CEO. It was Neil that introduced the blue-footed booby to the conversation, as he and his co-founders first mapped out their plans for selling prescription glasses online. 
BLUMENTHAL: We started the business with our other two co-founders Jeff Raider and Andy Hunt.
GILBOA: We were in business school, and we were trying to articulate the qualities and values, and characteristics of the brand that we wanted to build. And we spent hours upon hours in our apartments with me, Neil, Jeff, and Andy talking about what we were and what we weren't. 
HOFFMAN: In these epic brainstorming sessions, the four co-founders obsessed internally over the words and images that could represent Warby Parker to the world. That's when Neil remembered the strange bird he'd once seen on a trip to the Galapagos Islands. 
GILBOA: I distinctly remember Neil bringing in an image of a blue-footed booby.
BLUMENTHAL: We all just giggled because, you know, you say the word booby, right? And even that aspect was representative of the brand.
One of our core values is to take our work seriously, but not take ourselves seriously, right? And to enjoy ourselves. And that element of humor, yeah, comes through in the name of this highly-esteemed bird.
HOFFMAN: Today, Warby Parker's signature color is a vivid cerulean blue, inspired by the blue-footed booby's own peculiar webbed feet.  
In this story of choosing their unofficial mascot, you can hear Warby's careful considerations around brand. And these considerations served them well as a fashion-forward eyewear company. 
But what also put Warby Parker on the map were their innovations around the customer experience. Like the try before you buy program that sends customers frames through the mail. Or their commitment to donating one pair of glasses for every pair sold. 
In fact, both the user experience and the brand identity have helped them scale their business. 
That's why I believe that for your business to thrive, try building in two directions. Grow your brand personality from the inside out. And your customer experience, from the outside in.
[THEME MUSIC]
Chapter 1: Why branding and product-building isn't an "either-or"
HOFFMAN: I'm Reid Hoffman, co-founder of LinkedIn, partner at Greylock, and your host. And I believe that for your business to thrive, try building in two directions. Grow your brand personality from the inside out. And your customer experience, from the outside in.
What's the ultimate name in branding? It's not Apple. It's not Nike. It's ACME. At least, it is if you're Wile E. Coyote. Because ACME is the brand that dominates the Looney Tunes universe. If you've watched cartoons featuring Wile E., Bugs Bunny, Daffy Duck, and the gang, you may have seen the name ACME emblazoned on rockets, giant hammers, and instant earthquake pills delivered anywhere, anytime. 
The name "ACME" promises a peak user experience. The word literally means "the height of success." But hilariously, that brand name never gets tarnished by all the times ACME's products have failed. When the coyote's rocket sputters, sending him plummeting into a canyon, he goes right ahead and orders ACME dynamite the next day. 
Our world is a little different. Here, there can be thousands of brands to choose from. And customers make decisions based on the user experience, as much as by style, color, or a confident-sounding name. 
But don't fool yourself into thinking those brand qualities don't matter. They're the things that touch a customer's emotions and imagination, especially when it comes to the business of physical goods. When you put both the internal branding, and the iterative product-building in conversation with each other, you create the axle that helps the business run. It's not either-or; both help you achieve liftoff. 
I wanted to talk to Neil Blumenthal and Dave Gilboa about this because few companies have executed this two-way conversation as well as Warby Parker. They were founded in 2010 as an online glasses retailer that delivered the seemingly impossible: eyewear that was cheap, convenient, and cool. 
They're also known as a company committed to social good. To date, they've given away over 10 million pairs of glasses through their Buy a Pair, Give a Pair program. 
From the beginning, Neil and Dave have curated their internal brand language as thoughtfully as any luxury label. But they've also taken a Silicon Valley-style, iterative approach to building their products and business model. The result? A user-friendly brand, as informed by the outside world as by conversations around aesthetics. 
Now, with over 200 stores across North America, Warby Parker has gone from scrappy e-commerce startup to eyewear juggernaut, offering contact lenses, and full-service exams, online or in person. The company went public in 2021 and is poised to open up dozens of new stores in the next year alone. This kind of scale isn't easy. And in the spirit of tackling hard things, this is our first classic Masters of Scale episode to feature two founders at the same time! 
HOFFMAN: Neil Blumenthal, David Gilboa, welcome to Masters of Scale.
BLUMENTHAL: Thank you.
GILBOA: Thanks for having us.
BLUMENTHAL: Excited to be here.
Chapter 2: How the Warby Parker co-founders came together
HOFFMAN: Neil and Dave met as first-year MBA students at Wharton. And the subject of glasses was one of the first things to bond them. Dave was coming off a summer of adventure. 
GILBOA: I'd been working in finance before school, and I decided that this was a unique opportunity to take some time off to travel before being a full-time student. And so, on my last day of work, I handed in my company issued BlackBerry. And I backpacked for a few months around the world without a phone living in hostels. 
HOFFMAN: Dave loved his time untethered from his BlackBerry. But along the way, a minor disaster struck. He lost his only pair of glasses.
GILBOA: Left them on a plane. And so I showed up back in the U.S. just before starting Wharton as a full-time student, and I needed to buy two things. One was a new phone, second was a new pair of glasses. 
HOFFMAN: This moment happened to coincide with Apple's release of the iPhone 3G. And when Dave held his new phone in his hand, it put the value proposition of his two greatest necessities in a new light. 
GILBOA: It just blew my mind that I had this supercomputer in my pocket that did all these magical things, and that cost $200. And then I realized I was going to have to pay $700 for a new pair of glasses. And that just didn't make sense to me. It's technology that's been around for hundreds of years. And so I started complaining to anyone that would listen, including all my new classmates and new friends at school about how expensive glasses were. 
HOFFMAN: This talk piqued the curiosity of his classmates, including Jeff Raider, Andy Hunt, and, of course, Neil, who can pick up the story from here. 
BLUMENTHAL: We were all sort of standing in a hallway in between classes, and Dave was talking about how he had recently lost a $700 pair of glasses. Andy was positing the question, "Why isn't anybody selling glasses online?" There were all these other categories at the time that were selling online that you thought couldn't be sold online, whether it was Zappos selling shoes or Blue Nile selling engagement rings. And here I had worked in the nonprofit sector distributing glasses throughout parts of South Asia, Sub-Saharan Africa, and Latin America.
HOFFMAN: That's right. It turns out Neil was a glasses expert in their midst. Prior to Wharton, he had spent more than five years in the nonprofit sector at an organization called VisionSpring.
BLUMENTHAL: I met this eye doctor who had this amazing idea to train low-income women around the world to start their own businesses giving vision tests and selling glasses in their communities. And I thought, "Wow, this is a really powerful idea."
I somehow convinced Dr. Jordan Kasselow to hire me to work on the pilot program in El Salvador. 
HOFFMAN: Neil would go on to set up VisionSpring programs throughout the developing world. 
BLUMENTHAL: It just exposed me to how special of a product glasses really are.
HOFFMAN: This work also exposed him to a little secret of the optical industry at the time. 
BLUMENTHAL: I was producing glasses where people were living on less than $4 a day, but on the same production lines were some of the biggest names in fashion. And it was clear that the cost to produce glasses didn't justify the high prices.
HOFFMAN: Luxury eyewear brands were charging massively more than the cost of goods. So what customers were actually paying for was the brand attributes of their glasses — the brand "personality," you might say.
Now, it's true that plenty of products in our daily lives are much more expensive than the cost of production. But every brand is a promise that something you're paying for will be reflected in a positive customer experience. 
Once customers feel like they're not getting that payoff they become dissatisfied. You heard it in Dave's story about buying an iPhone instead of new glasses. 
Companies, and in fact entire industries, need to pay attention when that kind of dissatisfaction starts brewing. Any category that starts insulating itself from their user's experience becomes a category ripe for disruption. 
Dave, Neil, Jeff, and Andy all started sensing that this moment for disruption was upon them. So they kept talking and talking.
GILBOA: We all entered in this really passionate conversation.
BLUMENTHAL: And then quickly we had to sort of cut it short so we could all go to class. You know when you have that idea, and it's just sort of stuck in your head, and you can't stop thinking about it?
GILBOA: We found ourselves not able to think about anything else. Just this spark of energy and creativity created a runaway train in all of our heads.
HOFFMAN: Notice how these internal conversations fired them up. They didn't have any user data yet, or even a business model. Just their own experiences, and a common point of inspiration. 
BLUMENTHAL: Later that night, I was up. I was just thinking about it, and I think it was like midnight or 1:00 AM, that I fire off an email to Dave, Jeff, and Andy like, "Hey, that was a really interesting discussion, we should continue that." And literally at like 12:01 Dave responded, and then Jeff responded, and Andy responded, so we all got together the next day and just started sort of thinking through is there an opportunity to create glasses that we would want to wear, but for a fraction of the price and then reach those customers through e-commerce?
HOFFMAN: Through these passionate conversations, the idea for Warby Parker was born. The next step? Turning those conversations into something tangible. 
GILBOA: As full-time students at school, we said, "If we're going to be spending a lot of time on this, why not at least make sure we're getting class credit." And so we all took this entrepreneurship class where the output was a business plan.
Chapter 3: The origin story of Warby Parker
HOFFMAN: The four co-founders dove in — fleshing out every part of the business. And when they were finished, they immediately put it to the test:
GILBOA: Wharton has a business plan competition. And so we said, "Why don't we enter this plan?"
HOFFMAN: This is something I recommend to every entrepreneur — not the competition, but putting your plan in front of your peers and mentors early. Your network is an invaluable first audience for your product. They can give you an outsider's fresh perspective, and find flaws your inner team might have missed. 
But as Dave will tell you, this process is not exactly painless. 
GILBOA: We made it pretty far, but actually didn't win, and didn't even make the finals. We got a bunch of feedback from Wharton alumni that reviewed our business plan, and they poked lots of holes in parts of the business that we had felt pretty good about going in.
HOFFMAN: One rejection in particular stands out in Neil's memory. 
BLUMENTHAL: One of our favorite professors was Adam Grant, and he was just starting sort of his journey at Wharton while we were students there. 
HOFFMAN: If you're not familiar with the prolific author and psychologist Adam Grant, take a moment and find his episode of Masters of Scale: Rapid Response. It's in our show feed. But at the time, Adam was in his first year teaching at Wharton.
BLUMENTHAL: We asked him if he wanted to invest, and he turned us down.
HOFFMAN: This was obviously disappointing. But Neil and Dave made sure to listen to why they were facing such doubts. 
GILBOA: Some of that initial feedback was super helpful. Feedback like hey, people are not comfortable buying glasses online. This is an experience that no one's done before. You're launching a brand that no one's heard of at a price point that invites skepticism about the quality of the product. People are not going to be willing to take that leap. 
HOFFMAN: One minor correction: There were, actually, several e-commerce companies that had been offering glasses since the early 2000s. But those retailers were only a small fraction of the market, and they didn't have the reputation for quality and trust that Neil and Dave were looking for. 
Chapter 4: How the Warby Parker co-founders came up with the "Home Try-On" program
In e-commerce especially, brand differentiation is key. And you do that by delivering consistent quality over time. In order to succeed, Warby would have to break away from the so-called "e-tailer" pack. 
BLUMENTHAL: This product was actually a fashion accessory and a health product. How do you get credibility in both those worlds?
GILBOA: And that's when we came up with the concept for our Home Try-On program where we knew that we were producing the highest quality frames, and as soon as someone touched and felt our glasses and put them on their face, they're like, "Wow yeah, I would buy these."
HOFFMAN: The Home Try-On Program involves mailing a customer up to five different frames — actual, physical frames — that they could try on in the comfort of their own home. 
GILBOA: And even though it was going to cost us money to have inventory, to pay for shipping, to send glasses to people, pay for shipping in return, this was a way that could really unlock the opportunity for consumers who had never considered buying online to do that for the first time. So it really caused us to focus on what are the critical path items, and how do we solve them in new and creative ways? We said, "How do we get as many glasses on people's faces as possible?"
HOFFMAN: The innovation of the Home Try-On program would certainly improve the customer experience. But it also helped define the Warby Parker brand. Because branding is ultimately a contract of trust between a business and its customer. The try-on program inverted the usual trust proposition of e-commerce. Instead of asking their customers to trust them, Warby would demonstrate their trust in customers to handle, try on, and eventually return the samples safely. 
It's a great example of how the customer experience informed the brand, and not the other way around. 
But convincing people of the product's quality was only one of their challenges. Another issue was with the price. 
BLUMENTHAL: We approached the head of the marketing department at Wharton who's a professor who sort of specializes in pricing, and we built a beautiful business plan. I mean, if there was one thing that we could do, we could build amazing decks. So we go into this meeting, and we say, "We are going to disrupt the eyewear industry. We're going to charge $45 for $500 glasses." And he looked at us, he said, "That's not going to work." And we're like, "What are you talking about? You haven't even looked at our sort of presentation here. Look, all the graphs go up and to the right." And he said, "Listen, it's just outside of the realm of believability that you can charge $45 for a $500 product, right? 1/10th the price, people just won't believe it's the same quality."
HOFFMAN: Remember what Neil told us he'd learned while working at VisionSpring?
BLUMENTHAL: I was producing glasses where people were living on less than $4 a day, but on the same production lines were some of the biggest names in fashion. 
HOFFMAN: Neil already knew from experience that it was the perceived value people were paying for when they spent hundreds on their glasses. But that also meant, a $45 price point was going to negatively affect how their own brand was perceived.
BLUMENTHAL: We walked out of that meeting a little dejected, but we then tested that learning, and we put together a survey, we mocked up the product page of our website with a pair of glasses and had a few different versions. The only difference was the price. From $45 to several hundred dollars.
HOFFMAN: The four co-founders created a list of friends and family members and sent out the survey. 
BLUMENTHAL: And we asked, "How likely are you to buy this pair of glasses?" We found that the willingness to purchase increased with price up until about a hundred dollars at which point, it plateaued and came down.
HOFFMAN: Their randomized survey results showed the truth.
BLUMENTHAL: So we knew what he said was right, and $45 was too low, but $100 was probably right. 
HOFFMAN: Their would-be customers told them what price point would signify both quality, and accessibility. And from there, they made some final adjustments based on their own internal compass. The external information made its way seamlessly into their founders' plan.
BLUMENTHAL: So we thought, "Okay, well we could price at $99, that would maximize revenue. But in sort of our hearts, we felt like that seemed a little discount-y, and all entrepreneurship is a combination of art and science. So we settled on $95. We also thought aesthetically, it looked good. It seemed super deliberate. And that was a key to our success was having pricing right.
HOFFMAN: That combination of art and science is another way to say that some of your decisions are going to be measured, and others are going to be felt. And that's especially true when it comes to building your business. Some aspects of your brand will be defined by what customers tell you, and others will be governed by what you tell them. In other words, branding isn't static. It's a conversation. 
[AD BREAK]
HOFFMAN: We're back with Neil Blumenthal and Dave Gilboa of Warby Parker. If you're enjoying this episode, share it with friends by tapping the 'Share' button on your podcast app. And to hear my complete interview with Dave and Neil, become a Masters of Scale member at mastersofscale.com/membership. There are so many great stories we couldn't get to in this episode like how they design their store displays to reduce choice paralysis in customers. We also talk about how Warby helped create a new kind of public benefit corporation, which makes it easier for companies to serve not just their shareholders, but all stakeholders. It's a great lesson in mission and infinite learning. You won't want to miss it. 
Chapter 5: How Google's Susan Wojcicki approached Google's marketing in the early days
We've been talking about how a dialogue between your internal brand values and the external user experience forms the axle that helps your business gather speed. Warby covered that second part by seeking input early from peers, advisors, and even skeptics to help them anticipate the needs of their customers. 
This method will sound familiar to those of you in software, where product testing is not only encouraged, but table stakes. For tech founders, If you're not testing early and often, don't bother starting at all.
But I'll confess that some of us in tech are more students of brand, than experts at it. LinkedIn, for example, started out with what I'd call 'journeyman' branding. The same could be said for the early days of Google, when their marketing outreach fell to one person. 
SUSAN WOJCICKI: I didn't really know what I was doing. In fact, I was a little scared because I thought I knew about marketing, but I'd never really been a marketer. And if I really had been a marketer, everything they would've said to me would've scared me away. 
HOFFMAN: That is Susan Wojcicki, CEO of YouTube, in her own episode of Masters of Scale. She's describing a moment early in her career, when she came aboard as Employee 16 at Google, as their first Director of Marketing. 
WOJCICKI: At the time, it was unclear that Google was going to be successful because there were so many other search engines, none of which really did a good job, but it was a very crowded space. Nobody thought there was actually any money in search.
HOFFMAN: Susan was challenged to find ways for Google to escape their competition. But when she talked with Google's co-founders, Larry Page and Sergey Brin, about defining their brand values and ideal customer base, what she heard was a bit concerning.
WOJCICKI: In business school, you learn who's your target audience, and you build a targeted campaign, and so I would say, "Who do you want me to market to?" And they said, "Everybody. We just want everybody to use Google. It can be useful to everybody." Which is true, but how do you do that with no budget? 
HOFFMAN: Susan eventually solved this problem by getting creative about how and where to distribute Google's search engine, which at the time, was their only product.
WOJCICKI: I quickly learned, because we had no budget, that building products, and using the product and the property that we had was the highest-leverage way.
We created this way for all universities to have Google search on their properties, and that was a program I worked on. Everybody in college at the time had the internet, and they had lots of searching requirements. And it was just a really quick way to spread and to get the word out.
HOFFMAN: Distributing their product free to universities gave Google the platform it needed to spread brand awareness. They simply shared a short embed code, which created a search bar the schools could use on their own websites for free. Oh, and that search bar happened to mention it was powered by Google.
Their strategy worked, and of course, Google is now not only the name of a massive global brand — it's a verb.
This is a classic Silicon Valley story about how product-building and testing IS how you brand-build. The early Google team was essentially indifferent to the aesthetics of  branding. The speed of their product, and the rate they could get people to use it, were what mattered. 
But it doesn't work that way in every industry. If you're in fashion, luxury goods, or even food, where quality can be touched and felt, against this backdrop, brand is the only differentiator. 
For an example that touches both software and hardware, ask yourself if Apple would be Apple without their unshakeable commitment to aesthetics and design.
As you heard Neil say earlier, the co-founders of Warby Parker knew they weren't just building a tech product or a health product — they were also building a fashion product. To play in that space, they would need to reckon with the je ne sais quoi of aesthetics. Hence, the discussions that resulted in Warby's unofficial mascot, the blue-footed booby.
But perhaps no story demonstrates Warby's commitment to a unified brand aesthetic better than this one.
Chapter 6: Where the name "Warby Parker" came from
BLUMENTHAL: Coming up with a name for Warby Parker was one of the hardest things that we ever did.
GILBOA: We had four of us all with different opinions, and we placed a lot of weight in finding a name that really would enable us to create a strong, emotional connection with our customers and brand evangelists.
BLUMENTHAL: We literally had come up with 2,000 different names between the four of us. There was not consensus, but there weren't even real favorites.
HOFFMAN: This rare disagreement between co-founders wasn't over a misalignment of vision. Thanks to many internal conversations, they were very clear on who they were and what they wanted to do.
BLUMENTHAL: We view eyewear as a really special product. But it's also a unique product in that it's both a health product and a fashion accessory. And if something's a fashion accessory, it's core to one's identity, and especially this accessory that sits on your face. It's often the first thing that people see. So it was important for us to build a lifestyle brand. So that way, this fashion product would evoke what the wearer wants to evoke.
So we started with, what does this brand stand for? What do we want to put out in the world? 
HOFFMAN: They were pretty clear on the "what." But they were getting stuck on the "how." And brand strategy is all about the how. So they kept brainstorming. For six months.
BLUMENTHAL: Fun, creativity, doing good in the world. We had this tie to literature because there was a link between vision and reading and writing. We were very much inspired by the eyewear that our grandparents wore in the '40s and '50s, but also the literature that inspired our parents that came of age in the '60s. 
HOFFMAN: These points of inspiration had helped shape the design of their frames, which could best be described as "geek chic." What could they name their company to capture that same aesthetic? 
The answer came when Dave noticed there was an exhibition opening at the New York Public Library: the unpublished journals of Jack Kerouac. 
GILBOA: Something drew me to that exhibit. We had been spending a bunch of time talking about different authors or artists that we felt represented the brand ideals. And in particular Kerouac and the Beat Generation writers, they were known as unconventional thinkers who defy norms. And Jack Kerouac was really adventurous in both how he lived his life, but also in his craft, and in his writing style.
HOFFMAN: Dave knew he had to go see what this exhibition had to offer. 
GILBOA: There were all these handwritten journals under glass cases. And I immediately just started taking pictures.
BLUMENTHAL: Dave gave us a call one evening, and he's like, "Guys, I think I've got something." 
HOFFMAN: The four co-founders — Neil, Dave, Jeff, and Andy — pored over the pictures Dave had taken earlier that day. 
BLUMENTHAL: There were these two characters, Warby Pepper and Zagg Parker,
GILBOA: Really quickly the two that everyone found really intriguing were Warby Pepper and Zagg Parker.
BLUMENTHAL: It was one of those things where he had come back from the mountaintop with the 10 Commandments or something. It was an, "Ohhh," biblical type moment because the names just resonated, so well. 
HOFFMAN: After some debate about how to combine these two names, the team eventually settled on their favorite. 
BLUMENTHAL: Warby is a little quirkier and unique, and the Parker is more familiar and known.
GILBOA: It was unlikely that anyone knew a Warby that they grew up with, a Warby, and they had preconceived notions of who that person was or how they behave. It was also a nice benefit that the URL was available for $9 on GoDaddy, given that we were bootstrapping the business and hadn't raised any money yet.
BLUMENTHAL: And the four of us just started talking, and it was clear that this was just right.
HOFFMAN: True to how they had approached every other aspect of their business plan, they tested this new moniker with audiences. But their surveys quickly reflected back what they already felt. This was the right direction. And Warby Parker officially became the name of their company. 
It's important to note that this name would never have come directly from polling customers. If the name "Boaty McBoatface" means anything to you, you'll know that surveys are rarely an ideal way to name anything. The founders of Warby Parker needed those internal conversations first to get aligned on their brand goals. Then the external testing could act like a compass to tell them whether they were on the right track.
Thanks to their two-directional strategy, the Warby Parker co-founders felt confident they had the right business model. They had the right product. And, they had the right name. Now, they had to convince a new audience — the tastemakers who could help make or break their status in the fashion world. 
BLUMENTHAL: There was a moment where we were meeting with a former CEO of one of the most famous luxury brands in the world, and we're explaining the business model, and we're super excited about it. And you can see him nodding along. And then he's like, "Oh, so what background do you guys have in sort of fashion and retail?"
We're like, "Oh, none really." And the guy Then looks at us with a little more skepticism and then this, "Well, who's going to design the glasses?" And then here I chime in, maybe over-confidently. I was like, "Oh, well, I designed and produced glasses when I was working nonprofit and distributing glasses to people living on less than $4 a day in rural India and Bangladesh." You could just see his face, like, "I don't think that's going to work on Madison Avenue."
HOFFMAN: You might laugh or even roll your eyes at the executive's easy dismissal. Because we now know that the glasses Neil oversaw at VisionSpring ran on the very same production lines as luxury brands. 
But fashion branding relies heavily on customer perception. So this CEO's opinion was its own test case for the resistance they were sure to face. 
The Warby founders were confident their products had the right aesthetic, drawing on the Beat Generation retro style that had inspired their name. But their geek-chic aesthetic wouldn't be enough on its own to establish them as a coveted brand. They'd need to change the conversation. 
BLUMENTHAL: We need to let people know that we exist, but we need to let people know that we exist in a way that would build the brand over the long run. And so we hired a fashion publicist because we were building a fashion brand. 
HOFFMAN: Making a fashion publicist one of their first major hires is not part of the typical start-up playbook. But Neil and Dave saw the power of the press to legitimize them, and to interrupt any Madison Avenue prejudgments. 
Chapter 7: The creative restraints of bootstrapping
They also needed to spend money on what they thought would be the highest ROI. Because as Dave mentioned earlier, they didn't have a lot to go around. 
GILBOA: Early on we bootstrapped Warby Parker. We didn't raise money until well after we launched and constraints really forced creativity. And for us, every start-up has constraints. Bootstraps startups have even more constraints. And so we watched every single penny. You see a lot of brands that launch today and they raise a lot of money. They spend it immediately on a bunch of Instagram ads, and that's a way to get attention quickly, generate an initial set of customers. For us, we took a very different approach.
HOFFMAN: If we could go back in time, I might advise Neil and Dave that this is exactly why they might want to seek out some investors early, instead of bootstrapping. Those early constraints do force creativity. But they also limit bandwidth, and thus, your speed. Blitzscaling depends on your ability to outrun the competition to scale. So if you are bootstrapping, being wildly creative or lucky is one of your few paths to get there.  
In Warby Parker's case, they went the creative route. They wanted to establish themselves as a fashion brand — and not just any fashion brand. A fun-loving, irreverent fashion brand with as much humor as style. Call it, the spirit of the Blue-Footed Booby. 
GILBOA: We really tried to think creatively around how we could get attention. And what was the unfair advantage that we had as a small new brand where we were competing against these massive companies that had huge marketing teams and massive marketing budgets. So what were some creative ideas that we were excited about that might grab people's attention, including launching during fashion week.
HOFFMAN: Yep — the week Warby Parker launched was also New York Fashion Week, a massive event that draws the biggest names, and press outlets, in the industry. It was the perfect setup to get some attention as a cool new eyewear brand if only they could find a way to turn heads. 
GILBOA: We couldn't afford to put on our own fashion show. So we did hire a bunch of models, and we snuck them into the New York Public Library where we discovered the name Warby Parker. We had all these models wearing our glasses, we had them reading books with our bright Warby blue color book jackets that had the name of all the frames that they were wearing. 
HOFFMAN: This was guerrilla marketing of the highest order. Because as you might have noticed from Dave's use of the word "sneak" — they didn't ask the library first. 
GILBOA: We didn't get permission for that, but we had a photographer that took a bunch of photos, and it just got a ton of attention and a ton of press. And it cost us very little money. So in a different scenario where we had millions of dollars in a marketing budget, we probably would've spent that and not got as much attention.
HOFFMAN: I will add, in general, please ask for permission when hosting an event, even on public grounds. Your local library — and your insurance adjuster — will thank you. But that said, no laws were broken in the making of this anecdote.
The library stunt and the fashion publicist were all part of Warby Parker's strategy to turn a centuries-old health product into a coveted lifestyle brand. It was a way to communicate their internal brand personality — a little bit fun loving, a little bit mischievous, but still smart and altruistic. But the company wasn't all Fashion Week mischief. They also had a deep commitment to social good.  
Chapter 8: How Warby Parker commits to social good
BLUMENTHAL: As we were forming Warby Parker we knew we wanted to help those that might not be able to afford a typical Warby Parker purchase; we thought about what's going to be the best way to do that. And one idea was should we just commit to a percent of revenue or a percent of profits? And we thought, you know, at the end of the day, the impact is glasses on faces.
So why don't we commit to a pair of glasses for every pair that we sell? There was a certain long termism to that where for some reason we weren't running the company. Somebody couldn't just cut the program to save on cost, for example, because it would be really detrimental to the brand. So we really wanted to tie it to the brand and tie it to our messaging. 
HOFFMAN: Affordability and fashionability don't always brand well together. And neither map cleanly onto concepts of social mission and sustainability. You need adroit storytelling to relay the nuances of these brand attributes. That's where, again, Warby Parker's deployment of a fashion publicist was so strategic. Listen to what happened next.
GILBOA: We launched, and we had these amazing features in GQ, and Vogue called us the Netflix of eyewear. It just massively blew our expectations for the business. We hit our first year sales target in three weeks. We were stock out of all our inventory. 
HOFFMAN: In short, the strategy really worked. These features in GQ and Vogue told their story beautifully without Warby having to spend a cent on advertising. And the articles found their way to their target demographic. 
It's a great lesson in strategic brand communication and matchmaking with your core customer. Ask yourself, who are they? Where are you likely to find them? Where do their values and yours align? And how can you start a conversation with them? 
In Warby Parker's case, the conversations they had with customers immediately after they sold out were some of the most critical in the life of their company. Because as you just heard, they now had a slight problem.
GILBOA: We had a waitlist of 20,000 customers for home try ons, and all of a sudden, we started getting calls from strangers who had read about us in GQ and Vogue, and "I really want to try on these glasses, but there's this month long waiting list, can I come to your store or your office?"
HOFFMAN: As online sellers, they didn't really have one. But they also knew that being sold out for months had the potential to spoil relationships. So, in true Beat Poet fashion, they went with the flow. 
GILBOA: We said, "Well, the store and office is Neil's apartment, but come on over. At first, we were afraid that it was going to be a subpar experience of having someone walk into an apartment, have glasses laid out on a dining room table, and we found that people loved the experience. They loved getting to meet the people behind the brand, and we learned so much from those face-to-face interactions that we couldn't just from someone browsing our website.
HOFFMAN: This experience led Warby Parker to an astonishing realization. Maybe the "online" part of their business model wasn't as core to their brand identity as they'd thought.
GILBOA: When we graduated, we moved to New York, and our first office was by Union Square on the sixth floor of a commercial building. I said, "Why don't we dedicate a couple hundred square feet to a customer showroom, which was really we bought a couple tables, had some computers set up to our homepage; someone had to go through the full e-commerce checkout. All of a sudden, there were hundreds of people a day coming into that office. We were doing millions of dollars in sales per year from that office. So that gave us, then, the confidence to do some pop up shops, buy the school bus…
HOFFMAN: Sorry … the what? 
GILBOA: We bought a yellow school bus that was out of commission, and we gutted the back of it, turned it into a store, had a number of people from our customer experience team just drive across the country setting up pop up shops. 
HOFFMAN: It's true — once Warby Parker learned that there was a real appetite for physical stores, they took their cue from customers while staying true to their own creative, freewheeling brand identity. Thus, in 2012, Warby Parker sent this converted school bus on the road all around the country. They called it "Warby Parker Class Trips."
HOFFMAN: I mean, it sounds like a very cool set of learnings, scrappy. Any really unusual things you learned from it, in addition to all of the things you just mentioned?
BLUMENTHAL: We learned that actually it's pretty cheap to buy a yellow school bus. And that's because most states have mandatory retirement after a certain number of years, and it's actually one of the reasons why, if you've traveled in like Central America, for example, a lot of the buses are old yellow school buses from the States. But they also have a governor in it, so we had one of our team members driving the bus across the country, but it, I think, could only go like 40 miles an hour or something. So can you imagine trying to drive across the country and go these long distances and maxing out at 40 miles an hour?
GILBOA: We learned a ton through all those experiences, and we found that customers loved having a physical environment to walk into. We learned so much from those face to face interactions around which frames customers were buying, the feedback that they had about frames, requests around products that we weren't offering, even which cities were kind of most fertile for us to open our initial set of stores, and even specific neighborhoods and street corners that would be great locations for us. And we were able to do that in a really affordable way.
HOFFMAN: The success of Class Trips gave Warby the confidence — and the data — to open more and more physical stores, which they are still doing, to this day. 
GILBOA: This year, we'll open 40 stores — and see a clear path to opening hundreds of stores alongside our e-commerce business, so it's not one or the other. But we really believe that the best experience for our consumers is to give them choice in how they engage with us, whether that's online or offline and really kind of the way that we got there was continually getting feedback from customers, testing, learning before investing and scaling.
HOFFMAN: Expanding into brick-and-mortar stores only increased Warby Parker's ability to have more and more conversations with their customers. And eventually, those customers said they wanted things like contact lenses, and full-service eye exams. And Warby Parker delivered. That story is one that Neil and Dave tell with incredible passion, and Masters of Scale Members can hear it in our complete interview together. If you haven't already, you can pause here, and go to mastersofscale.com/membership to check it out! 
Ultimately, the Warby Parker scale story is one of a company building in two directions. They've continued to iterate the customer experience from the outside in while continuing to articulate their brand values, from the inside out. And those values have helped strengthen the Warby brand with one last cohort we haven't mentioned yet: employees.
BLUMENTHAL: We've been able to attract and retain great talent because of the employer brand that we've built, because of the goodwill that we've built. 
When we were building Warby Parker, we wanted to build an organization that we were excited to come to work every day. We knew they were going to be long, hard days, and we didn't want to be in a position where we were rolling over and hitting the snooze button. And for us, what was going to be super motivating is just impact.
GILBOA: Number one reason that people want to work for Warby Parker is that we're helping people. That's what continues to motivate us and continues to motivate our team.
HOFFMAN: I'm Reid Hoffman. Thanks for listening.