How to balance innovation with your core business? How to help others tell the story of your product?
Reid Hoffman and Bob Safian answer questions posed live by entrepreneurs across many industries and stages of scale. Plus Reid reminds us the importance of staying grounded in our humanity amid the spate of big tech layoffs in our Need to Know segment.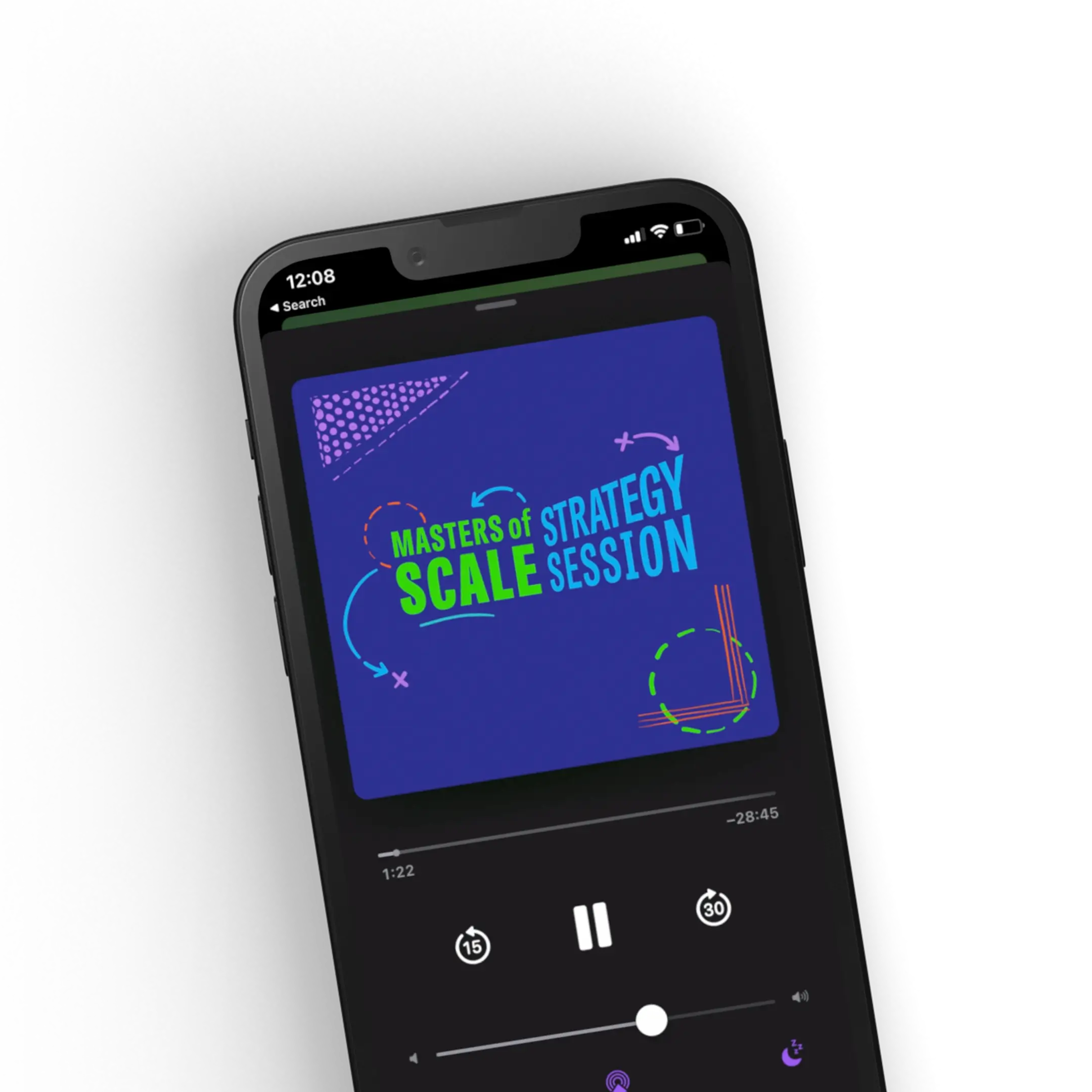 Reid Hoffman and Bob Safian answer questions posed live by entrepreneurs across many industries and stages of scale. Plus Reid reminds us the importance of staying grounded in our humanity amid the spate of big tech layoffs in our Need to Know segment.
Transcript
Transcript:
How to balance innovation with your core business? How to help others tell the story of your product?
BOB SAFIAN: Hi everyone, it's Bob. Today we're sharing our first Strategy Session of 2023, recorded this January in front of a virtual audience of Masters of Scale Members, business leaders, and special guests.
In these episodes, Reid Hoffman answers direct questions from entrepreneurs on how to respond to the challenges their businesses are facing. 
This time around, we explore key lessons around communication, internally and externally, as well as how to balance innovation with sustained growth. In our Need to Know segment, Reid and I talk about optimism and caution against the backdrop of recent layoffs across the tech industry.
It's jam-packed.
This episode is co-hosted by Reid, myself, and Jodine Dorcé, head of live events at WaitWhat, the company that produces Masters of Scale. At the top, you'll hear Jodine kick off the event, and then Reid and I will join a bit later. Let's get to it!
JODINE DORCÉ: Hello, everyone. Welcome to the Masters of Scale live Strategy Session, in alliance with Capital One Business. This is our first Strategy Session of 2023, so we couldn't be more excited to have you with us. I'm Jodine Dorcé, head of live events at WaitWhat, the company that produces the wonderful Masters of Scale.
Throughout this session, four entrepreneurs will ask questions of Reid. I think you'll see many of your own challenges reflected in their questions. Our co-hosts, Reid and Bob Safian will continue the conversation on strategy through a segment called, Need to Know.
Let's start welcoming a few folks into this virtual stage. Our special guest from Capital One business, Aparna Sarin. Aparna is the Chief Marketing Officer of Business Cards and Payments at Capital One. Hi, Aparna.
APARNA SARIN: Hello. How are you today?
DORCÉ: Fantastic. Thank you so much for joining us today. And now, I want to welcome Reid Hoffman. Hi, Reid.
REID HOFFMAN: Jodine, Aparna, great to be here with you. We're kicking off the year, our first Strategy Session of this year. It's awesome.
DORCÉ: Oh my gosh, tell me about it. Well, I'd love to throw it to Aparna for our first Strategy Session question. So Aparna, what's the most pressing question you're hearing from the entrepreneurs in the Capital One business community right now?
What lessons about communication should we adopt from the past few years?
SARIN: Thank you, Jodine. And Reid, hi. It's such a pleasure to be with you today. My question today stems from the constant stream of communal adversity that we are experiencing today. As leaders, it is so crucial to codify a consistent approach to internal communications. One that drives transparency and consistency in a way that's really human. And so, coming out of the high pressure experience of the past few years and one that continues, what new lessons should leaders have learned about communication styles and/or strategy that we can maintain going forward?
HOFFMAN: So, great set of questions. Business, whether it's entrepreneurship, executives, communications is a central part of it. We work together. Life is a team sport, not individual. And so it's always good when people say you over communicate. Frequently, it's because you're communicating the wrong thing. So, we all should aspire continuously to be ongoingly efficient and to communicate a lot because usually you trade off. And for example, one of the things that I learned very early in communications was from Jeff Weiner who had taken over and was 10 plus years as CEO of LinkedIn, was that when you're leading an organization, you've only started communicating enough when you're tired of hearing it yourself. And so part of what you have to do is keep that juice going because you have to be connected to it because it's important relative to communications to others.
So, the specific challenging times focal point of your question is I think, it maybe is a little bit less style and a little bit more, what, which I think is a very important thing, which is when we're in these kinds of environments and these hybrid environments, it's very easy to lose some of the tactile emotional things that you get from being in person. So, one of the things that I think I learned from all the pandemic was even when you're in very press times and going to do a little bit of a personal check-in like, how are you doing? How are things? I think that is a good thing anyway, and has persisted. Even when I did a check-in with a member of my team earlier today it was the very first thing was, so how are things with you and the family?
It was like, no, let's start there. 'Cause I think that's a very important thing to learn, but I make sure that I get an emotional connection and response. If it was like, Oh, the family. Oh fine. Like, okay, anything fun that you were doing? Did you take a vacation recently? That's the kind of thing that I would be doing if I was in the virtual environment. Whereas in person, it's like, okay, great. I'm emotionally checked in by being here with you. And so, as I get back to being there with you, it's like, fine, I hear you. Let's dive in. Let's do the thing that we need to do.
And it's critical because life is a team sport. And how we get together and the communication is not just the, hey, are you on track with that project? And what do you think about this? And do we have an idea to how to solve that? But also that we are a team together.
SARIN: Thank you so much. Thank you so much, as always.
DORCÉ: I love that, Reid, life is a team sport. Thanks again, Aparna Sarin from Capital One business for helping us kick off today's Strategy Session. Well, before we move on to the program, we do have a tradition here at the top of every Masters of Scale event. Reid, you see where I'm going here?
HOFFMAN: I, of course, do.
DORCÉ: It's our sing-along. As always, we'll play our Masters of Scale theme song and encourage you to try singing along at home. Okay, let's hit it.
[THEME MUSIC]
DORCÉ: And we're back. I want to welcome the co-host for today. He's the former editor of Fast Company, founder of The Flux Group, the delightful host of Masters of Scale: Rapid Response, Bob Safian. Hi Bob.
SAFIAN: Hey Jodine. Hey Reid.
DORCÉ: Bob, I'll hand it off to you from here.
SAFIAN: Thanks, Jodine. We'll see you in a bit. Reid, it's good to do Strategy Session time again, right? 
HOFFMAN: Always.
SAFIAN: So, today we're going to hear from entrepreneurs with very different businesses, but their questions apply broadly. So if you're ready…
HOFFMAN: Great.
SAFIAN: All right, we'll dive in. 
All right. The first question comes from Analisa Goodin. Analisa is the founder and CEO of Catch+Release, a content licensing resource for creatives, agencies, and brands worldwide. Analisa?
ANALISA GOODIN: Hi, longtime fan of the show. Super excited to be here.
HOFFMAN: And we're excited you're here too.
How to help others tell the story of your product?
GOODIN: So, my question is about storytelling. At Catch+Release we're creating a new category on the internet with our product. As the founder, I've spent so long with the product and the customer that I feel super confident in how to tell its story and its vision. As we scale and as our team grows, I think we're at an inflection point. And to continue taking the company to the next level, I feel like I need to evolve from telling the story just on my own. So my question is, how can our product and market opportunity be communicated about, clearly, without me as its main narrator? Do I need to pass that torch entirely? Who needs to communicate the product and vision as naturally as I do?
HOFFMAN: Well, I think you'll always be communicating it. So I don't think it's a complete pass the torch, but I think you need to get other torches lit. Early days of Apple, they had Guy Kawasaki as chief evangelist. So, as part of solving that exact problem, they hired a person and said, "this is your entire job." That didn't mean that Jobs stopped doing it or other people stopped doing it because you want to get as many of the torches to light the path to the future as you possibly can.
But what you want to do is you want to say, okay, what's that wave of torches that I need? Is it a couple of people? Really intensely, people then, that would be their jobs, that be the things you're doing? I do think that one of the things that the modern internet brings is that there need to be more people who are influencers talking in social media, LinkedIn, and other places about these things. I think companies are also, the vast majority of them need to be a little bit more humanized by having these folks articulating them. So, it could be one, it could be three, it could be 20.
Ultimately, of course you want, because you live and breathe creators, you want creators doing that for you in various ways. You might do a little bit of a social media challenge where people are saying things and awarding stuff. Depends a little bit on how you want that spread of torches, that spread of light to go, but that would be specific to your business. But you are absolutely right. You need to broaden past just you, you will not be successful without it. And then the strategy and how you do it will depend on what the right gain for your community, for your audience, how that will go.
GOODIN: Awesome. Thank you so much.
HOFFMAN: Thank you.
SAFIAN: All right. That was great, Reid. I did hear, too, a little bit of an echo from your answer to the earlier question, which is, you've just gotta keep doing it. Over and over and over, internally and externally. And that's necessary to get those torches lit. But which torches do you want most? The next question comes from Alex Beller. Alex is the co-founder and president of Postscript, which is a growing SMS platform for Shopify stores. So let's invite Alex in to ask his question. Alex?
How to balance innovation with your core business?
ALEX BELLER: Hey folks, great to be here. Reid, nice to meet you. So something that's on my mind is that the best, most enduring companies in tech, they're always innovating. And so my question for you is, as a founder of a growth stage company, what's the best way to balance that new product development with growing, and supporting, and investing in your existing business? Your existing core business, the thing that helped get you here.
HOFFMAN: So there's a lot of different possible answers, and it depends a little bit on what scale you're at. So if you're kind of an earlier scale and you're doing one kind of extension, then part of it we're on a communications theme today is how do you communicate how the new thing is also part of what's great about the old thing and the current and the new are going to be there together. There will be a group of people who will not like change even if they need changes. "I don't want three new features, let alone a new thing." And so you're always communicating about why that's a good future. And also being strategic in what you're doing, you put some place there. So for example, in the very early days of LinkedIn, I knew that we were not going to be focusing on advertising on LinkedIn for a while, but I didn't want the community to respond really negatively. Like, "Oh, now they've added advertising."
So what I did is I put in an ad thing very, very early, small one, made sure it was only really high quality even though we weren't necessarily able to get high CPM or anything else early, frequently, we'd put it in as an advertisement of something that was almost of an in-house ad just so that they knew the advertising stuff was always going to be there and coming. And that's part of when you think about the strategy from the existing thing to the new things and is kind of bridging for what you're doing. Then you also, as you get to larger scale, and you get to be very multi-threaded, you begin to figure out, well, how much of your overall company efforts are you putting on your core versus expansion versus kind of a strategic?
And at LinkedIn we ran kind of a 60-30-10 rule, which is 60% is core and evolution, 30% is an extension, where an extension is kind of like, look, it's like, we're still improving search and we're still improving, but it's this new thing. We have companies in search and so forth, or company pages, and strategic news like LinkedIn Learning or other kinds of things, or the LinkedIn influencers program, which is like, okay, well, this might be a very big thing. Let's bring it in. And part of what you want to be doing is a little bit of telling them before, launch it, tell them after, telling the story about why the whole thing is good for them. And then helping people through the new thing.
It's the bring people along on your journey for where you're going and doing everything you can in that arc. Even though you will have some resistance as part of doing it. And people feeling heard and listened to, even as you might be going where some percentage of your community say, "No, no, I'd rather we stay just where we are." That's a communications challenge, but it's a great question. So thank you Alex for the question.
BELLER: Thank you.
SAFIAN: All right, yes, thank you Alex. We have several more entrepreneurs who are going to pose questions to you — right after the break.
[AD BREAK]
SAFIAN: We're back with more questions from entrepreneurs in our Masters of Scale Live Strategy Session. And if you have a question you'd like to ask Reid in a future Strategy Session, please email [email protected]
First up is Mariel Reed, the co-founder and CEO of Pavillion, a marketplace connecting public entity buyers with suppliers on sharable contracts.
How to sell an audacious vision to risk-averse stakeholders?
MARIEL REED: So, my question is where Silicon Valley can often embrace the positive potential of a big audacious vision. Government entities are quick to focus on the risks. So, since state and local governments are our users, how can we communicate our ambition for the future without alienating the very people that we want to work with to bring it to life?
HOFFMAN: Well, it's a classically difficult challenge. One of the things I applaud you on providing services for state and local governments because it's desperately needed, and they tend to be more difficult customers for exactly the reason that you mentioned. I'm sure you're doing this. But, when you're in a situation like this, these customers will trust you less than they'll trust other people like them. This almost always goes back to how you're lighting more torches and so forth. So, it's like how do you get the first set and then get those being your advocate for how you're going kind of ahead, and then how do you help amplify those state and local government's voices to the other ones, as you're going, as a general pattern.
Then when you're dealing with the future and where you're going, they're like, "Ah, is this still going to be safe? Is it going to be risk?" Because exactly as you say, it's they're going to risk first, no failure first, and change always brings some risk to it, and so you're like, "Ah, but you're evolving and everything else. What happens when you're bigger? What happens when you have no products? What happens when you evolve your product?" And all that thing in terms of where you're going.
So, it's get them to be your advocates. Then of course, you build up trust over time, and then that really helps with it, and that allows that non-alienation there as part of it. But, it's a great question, and there are many entrepreneurs, not just ones serving state and local governments, but also those who have other kinds of risk averse customer bases, slow moving customer bases, non-early adopters. So, thank you for asking.
REED: Thank you.
SAFIAN: All right, Reid, are you ready for the last question in this segment?
HOFFMAN: I am indeed.
SAFIAN: We get to go to Greta, Greta McAnany, co-founder and CEO of Blue Fever, an emotion and wellness app for Gen Z to develop and share their authentic self.
How to communicate value in a new market?
GRETA McANANY: Hi. So excited to be closing out. No pressure for me here. Blue Fever is an emotional media app, which means that we are growing at the speed of trust, and that means dodging any of the typical gimmicks of growth and addiction building that traditional social media perpetuates. We're gaining traction, we're excited about our trajectory, but we are wrestling with how to communicate to the market in their language, what success should look like in this ever-evolving and really nascent space of digital wellbeing. 
So, Reid, my question for you is how can we dictate and communicate the way our growth and ultimately the value that we're creating as a company is evaluated?
HOFFMAN: Obviously our thread for a lot of what's been going on today has been communication, and part of what you need to be doing is kind of in honing and testing your thing, and kind of measuring how well is it landing, is the thing that you're saying is the analogy you're doing has the simplicity of the communication, whether it's category, benefits, other kinds of things, is it resonating and landing? It's one of the reasons why even when it gets down to individual, I still do some media training because even me communicating, it's like, "Well, how is it heard? Well, what do people do? Are you communicating looking like you're being nervous?" Or other kinds of things. That's on individual, but it also goes to products, which is to don't just always think, "Oh, it's my vision, and I need to articulate as best as possible."
It's like, "Yeah, yeah, do that. But, then also be in a loop where you're learning and you're hearing." It's like, "How did that land? Was it said the right way? Do I need to change it a little bit?" Even if I find that a prime as a message isn't quite resonate as much with me, but it resonates with a bunch of other people, and it's really what I'm trying to say, then that's what you do in terms of communicating that because obviously value is what they discover in it. So, it's a great question and just like all the communications questions are, we communicate constantly as entrepreneurs, customers, employees, investors, stakeholders, all the thing. It's super important. So, thank you for asking it.
McANANY: Thanks Reid, appreciate it.
SAFIAN: Well, thank you to Greta and to all of our entrepreneurs for being here, and to you, Reid, for responding to these questions. They've been some great questions today from the guests. I'll say that we've gotten a lot of other burning questions too sent to us from our community of entrepreneurs. I'm particularly intrigued by one that's come up repeatedly, and I'd love to ask you about it in our next segment called Need to Know.
Need to Know: Layoffs in tech
Reid, we've recently seen a bunch of big tech companies announcing layoffs, but these have often been jobs that they only added recently too, essentially they were overly optimistic about the future in good times, and now of course they could be over-correcting and dropping talent that they may want later. I think all entrepreneurs go through their versions of this, of trying to respond to current conditions, good or bad, but not overreacting. So, I'm wondering how you think about that balancing act, whether there's sources of information that help you, how much of that is about listening part of communication, or is it more about a discipline about knowing whether the near term is getting in the way of your long term?
HOFFMAN: So, there are many things about where entrepreneurship is, kind of, running over uneven ground through the fog at night and a lot of kind of risk decisions and are letting fires burn and part of that gets to the, "What's the speed that you should be pushing at? What's the level of burn?" Because all entrepreneurship, well, the vast majority of entrepreneurship, especially venture capital funded entrepreneurship is not revenue funded. You have a negative burn that you're, it's part of the reason you raised capital on.
So, that always gets a, "What's the level of that?" And part of the challenge of it, well, is in a growth market where there's a lot of flow of capital, you should be growing more aggressively. It's part of how you outpace the competition. Why say such things as blitzscaling? And in a capital constrained market, you should be focused on endurance and on navigating what is perhaps a long uncertainty about how easy it is to get capital and what you should be doing.
And then of course you get caught out on it, which is you see a whole bunch of tech companies doing layoffs because they'll be like, "Well, last year we thought we should be doing the growth market, so we're hiring a whole bunch and we're going for it, and this year we shouldn't be." And so we have this regretful path of doing some layoffs. Although part of the reason why I've been a general voice of calmness in the media has been, look, there will be layoffs as companies retrench, but there's still a lot of money for tech, still a lot of companies wanting to hire tech positions and all the rest.
And so it's not a, oh my god, now the good times are all over. Rest in peace. It's kind of like, no, no, no, we don't know when. We don't know if it's this year, next year, year after and so forth. Growth will continue. But there is a kind of contraction and refocus that's part of it. And whereas that gets to entrepreneurs is to say, we'll be recognizing like, okay, you're now no longer, it's outpacing relevant competition for the medium and long term, not necessarily the short term, but you have to get through the short term in terms of doing it. What does the capital market look like? And so, even companies that I'm on the board of have done layoffs and retrenchments and the press generally makes a big deal of that. Not to nudge Bob for his former press backdrop because they're, "Oh, it's 6% layoffs." It's like, well it's less people than they hired last year.
But it's a good focus. And too often people don't realize that it's the question of take all these negatives, like, oh, I got to be more capital constrained. I have to reduce my burn rate. Turn it as much as you can into a positive. It's one of the general feelings of jiujitsu moves that you need to do in entrepreneurship is you have this negative. How much can you turn it into a positive? Because sure look, we hired people because we wanted to accelerate. We know how we could use them for getting into the future that we want to be getting into, but we need to be careful about our cash. We don't know what the future of financing is so we're now refocusing. And that's how it plays. I think that's the yin yang theory that you need to be bringing into this kind of entrepreneurship as a way of doing it.
SAFIAN: And I guess to circle back to that communication theme, it sounds a little bit like not all leaders are comfortable being as upfront about the reasons and this landscape. 
HOFFMAN: Yeah.
SAFIAN: Whether that's we made the mistake by hiring too many people or whether that's, listen, we're still a lot bigger than we were a year ago.
HOFFMAN: Yeah, and it always has to be done in the layoffs of compassion for people who, look, I went and changed my life around to join this company and I'm now being laid off. That's not great. And look, it's a legitimate case where the leader said, "I didn't know that the market contraction was coming." But you always have to have that humanity first in this. And you are seeing some of the differences between great leaders and not so great leaders on how they're navigating this.
I loved it back when Brian Chesky very early, and I think you had him on on Rapid Response and this stuff, had this generally okay, I'm going to let these people go, but I'm going to advertise to the whole world. I feel the pain of letting these people go, they're really awesome. I'm going to enable them as much as possible. I'm going to be human and generous in it. Because then by the way, most of the people go, "Well shoot, I loved working at Airbnb and if Airbnb calls me in the future, I might come back." And other people say, "Oh, I can go run with Airbnb because in fact they are human first and even if they get in these difficult things, they'll be looking out for me. And even if I'm laid off, they'll be looking out for me. That's great. That's a company I want to be part of."
And I think that's again part of, okay, it's a negative. How do you show who you are as a leader, who you are as a company, who you are as a culture?
Need to Know: Staying up-to-date with developments in AI
SAFIAN: I want to ask you about one more topic, something you and I are going to talk about a lot going forward, I'm sure, but about artificial intelligence. You're a big supporter of chat GPT, which is everywhere. For the entrepreneurs that are here with us, how should they think about AI's potential impact on their efforts? How do they stay up to date with things that seem like they're changing constantly? Do you have a suggestion about that?
HOFFMAN: Not a surprise for you and people who know me is using network intelligence. Part of it is pieces of intelligence distilled in the right way come from other people. And so part of it is even when I'm asking which podcast to listen to or which things to read, I essentially do it through people. And part of that is to be intentional and directed in the questions you're asking. If you go, okay, well what are the tech trends coming? Which are the ones that might unseat me? What am I missing right now? Your network is your sensors around you. And they may direct you to other people. They may direct you to a podcast, they may direct you to a news article, a book, et cetera, as ways of doing it. But that's, I think the really key way to stay on top of it.
SAFIAN: To communicate with your network, keep using those resources. Those people in a lot of ways are your best resources.
HOFFMAN: Yes.
SAFIAN: I love that, Reid, thank you. I want to bring back our colleague Jodine, who I think has another twist of things for us. Jodine?
How to launch early with a product you can be proud of?
DORCÉ: Thanks Bob. Before we end the show, I want to pose a couple of questions that came in through the chat. I'm reading the chat right here, and it looks like Margot ter Bekke. She says, "I know you often say if you're not embarrassed by your first launch, you've launched too late. But I want to make sure we launch with a product we promised from the beginning. How do you juggle this question of launching early but with a product that you can be proud of and to stand by?"
HOFFMAN: Well, it's a great question and it depends a little bit on which industry you're in. And part of that quote is very oriented at consumer internet software because too often entrepreneurs will say, "I want to be proud. I want to show this really great thing." And I did this, I made this mistake in my very first startup SocialNet, and I spent way too many months working on it. And if I'd released early, then I would've learned and moved faster.
And so the quotes are basically orientation and consumer internet of the importance of being speed, of actually learning what your customers actually really know. Because by the way, you say well, I promise this and this is what they were expecting. It's like, well, do they even know themselves necessarily until they're engaging? Frequently, it's one of the reasons focus groups and things can be misleading on this stuff. Should I build product X or product Y? Until they're experiencing it, they don't necessarily themselves know either. And so the speed of the engagement with the actual thing and learning from it improving is what's really important on the consumer internet.
Now the asterisks is to my theory are like you're releasing a hardware product or something like that. Well, it may not be that you have a chance for a second release. There is no iteration. You have to get it much more right first when you're doing it. It isn't that the theory perfectly applies to everything, but when you're doing a consumer internet software, fast as possible, engagement learning is super important in terms of how you go.
SAFIAN: In the media business where I've been in, I think the way we approach it is you want to release a thin product. Don't try to do everything. If it's important that what you put out is something you need to be proud of and being embarrassed by means it's going to go away, get something out that's thinner that can be focused on that. You can get feedback and then you can add the pieces to it later. We have so much ambition about what we want to have our products be and do and sometimes you have to walk a little bit even though you want to run.
What are the smart hires to make in times of downturn?
DORCÉ: Great words, great wisdom. I'm going to jump down to Clara Mota. Clara asked a really good question. In times of downturn, it can be difficult to see what the smartest hires are to steer the company to safety. Should you look at long-term experienced candidates or instead go down the route of interim managers, part-time recruits to get the immediate work done?
HOFFMAN: It's a great question. You want the people who are most adaptive to your changing circumstances and be learning themselves and learning along with you and with the organization on what needs to happen and will be adjusting because we're in downturn and changing circumstances. And if that's somebody who's like, "Okay, I've been very experienced, great." And if that's a young intern who's being promoted, great. But it really plays to adapt with you and being very adaptive and that's actually one of the things that's very important to be hiring in a number of key roles in these entrepreneurial journeys is adaptive people.
That's the variable that I would look at much more intensely than exact experience.
SAFIAN: I love that, Reid. We recently released an episode of Rapid Response where the theme was around versatility. And that's the word I keep thinking of. You want people who can be multi-tool players in different ways because you never know what game you're going to be playing. The game just keeps changing.
HOFFMAN: Exactly.
DORCÉ: So true. Well, we've come to an end. Bob and Reid, thank you for being such gracious hosts, and for being so generous with your time and your wisdom.
HOFFMAN: Jodine, thank you.
SAFIAN: See you next time.
DORCÉ: Thank you.