Brian Grazer shares his unique practice that brings his network to life and how he founded Imagine Entertainment with his longtime creative partner Ron Howard.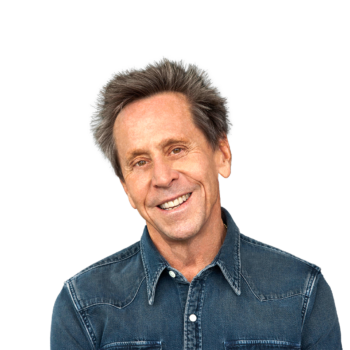 Brian Grazer shares his unique practice that brings his network to life and how he founded Imagine Entertainment with his longtime creative partner Ron Howard.
Transcript
Transcript:
Scale your curiosity
JESSIE BARRY: Swainson's thrush — one of those birds that has a beautiful song, but you don't see 'em that often. They hang out in thick forests and they are migrating at night. 
REID HOFFMAN: That's Jessie Barry from the Cornell Lab of Ornithology in New York.
BARRY: You can imagine this little songbird, smaller than a robin, traveling from perhaps somewhere in northern Ontario, all the way to the mountains and the Andes. Think about what they need to do to be ready for that journey and then the risks that they face along the way. 
HOFFMAN: Those 'risks' are an essential consideration in Jessie's work everyday. Since 1970, North America's bird population has declined by around 3 billion. 
BARRY: We can see it in the data, but we can also see it in our personal observations, where the numbers of birds that were around in the places that I went birding, when I was a kid, have already changed. To be able to see that shift in my lifetime is both tragic and motivating at the same time. 
HOFFMAN: The Swainson's Thrush is one species at risk. Jessie believes that communication across the ornithological community could play a key role in the birds' protection. She and her team are well known for creating the app and networking hub, eBird. 
BARRY: eBird is a global community of birders. Folks anywhere in the world can submit their sightings. For the last 20 years, birders have been going in, putting in their observations, keeping track of what you've seen, seeing what your friends have seen. The birdwatching community is always trying to bring others into the fold and share.
HOFFMAN: To track the migration pattern of Swainson's thrush, Jessie tapped her eBird network. Communities across the continent logged their sightings. Each sighting was a marker along the route of the bird's migration.
After several months passed, Jessie traveled to South America to attend one of the biggest events in the birding calendar. 
BARRY: I was down in Columbia at a bird fair. You've got hundreds of birders from around Columbia coming to this event.
HOFFMAN: At the climax of the festival, Jessie took center stage to present her findings on Swainson's thrush. 
BARRY: And so you're watching this animation where you can see the birds migrating north in the summer and then coming south in the winter, and you're watching the heartbeat of the planet.
That was the first time that that map of that bird's migration had been seen in its entirety. 
The room was applauding. There were tears.
It was a magical moment because you could feel that connection between the communities.
HOFFMAN: With the mapping of the Swainson's Thrush migration pattern, experts are now able to begin the fight for preservation. Deadly obstacles along their route can be monitored and amended, ensuring a safe passage for a species with a declining population in the U.S. 
Jessie's network helped ignite a breakthrough and Jessie herself was able to achieve something impossible if working alone.
For leaders everywhere, having the courage to lean on your community opens new doors and unleashes newfound creativity. Knowledge collected by one of your contacts could transform the way you tackle your next strategy, initiative or project. The only thing stopping you from reaching out and giving that person a call is you. 
That's why I believe you need to build your network based on curiosity, not contacts. Doing so will give you a head start in generating and sustaining surprising ideas, opportunities and discoveries. 
[THEME MUSIC]
HOFFMAN: I'm Reid Hoffman, co-founder of LinkedIn, partner at Greylock, and your host. And I believe you need to build your network based on curiosity, not contacts. Doing so will give you a head start in generating and sustaining surprising ideas, opportunities and discoveries. 
If you are a writer or artist, you may be familiar with the concept of "the muse."
In Greek and Roman mythology, the Muses were nine goddesses often invoked by artists, writers, and scholars to seek inspiration and guidance in their creative endeavors. 
Over time, the definition expanded to refer to anyone, real or imaginary, who serves as a source of inspirational fuel for the creative process. 
Traditionally, artists would have one or two muses they'd call on. But imagine if you could build a network of muses — thousands of inspirational people whose experience you could tap.
Well, you can build a network like this. And you should. To do so, you need to engage in what I like to call "networked curiosity." This is the practice of creating and maintaining a network full of diverse and interesting people who you've made time to learn from and connect with on a human level. 
Networked curiosity will change the way you see the world and the ideas you're capable of generating. By being an agent of curiosity, you'll instill curiosity in others and they'll be more open to sharing deeper insights. This will also breathe new life into the way you consider your own leadership. 
However, impactful networking is easier said than done. To cultivate and maintain a healthy network takes skill and dedication, which is why I wanted to talk to Brian Grazer. Aside from being one of the most successful producers working in Hollywood, Brian is a master of networking and sparking human connection. As the co-founder of Imagine Entertainment, alongside famed director Ron Howard, Brian has produced a staggering number of hit movies and TV shows, including Apollo 13, Frost/Nixon, Friday Night Lights, and 24. 
I also love how Brian's success in scaling his ability to create impactful stories is based on something that at first seems unscalable: one-to-one interactions.
For decades, Brian systemized his networking by instigating a bi-weekly one hour curiosity meeting with a new contact. These conversation companions can range from Hollywood icons to Uber drivers. Whoever his companion is, Brian's primary focus is to listen and learn. To understand how Brian started to develop this practice, we need to grab our bookbags and join Brian back at elementary school in the 1960s.
BRIAN GRAZER: Growing up, my dyslexia earned me straight Fs on my report card every single year. 
HOFFMAN: Brian's constant struggles in school rattled his self-confidence. But there was someone in his life who always helped him bounce back.
GRAZER: I had a grandmother named Sonya Schwartz — tiny little Sonya, about, had to be four foot 10. And she would look at my straight Fs and she'd say, "You're going all the way, you know, you're gonna be something." 
And I'd say, "there's really no empirical data that supports that, Grandma."
HOFFMAN: Brian's grandmother Sonya knew there was a way to accumulate expertise that didn't involve the classroom. 
GRAZER: She had a discipline in place. She, every weekend, would take me someplace new.
She took me to Dodger Stadium.
She took me to the Hollywood racetrack when I was nine or 10 years old. And I learned to bet on the horses through her.
We would constantly visit new places to eat, of all types.
HOFFMAN: Sonya introduced young Brian to the true vibrancy of Los Angeles. She also encouraged Brian to be curious, even if that meant going to extra effort to make connections. Here's Brian recalling a typical example from when they visited a restaurant.
GRAZER: She'd introduced me to the chef. She'd always call, "where's the big boss?" So she'd introduced me to the big boss. So I was constantly interacting with new people, new ideas, that would produce new experiences. 
HOFFMAN: Sonya is a prime example that you're never too old or experienced to stop asking questions. Seek wisdom wherever you can find it. You can find entrepreneurial inspiration anywhere. It doesn't have to be in your own industry or bubble.  
The start of Brian Grazer's curiosity meetings
From a young age, Brian saw the power of making the effort to reach out to people of all walks of life. As a teenager and college student, Brian developed the confidence to engage with professors and authority figures. But once again, Brian realized he learned more outside of formal education.
GRAZER: My first week after graduating college at USC, I asked myself, 'What did I learn in college?' And I came to the quick conclusion: I learned very little, quite frankly. 
HOFFMAN: Note that Brian isn't saying his professors and fellow students didn't have anything to teach him. Rather, the system of college education wasn't right for his way of learning. Although, there was one class that stood for Brian — a class in which he felt he'd actually learned something. So Brian decided to reach out to the professor who taught it.
GRAZER: His name was Dr. Milton Walpin. He taught a psychology class. And I tracked him down during this first summer week. And he said, "You've graduated. What do you need me for?" And I said, "Well, I really just wanted to have a conversation with you because I wanted to codify this memory of my one class that I learned something from."
HOFFMAN: The two sat down and discussed the deeper meanings behind the professor's class and wrestled with some of life's biggest questions.
GRAZER: I realized in this one hour, I learned more than I'd ever learned in college. And I thought, I'm gonna do this every single week with somebody. And I didn't know who that somebody would be. 
HOFFMAN: Seeking out more stimulating conversations became Brian's main focus. And he soon uncovered an ingenious way to fuel his curiosity engine.
GRAZER: I was in my apartment complex in Santa Monica, and I overheard these three USC law graduates. It was almost like a contest between the three of them — talking about the easiest job they'd ever had. One guy said, "You have to listen to what I had to do at Warner Brothers. 
For the most part, I just wandered the halls and had not much to do and paid well. 
He said, "Well, I would drive papers around and deliver them. But I just, I just quit."
When I overheard that, I dialed information, got the number of Warner Brothers, and asked for the legal department, got a meeting that day with the man in charge, and he hired me that day.
How Brian Grazer won Warren Beatty over with his curiosity
HOFFMAN: Warner Brothers was one of the hottest studios at the time. Brian suddenly found himself surrounded by the bustle of the moviemaking world. It was a place known for fleeting, transactional relationships, but Brian was determined to build more enduring and enlightening connections.
GRAZER: The second week, I was asked to deliver some papers — a huge stack of papers to Warren Beatty. And I knew very little about show business, but I certainly knew who Warren Beatty was. He was the biggest star in the world at the time.
HOFFMAN: Papers in hand, Brian traveled through Hollywood to the Beverly Wilshire Hotel. At the time, Warren Beatty lived on the hotel's top floor. 
GRAZER: Someone comes down and says, "Gimme the papers." 
And I just had this idea dart into my mind. I said to him, "Unless I hand these papers directly to Warren Beatty himself, the papers themselves are not authorized, and I'm gonna have to take them back to Warner Brothers, and we'll just start this process over again." 
A second assistant comes down; he challenges it. I said, "I'm sorry, I'm gonna have to leave and go back to Warner Brothers." He said, "Okay, come on up."
HOFFMAN: Brian's spontaneous gambit worked. After walking through the baroque lobby and into the apartment, he was now face-to-face with Warren Beatty.  
GRAZER: While I handed the papers to Warren Beatty, I asked him a question. And that question wasn't really significant. It was just a way to start a conversation that was related to show business and to him as a human being specifically. And he turned it into an hour long conversation on a couch and offered me an espresso. And we talked for an hour and I gave him the papers and left. 
HOFFMAN: However forgettable Brian's first question was, he managed to infect Warren with his curiosity. No matter who you're talking to, networked curiosity only works if you show a deep interest in the person. Curiosity can act as a catalyst for meaningful conversation, even between a revered Hollywood star and a lowly young office assistant. So instill curiosity in those you meet by asking questions and showing enthusiasm. If your curiosity is infectious, you'll be surprised by the time and energy others will be willing to give you. 
This interaction with Warren Beatty opened Brian's eyes to the massive potential of working at Warner Brothers.
GRAZER: I realized that I could do this every single time I had to deliver papers. I can say, "I have to hand you the papers directly." I could just create lists upon lists of people that were making a difference in the entertainment business. And so, not only did I deliver papers and have these meetings, but every day I would institute a new conversation.
Brian's first meeting with Ron Howard
HOFFMAN: Heading into the early 1980s, Brian had already left Warner Brothers to begin producing TV pilots at Paramount.
GRAZER: I had an office on the Paramount lot. And I opened up my window cause I saw Ron Howard. I ripped it open, and I yelled out the window, just impulsively — "Ron, Ron Howard." And he glanced at me and then kind of took off. So, he eluded me, but I thought, you know, no, I really wanna talk to him. I want to make Ron one of my curiosity conversations.
HOFFMAN: Determined to pick Ron Howard's brain, Brian called Ron's office, won over his assistant and soon enough, the day arrived for the two to meet.
HOFFMAN: What truly sealed their partnership was a mutual admiration for one another's energy and enthusiasm. 
HOFFMAN: You might recognize this story from our recent episode with Ron Howard. If you haven't heard that episode yet, it acts as a great companion piece to Brian's journey. The two, of course, went on to form one of the most fruitful partnerships in Hollywood history.
This is another huge benefit of constantly building your curiosity network: you will vastly increase the odds of finding potential partners. This is why it pays to be bold in your network curiosity. In the case of Brian, it was 'scream-out-of-a-window bold.'
"Wow, that means nobody knows anything"
Brian and Ron founded the production company, Imagine Entertainment, in 1985. One of their first ideas as a duo was for a fantastical movie called Splash, about a romance between a man and a mermaid. 
GRAZER: It was thought of as the dumbest idea in Hollywood — like, "stay away from Brian Grazer, he's got that mermaid idea."
HOFFMAN: As the producer, it was Brian's job to go and pitch Splash to studios all over Hollywood. 
GRAZER: I would tell everybody, it wasn't just a mermaid idea, it was a love story. And love stories, there's universality to them. But after hundreds and hundreds of no's, I got one person to say yes. And that was somebody at the Walt Disney Company at the time.
HOFFMAN: As we know, Splash was a huge hit, helping propel Tom Hanks to megastar status, and getting Imagine recognized as an exciting new force in film. The chorus of no's that Brian endured is an echo of what most entrepreneurs have to endure. It also gave him an important insight into getting his projects made.
GRAZER: The dumbest idea in Hollywood known by all got made and turned out to be a critical darling, and I got nominated for an Oscar, and I thought, wow, that means nobody knows anything — whether it's a movie story or a tech story or a consumer story.
HOFFMAN: The parallel with the tech industry is just: how do you get something that's contrarian, but right. And frequently what I say that in the venture industry is, your ideal investment is something that seems crazy right now and totally obvious two to three years from now.
GRAZER: Was LinkedIn just a natural, like you thought, oh, that's gonna grow and scale?
HOFFMAN: No, a lot of people thought it was, it was bozoville.
Both smart people and unexperienced people thought that LinkedIn was crazy. The smart people thought, Hey, it's a network product and you're going to have no value proposition until a lot of people are in it, so no one's going to join it, because first person, second person, third person, all no value proposition. And then the less experienced people were just like, well, who wants to do professional networking? Why would that be something? People only want to go meet Bill Gates or someone else. Basically, you don't know what you're doing. You're jumping off a cliff, without a plane, without a parachute. It's going to be ugly.
HOFFMAN: A great idea requires someone just as crazy as you are to see its potential and buy into it. The more sprawling your curiosity network, the better your chances are of finding that one other crazy person. 
But remember — it's not just about having a big network, it's about cultivating a network of open-minded individuals who are receptive to your curiosity.
After the break, we'll hear how Brian prepares for his curiosity conversations and how he sparks human connection to ignite great ideas, so stay with us. 
[AD BREAK]
HOFFMAN: We're back with Brian Grazer.
To see exclusive clips from my interview with Brian, head to the Masters of Scale YouTube channel. You'll be able to get more insights from Brian's career, including his rules for hiring directors and writers. 
Before the break, we heard how Brian set up the practice of weekly "curiosity conversations," and how one of these led to his enduring partnership with Ron Howard.
Before we dive into the next chapter of Brian's illustrious career, let's explore what work goes into these conversations and how you can make moments of networking more impactful. 
GRAZER: I had things that I would do prior to having any conversation. I'd do research on the person. I would try to learn something about their personal life and about what mattered to them. 
Injecting curiosity in conversations with Tom Ford, Jay-Z, and Ol' Dirty Bastard
HOFFMAN: An example is the time Brian met fashion designer and filmmaker Tom Ford.
GRAZER: I suggested some music that I thought he'd never heard, but would want to hear, because of course, designers care a lot about music, because it's a relevant ingredient to how they sell clothes. So I'd come with some sort of gift to them. I did that with Jay-Z as well. I try to find out the thing that they care about on a human and business level that they might not be given. And I could provide it.
HOFFMAN: Yeah, yeah. Doing the work to show that you care that it's a conversation … it's a dance between two people, you care about what they're getting out of it and their engagement.
GRAZER: It's like a date.
HOFFMAN: Yeah. It's just sadly so rare. But it's like, I put some energy in, and here's something that could be fun and interesting and useful for you too. And when people see that, they're much more likely to respond in an engaged and warm fashion. 
HOFFMAN: When you're networking, put time and effort into knowing who it is you're talking to. Going in prepared, sets you up to make the most impactful connection. 
GRAZER: You have to start with pure intention, because in order to create a real network, people cannot feel deceived. They have to feel your authentic self, your soul.
HOFFMAN: Another important thing these conversations do for Brian is push him out of his comfort zone and open his mind to new cultures, art forms, and modes of expression. For Brian, one example in particular stands out.
GRAZER: 20 years ago, I met Ol' Dirty Bastard in a curiosity conversation.
HOFFMAN: Ol' Dirty Bastard — otherwise known as ODB — was a revered member of the Wu Tang Clan, known for his outlandish behavior and his offbeat humor. Prior to this conversation, Brian was highly skeptical of the artistry involved in hip-hop. The whole subculture was totally foreign to him. But ODB intrigued Brian, who wanted to better understand the rapper and the hip-hop world he came from. 
GRAZER: By meeting this one guy, it got me to ultimately make the movie 8 Mile with Eminem.
HOFFMAN: Through the process of making 8 Mile, Brian grew to love and admire hip-hop. 
GRAZER: And by doing 8 Mile, it caused me to produce a concert, and later a documentary with Jay-Z, called Made in America. So each one of these conversations becomes the foundation of a tree. Each tree has many, many branches.
"Pursue what you don't yet understand"
HOFFMAN: I want to take a moment to shine a light on how important it is to pursue what you don't yet understand. Never presume that if it doesn't make sense to you, then it's not worth your time or won't align with your interests. Utilize your network to dig deeper and get to the heart of ideas and perspectives that are foreign to you. Great ideas are made in this kind of discovery.
Since we were engaged in an extended curiosity conversation of our own, I couldn't help but ask him about his thoughts on AI in the future of his industry. 
HOFFMAN: How do you think people should think about AI as a catalyst for storytelling and humanity? 
GRAZER: Well, it makes me feel more confident that we as human beings have great value being human beings. Anything that involves creativity involves nuance. And I don't know if machines pick up eye contact and eye dilation and physiognomy and, did I wiggle my leg when I was talking? 
I feel more confident in the value of human networks than ever before. 
HOFFMAN: The humanity of active listening and awareness was pivotal in one of Brian's most high-stakes casting decisions… 
GRAZER: Part of Tom Hanks getting the job in Splash was his nervous, crazy nervous whacking of a pencil while he was talking. And he still does that actually. He seems so calm and together. But you get to watch that in juxtaposition. You go, wow, no, inside of that, of a calm, highly articulate, very intelligent man, is some nervousness and some insecurity and some demons and all those other things that add to his complexity.
HOFFMAN: Brian argues that this contradiction is what makes an actor like Tom Hanks so captivating. In those interpersonal connections, Brian sees something that AI is yet to be able to. 
It's important to remember: humans aren't built like chatbots. We aren't going to use the perfect words in the perfect order and in the perfect moment. To support Brian's idea, AI needs our language and ideas to feed it functions. They can't yet replace the gestalt of a human conversation, which is the entire experience of a conversation. 
GRAZER: All those things I don't think get detected by AI. So I do feel more confident about my ability to not only form networks, but value networks.
HOFFMAN: To be clear, I don't fully align with Brian on his assumption that AI will never be capable of parsing microexpressions and evaluating body language. To a certain extent, it already can. But it's unclear as to whether it will ever surpass or even match what the best humans can achieve. 
So what I'm taking away from Brian's story about casting Tom Hanks is: to be irreplaceable, be a better human. The human side of networking requires active listening, perceptiveness and emotional intelligence. In a world where AI is soon to be capable of arranging work meetings and calendars on your behalf, the human side of networking is here for the long haul. 
Speaking of a connection that stood the test of time, as Brian and Ron Howard scaled Imagine Entertainment over the years, they wanted to turn their attention to discovering and nurturing new talent.
GRAZER: You're stuck in this bureaucracy of studios, where you get to pitch your idea to one executive, and it takes years to get that idea to the top of the stack. So I felt that was really unfair, this sort of medieval hierarchy that was created in Hollywood. It bothered me so much. 
The origin story of Impact
So in 2018, they founded Impact — a bootcamp for new writers to workshop their scripts and gain access to top-level mentorship.
HOFFMAN: Brian's inspiration for Imagine Impact was surprisingly not rooted in the entertainment industry, but in tech.
GRAZER: It was completely modeled after Y Combinator. And in fact, Sam Altman and Paul Graham were great help. They were incubating what could be great start-ups that could become tremendous companies. And that's exactly what you're doing with stories is you're trying to find an original voice. You're looking for truthful sustainable voices. I think Airbnb, Chesky in the group, it comes out of their heart. And many of these great movie stories come out of somebody's heart.
HOFFMAN: After the structure and roadmap for Imagine Impact were created, they needed funding to get the initiative off the ground. 
GRAZER: I pitched this to Bill Gurley.
HOFFMAN: Bill Gurley is a legendary VC at Benchmark, having led investments in companies like GrubHub, Uber, and Zillow. 
GRAZER: And he is really a dynamo. I talked to him on the phone, and he says, I like it. I'm coming down tomorrow to see you. We spent like five hours together and then he said, it could also be a marketplace. 
HOFFMAN: With Bill's help, Brian discovered that the best way for Imagine Impact to scale would be to incorporate a marketplace to auction these polished scripts once they'd been through the bootcamp. 
GRAZER: We have a pitch day where you'd have 600 buyers from all the studios go into a theater. And all of the graduates from the bootcamp would pitch their stories. 
HOFFMAN: New writers that previously relied on competitions or festivals to be discovered, now had access to a thriving network of immense opportunity, driven by curiosity in new voices and new ideas. 
GRAZER: We had like about a 60% sell rate. 
HOFFMAN: One writer that found success during his time at Impact was Godwin Jabangwe. 
GRAZER: This kid from a tribe in Zimbabwe wrote the beginning of an outline that was for an animated movie on his tribe and sold for millions of dollars to Netflix. I think we're in 110 countries in the incubator. We have so many of these success stories.
HOFFMAN: Today, Impact has scaled to become a sprawling virtual network for 600,000 creatives and crew members. The database is free to join and accessible to anyone in the industry. 
Networks are supposed to grow beyond you, and curiosity is the most powerful way to drive this growth. Your curiosity and enthusiasm will encourage others to form their own curiosity-driven connections too. And this in turn, will further expand your access to ideas and opportunities that you might otherwise miss. 
The best catalyst of curiosity is the unknown. You want to know what's around the corner. Following unknowns can lead to extraordinary places. You'll discover ideas that you otherwise wouldn't, and you might just make a friend in the process. 
I'm Reid Hoffman, thanks for listening.