Prioritize principles in crisis
Navigate today's uncertain climate with a steadfast resolve. Recorded live at the Masters of Scale Summit in San Francisco, former Merck CEO Ken Frazier and Upwork CEO Hayden Brown talk with host Bob Safian about how leaders should trust their values when faced with social, political, and economic challenges. Brown shares how leading through the chaos of the pandemic brought new opportunities to increase diversity and productivity. Frazier details Merck's reactionary strategy to the Russian invasion of Ukraine and offers clear advice to socially conscious leaders.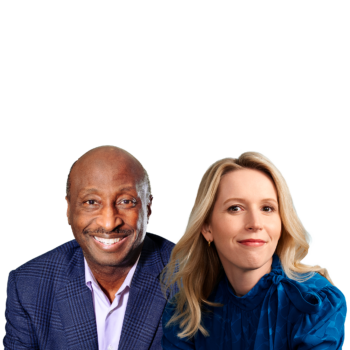 Navigate today's uncertain climate with a steadfast resolve. Recorded live at the Masters of Scale Summit in San Francisco, former Merck CEO Ken Frazier and Upwork CEO Hayden Brown talk with host Bob Safian about how leaders should trust their values when faced with social, political, and economic challenges. Brown shares how leading through the chaos of the pandemic brought new opportunities to increase diversity and productivity. Frazier details Merck's reactionary strategy to the Russian invasion of Ukraine and offers clear advice to socially conscious leaders.
Transcript
Transcript:
Prioritize principles in crisis
HAYDEN BROWN: We can't see around all of the corners ahead. But we have to make decisions that may not be popular in the moment with everyone. We have to make decisions that stand the test of time. 
KEN FRAZIER: For business to succeed, we need a climate. And that climate can't just be one that's conducive to commerce, it has to be conducive to people.
It's important to have things that we care about, fairness, decency, morality, civility. My view of it is that we citizens, including business leaders, have an obligation to do something about it.
BOB SAFIAN: That's Ken Frazier, chairman and former CEO of pharma giant Merck and
chair of health assurances at VC firm General Catalyst, and Hayden Brown, CEO of the pioneering job platform Upwork, both live from the Masters of Scale Summit in San Francisco. 
I'm Bob Safian, former editor of Fast Company, founder of the Flux Group and host of Masters of Scale: Rapid Response. I wanted to talk to Ken and Hayden because the pair share compelling insights about the responsibility of business leaders today, and how to prioritize principles during moments of business pressure. From Russia boycotts to economic dislocation, they talk about making sacrifices to stay true to your company's values. 
Plus, we hear from two special guests: a board member from Peloton and an entrepreneur from Kyiv, Ukraine, who pose questions to Ken and Hayden, about their strategic challenges. 
Here's today's episode.
[THEME MUSIC]
"Top-down decision-making does not work"
SAFIAN: Please welcome Ken Frazier up to the stage. 
Ken, thanks for joining us. So you've guided businesses through a lot of cycles. 9/11, the Great Recession, the pandemic now. When you and I have talked previously about rapid responses, you focused on following principles, that when you're under pressure, it's important to do the right thing. And I wonder, what does doing the right thing mean, especially in situations that are all new?
KEN FRAZIER: So I'd start by saying that I don't know what the right thing is all the time, and I think one of the most important lessons that leaders can learn going through this kind of upheaval is that the old-fashioned concept of top-down decision making just does not work. So usually, people think that CEOs have to be quick and decisive. When the pandemic hit, I thought that was exactly the wrong way to approach it. We needed to be much more reflective, much more empathetic. We had to become much better listeners, and we needed to empower our people to make the decisions that were necessary for our business, and importantly, for their own lives, since there was no longer a stark difference between work and people's personal lives.
SAFIAN: I mean, there is the stereotype of a CEO that's like, "I may be wrong, but I'm never in doubt." And what you're saying is sometimes you have to know when you have to listen?
FRAZIER: Absolutely. For example, we were talking about working and people coming back to work, and we had 70% of our employees weren't able to work from home. We make life-saving medicines. So back there in March 2020, we had our production workers and our researchers working all the time. I'm very proud of the fact that during that period of time, what we call our line-item fill rate, which is the amount of orders that were filled completely and on time, it actually went up during that period. 
It's because people were dedicated to the purpose of the company.
SAFIAN: You and I talked also about after George Floyd was murdered in 2020, which you've described as a turning point as many other people have, you and your friend and colleague Ken Chenault launched OneTen, which is a business coalition, if I have this right, to create a million family sustaining jobs for Black Americans—
FRAZIER: Who lack a four year degree. That's important.
Why business should act on social issues
SAFIAN: In that moment you chose to lean into very business economic things, even though it was a social upheaval, a social moment, why do you believe that business has to act on social issues like this?
FRAZIER: On the OneTen issue, you look at our country, we have like 11 million open jobs. And the fact of the matter is, if we take a skills-first approach rather than a credentials based approach, we can train and develop people to have those kinds of family sustaining jobs.
So let's say, it's important to have the consistent rule of law. It's important to have a democracy where people can vote. It's important to have fairness, impartial justice, equal opportunity. All of those things that are things that we care about: fairness, decency, morality, civility. My view of it is that when government abandons or fails in those basic responsibility, we citizens, including business leaders, have an obligation to do something about it.
So for example, an issue that I care very much about is health disparities. I work in a company that does cutting edge research. We're thrilled that we've sequenced a human genome.
But the reality of the world is, your zip code is more determinative of your health than your genetic code is. And I think that a company like Merck that spends the time and effort to work on developing better healthcare, ought to be focused not only on developing the next treatment for the people who can afford it, we have to think about healthcare for those people who live in those zip codes.
One of the things about the pandemic is it laid bare a problem that we've had, talking about problems that are in plain sight, income inequality has been in plain sight in this country for 50 years. Since the seventies, we've seen a huge divergence between worker productivity and worker wages.
And so, when we were looking at those very dark images up there, it was tough for us. But the reality of the world is, for many Americans, there was tragic loss, loss of life, loss of any economic security, and I believe that leadership has to be equitable leadership going forward. If we're going to rebuild our society, if we're going to rebuild our country, we have to rebuild it in a way that actually works for all of our people, not just our narrow business interests.
SAFIAN: Ken, you are on the board, Lead Director at ExxonMobil when Russia invaded Ukraine, so you are pushing them to suspend operations and pull out of Russia. And I want to ask you a little bit about that, but we have another guest that maybe I'll bring up at the same time, if that's okay?
FRAZIER: Okay.
SAFIAN: Who has been in the front lines of dealing with difficult decisions around Ukraine. She's a CEO who leads the global workforce platform Upwork. So, if we can please welcome Hayden Brown to come join us up here also. Thanks Hayden.
BROWN: Thanks for having me.
How Upwork CEO Hayden Brown responded to the pandemic
SAFIAN: I know I'm going to ask you about Ukraine, and have you both talk a little bit about your perspective and how businesses should react to it. But I wanted to ask you first, you took over as CEO of Upwork, just as the pandemic hit, when we were all transformed work habits in ways that kind of reinforced Upwork's model. So kind of tough times as good times, ironically, that must have been a strange start and an unexpected twist, maybe, to your plans coming in.
BROWN: Absolutely. I've been at the company for 11 years, but stepped into the CEO role right as the pandemic was about to begin. And definitely, I've only known leading the company through basically a series of crises. But we have our mission, which is to create economic opportunities so people have better lives. We have leaned into that mission every step of the way. And really as the pandemic was descending, it felt like we were a business that was built for this moment because our entire platform is about connecting talent all over the world with work opportunities that they can do remotely.
And so, as March and April of 2020 were happening, we looked around and said, "How can we help? How can we do more with our platform to bring work opportunities to people where they are and also help businesses figure out how to do this," because obviously we are experts at this and many were calling us saying, "What do I do? I didn't know how to do remote work and now I'm suddenly doing that with my entire operation overnight." So it was a transformational time, certainly. And now I think the way that 70 plus percent of businesses have said remote work is here to stay as part of their core strategy, that really sets the stage I think for us and our business continuing to help businesses through this next chapter.
Why Upwork suspended operations in Russia and Belarus
SAFIAN: So you get through the first bit of being CEO at this company and pandemic and then Russia invades Ukraine, and you're faced with a new conundrum because a lot of your market is in Russia and Belarus. You have this question, do you join the boycotts or not? And their users, if I understand it right, they were kind of pleading with you not to boycott, not to shut down.
BROWN: Yes, 10% of our business and our customers were in Russia, Ukraine, and Belarus. And so this was a core issue for us. Our own talent also, 10% of our own team was on the ground in those three markets. And so we were getting lobbying on both sides, and this was something that cut to the roots of our business. We've had these teams there since the beginning, and it was an incredibly difficult decision.
We weighed this decision looking at the customer issues, looking at the operational realities. Could we pay people in those regions ongoingly? Would there be cybersecurity issues, electricity being ongoing, would customers want to continue to transact and would they be able to? So we had to make some really difficult decisions. I think your comments about making swift decisions in some cases and then also weighing and moving carefully and slowly, as you did in the pandemic, was how we were operating as well.
So we moved quickly to pay our own talent in the region a month's wages in advance so that they could actually buy food, water, and gasoline. We made the decision ultimately that we would have to suspend our operations in Russia and Belarus. And that was due to both operational concerns and frankly, moral concerns. We've looked at both of those and concluded we would do a full scale suspension in both of those markets after having taken a lot of care and consideration and having actually supported the evacuation of team members who were able to leave the region, which was a key concern.
SAFIAN: And as I understand it, your business out of Ukraine grew, right?
BROWN: It did. This was really the silver lining. I mean these things have been obviously horrific to see in terms of what this war has done, but we launched some new products that actually supported people being able to make free donations to Ukrainian talent on the ground there. And the silver lining has been, Ukrainians were able to take their work on our platform with them wherever they went in the country as they were moving to safer zones. And also because so much of the Ukrainian economy was getting hammered with jobs disappearing locally on the ground, what we saw was Ukrainians working on our platform were actually supporting their entire community and pods of family and friends, because our work was a lifeline for them and their families. There was actually an increase to kind of peak levels of Ukrainian engagement and employment through Upwork throughout this period and that has continued to this day.
SAFIAN: Ken, ExxonMobil had billions of dollars invested.
FRAZIER: Yes.
SAFIAN: And you were encouraging of the decision to pull out even though that those resources were going to be put at risk.
FRAZIER: Yeah, well there's no use in having principals if you're not going to exercise it, because it costs you something. I'm very, very proud of the management and my former board members at Exxon. Exxon's installation at Sakhalin-1 in the North Pacific was the single largest outside investment in all of Russia. And we all know that the oil and gas that was being produced there was funding, directly, Putin's war machine. And so Exxon pulled out, Russia's providing no compensation for taking over those facilities. But it was the right thing to do.
Merck, we have a different issue. We've pulled out except for vital, underscored, vital medicines. Because, for example, if people have cancer in Russia, we don't feel more morally that we can make a decision that we know with certainty will extinguish a patient's life. But we don't provide comfort medicines. I think history will judge people harshly if they aid and abet Putin. And I'm very proud of the business community for pulling out.
SAFIAN: You gave an analogy at one point about your father and his work at UPS and that making the right choices serve something that you harked back on in making this decision.
FRAZIER: In the early 60's when my father was working at UPS. UPS made a decision then not to have segregated units in the south — washrooms, facilities. Today, I think we all pretend that we would've had the guts to have made that decision, but in reality we are facing those decisions right now.
Our society is unraveling and I think business has a really important role to play. I'll just say very quickly… we all live in enclaves of people like ourselves. Our children therefore go to school with children that are the children of people like us. We go to Mosque and Synagogue and church with people that are like us. We consume media with people who agree with us. I believe business is the last place in this country where you can't necessarily choose who you associate and you work with and we have to be leaders.
[AD BREAK]
SAFIAN: Before the break, we heard the former CEO of Merck, Ken Frazier and the CEO of Upwork, Hayden Brown, live at the Masters of Scale Summit, talking about making hard decisions as a leader and the impact business can have on wider culture. 
Now we hear from two special guests from the Summit audience: Kyiv-based entrepreneur Alyona Myosko, who shares her experience running a company amid bombing raids, and Peloton board director Jonathan Mildenhall, discussing the company's rollercoaster journey. 
Hayden and Ken offer their advice about planning in a crisis and the ideal relationship between a board and a CEO. Plus, their final thoughts about the future of work and what Ken calls "meeting human needs."  
Alyona Mysko on operating her business out of Ukraine
There's someone in the audience who I want to recognize, if you'll let me. Her name is Alyona Mysko and she is an entrepreneur who came here from Kyiv. She runs a business called Fuel Finance. She's right here. She runs her business out of … sometimes out of a bomb shelter. A missile landed about 400 meters from her apartment last week. So thank you for joining us here. I'm curious how rapid response feels for entrepreneurs in Ukraine right now.
ALYONA MYSKO: First of all, I think that we have joked with Ukraine entrepreneurs that we will be the best risk managers in the world after that. And it's funny, but on the other hand it's really challenging. But you will not see Ukrainian entrepreneurs crying. So because we are all fighters and I believe that we understand that crying, it's not the way we will support our country. And we understand that our battlefield today is Ukrainian economy. "Okay we should fight, we should pay taxes, we should pay salaries, and we simply should do our best now because it's our battlefield."
We are working from bomb shelters, we plan meetings for the day when was explosion. But on the other hand, we are still growing, we're still operating, support each other. And first of all, I want to say thank you so much for stop working with Russia, and for us it's very important and we feel that support from all companies. We appreciate it a lot.
Also, I have a question. So, we live in this crisis, we have this problem and sometimes it's very complicated to think about planning and how far ahead we should plan. So what do you think about that? Thank you.
BROWN: Thank you first of all and thank you for being here and sharing those comments. I think, first of all, as we've gone through so many of these crises and this one in particular, which has caused us to see that navigating any crisis like this is a moment when we can either create strength in our cultural fabrics or tear it apart inside of our companies and especially in companies where we have Ukrainians as part of our communities.
"Here's our decision framework, here's how we're approaching this problem or this opportunity in the crisis, and here's what you can expect from us." I think that's what you have to do in these situations.
How Peloton met demand during the pandemic
SAFIAN: Thank you. There's another audience member who I'm going to pester here.
This is Jonathan Mildenhall, former CMO of Airbnb and founder of TwentyFirstCenturyBrand. He's also a board member at GoFundMe, at Fanatics and, most importantly for this question, at Peloton.
Now, there are a lot of businesses that have dealt with whip-sawing demand over the last two years. None more maybe publicly than Peloton. Can you share with us anything about how you think about what rapid response has been required?
JONATHAN MILDENHALL: Yeah, of course. Peloton will go down as one of the case stories of pre-pandemic success, then pandemic boom, and then having to right-size the business as we're coming out of pandemic.
And so, the first leadership team during the pandemic were making so many decisions, strategic decisions, to meet demand. And that demand was an expectation from employees, shareholders, and ultimately customers. But then as the demand fell back, we've got a new leadership team coming in, and we're looking at some of the decisions that were made by the previous leadership team. And now we have to think about: how do we undo some of those decisions so we can right the cost base for the business?
And for Peloton, it's going to be much more about being able to be very, very nimble and have a variable cost base that can meet some of the demands that are impacted by all of the big themes that every business has been affected by.
SAFIAN: Because some of the decisions early on when there was growth was not necessarily emphasizing variable cost base, because it was more expensive.
MILDENHALL: That's exactly right. So when you're making some long term commitments to try and own more of your supply chain and more of the manufacturing processes, you're actually embedding long term costs into the business, which now the Peloton business needs to unwind from.
SAFIAN: Do you have a question you want to ask?
MILDENHALL: Yeah, Ken, you've served as CEO and a board member and during times of crisis, I'd be very interested in: what do you expect as a CEO from your board and also what do you expect from the board to the CEO and the leadership team during times of crisis?
FRAZIER: So I think there's a real benefit to having frequent interactions with your board. I think I was very fortunate to have a board that was full of very different, diverse people with different experiences. And the more we talked during that period, the more input I got, the more they understood what management was contending with. So for me it's the transparency, it's the openness, it's like I was saying with the employees, it's understanding their needs, our investors' needs, our employees' needs, and being able to talk about those things on a regular basis.
Hayden Brown on the future of work
SAFIAN: So we've covered some of the ground that we've had to deal with in the last two years. The one thing I want to ask about very quickly is the future of work. You're both experts in this from different experiences. Can you share a brief assessment about what you think has happened and where we're moving?
BROWN: The world woke up during the pandemic to the fact that remote work is possible. And in a world of remote work, we've got to stop actually talking about where the work is happening, because it's really about who.
When you blow out the doors on where the work can happen, and it doesn't have to all be in the office or in your local region and you can start to bring other workers with different demographic backgrounds, different skill sets, all kinds of attributes into your workforce, that completely changes the game. It helps you solve diversity challenges, it helps you solve skill set challenges.
And when you focus on who and how the work is happening, that is really the challenge and the opportunity that we have to really redesign work to be better for businesses and better for talent. Stop talking about where, start talking about who and how the work is happening.
SAFIAN: As you're giving that answer, I'm thinking Ken of about what you said earlier about there's more diversity, but how do you bring that diversity together, right? And not just remote.
FRAZIER: Yeah, I think that's a big challenge. I think first of all, people are skeptical about institutions, whether they're talking about governmental institutions or business institutions. I think it's not just about where people work, it's about: how do we meet humans' needs? I'm very worried about our society unraveling right now, and we see it around the world.
SAFIAN: Well, that's the exhortation to all of you out there that we've got to take this responsibility and this mantle and create the future that we want, not just for ourselves and for our bank accounts and for our investors, but for our world. I want to thank you both for joining us and thanks very much.
What I take away from this incredible dialogue is how important our choices are as business leaders. As Ken Frazier says, we don't always know what "doing the right thing" is all the time.
But by prioritizing principles in moments of pressure and uncertainty, whether that's war, pandemic, social unrest or economic dislocation, our choices become clarified.
We need to remain mindful of our cultural impact and recognize that in the long-run, that lens may be the most critical element in driving our scale journey.
I'm Bob Safian. Thanks for listening.