How we served 150 million meals in Ukraine
Too many businesses and organizations spend time planning and not enough in action, especially in times of emergency. José Andrés, world-famous chef and founder of the nonprofit World Central Kitchen, proves the value of fast action through his work, including his recent time in Ukraine serving over 150 million meals. José thinks businesses should flatten their power structure and treat food as a national security issue, even in places like the U.S.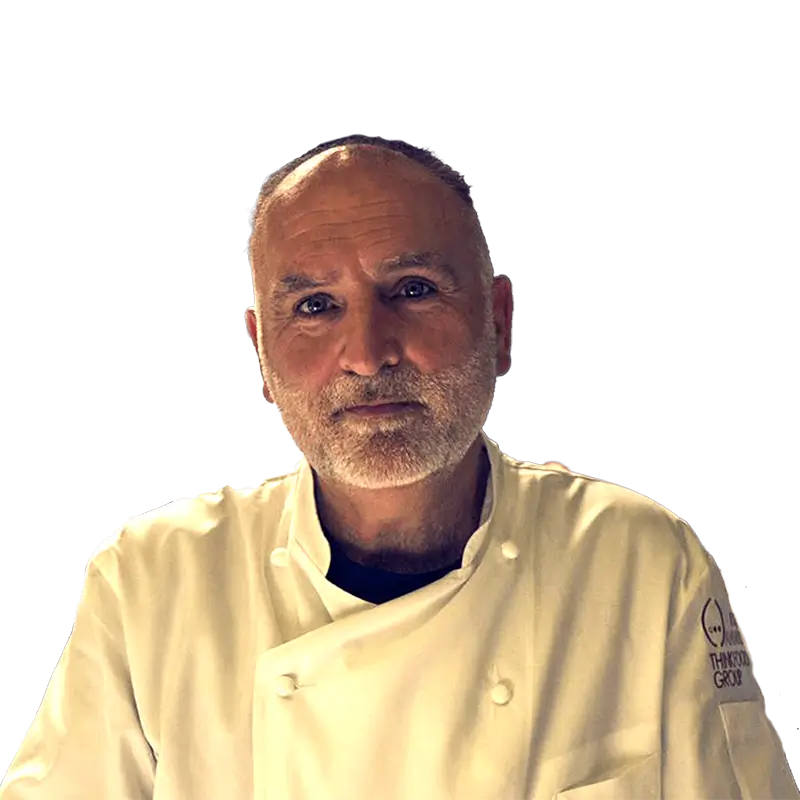 Too many businesses and organizations spend time planning and not enough in action, especially in times of emergency. José Andrés, world-famous chef and founder of the nonprofit World Central Kitchen, proves the value of fast action through his work, including his recent time in Ukraine serving over 150 million meals. José thinks businesses should flatten their power structure and treat food as a national security issue, even in places like the U.S.
Transcript
Transcript:
How we served 150 million meals in Ukraine
JOSÉ ANDRÉS: We were in every single border city, town, train station, not only in Poland, but in the other six countries surrounding Ukraine.
The 150 million meals only happened because we had more than 6–7,000 Ukrainians helping Ukrainians.
I think the emergencies require immediate response, and the response cannot be a meeting. If you only train to follow a plan, what happens when things don't go as planned?
So, what did we learn? Always the best of people show up in the worst moments of humanity. And this gives me hope. 
Every business has a role to play. Maximizing the potential that food can have in the betterment of every single community across America and around the world. That's why I always say: let's invest in longer tables, no higher walls. This should be the way forward.
BOB SAFIAN: That's José Andrés, the world-famous chef, restaurateur, and founder of the nonprofit World Central Kitchen.
Since Russia invaded Ukraine, he's helped World Central Kitchen provide more than 150 million meals in the region to refugees and those in need. 
I'm Bob Safian, former editor of Fast Company, founder of the Flux Group, and host of Masters of Scale: Rapid Response.
I wanted to talk to José because the creativity and daring he's shown should be an inspiration for every entrepreneur and every business leader. He's galvanized action to meet emergencies all over the globe, and at the same time, continues to ambitiously expand his company and his restaurants, even launching a compelling new podcast called "Longer Tables."
José has an infectious passion, whether talking about humanitarian aid, cooking in the kitchen, or the advantages of flatter organizational structures. 
He shares stories about meeting President Zelenskyy in Ukraine, cajoling the Spanish Postal Service into donating 747s, and why he believes it's good to cry.
José's mindset — about leaning into action over planning — is a powerful reminder of what's possible for businesses and all of us if we just throw ourselves into making a difference.
SAFIAN: I'm Bob Safian, and I'm here with Chef José Andrés or "Cook," as he likes to be known. A restaurateur, founder of the nonprofit World Central Kitchen, and host of the brand-new podcast Longer Tables. José is coming to us from his home country of Spain today. José, thanks for joining us.
ANDRÉS: Thank you for having me, Bob. It's great to be with you.
SAFIAN: You never seem to stop moving. You have new restaurants opening in New York, LA, and so on. You have a new media business called José Andrés Media that includes the new podcast. And then of course, there's the tremendous work of World Central Kitchen. You recently spent 12 days in Ukraine, and the scale leap that World Central Kitchen has managed this year is amazing. I mean, 150 million meals served in a war zone. On the trip you met in person with President Zelenskyy, and I'm curious, had you met him before? What was the goal of that meeting and of the trip? Because you'd spent a lot of time in Ukraine and surrounding areas this year already.
ANDRÉS: I've been probably 70, 75 days total. But important is at the very beginning in every emergency is the moment that you set the tone of your intentions. World Central Kitchen, we got previous experience on refugees. We've done that in places like Columbia. We were going to Poland to help the massive outflux of Ukrainian refugees. This is how we began.
But in very few days, we were in every single border city, town, train station, not only in Poland, but in the other six countries surrounding Ukraine. And we began doing 24/7 cafes. Very quickly, we moved into Ukraine, and we arrived in Lviv bringing the know-how World Central Kitchen has and to help them pay for the cost of everything. We were doing 500,000 hot meals every day. Ukraine has food, don't misunderstand me. What they didn't have was an organization that would cover the holes, and would cover the gaps created in the system as millions of Ukrainians were fleeing.
Supermarkets began shutting down. Transportation, delivery of goods is chaos, it's war. The 150 million meals only happened because we had more than 6-7,000 Ukrainians helping Ukrainians. I've been traveling very much all across the Ukraine. And quite frankly it is amazing to see how these people are fighting as one, defending a country, defending democracy, defending freedom.
SAFIAN: You talk about covering the gaps. How do you know what the gaps are?
ANDRÉS: We like to come and see, boots on the ground. We don't like to have meetings at the beginning. This is for all the organizations. Why? Because sometimes it's too much time spent in meetings. Sometimes you call a mayor, "do you need water?" And the first answer they give you is, "I don't need water. Everything is under control." But then you know that there are people in neighborhoods, poor neighborhoods, forgotten neighborhoods that they are not receiving any water. We are not trying to make anybody look bad. We only come to help. Why? Because it is an emergency, and you need every resource to combat that emergency. President Zelenskyy was willing to receive, not only myself, but these two amazing Ukrainian women who are the leaders of the World Central Kitchen Ukraine operation. And for me it was a joy to be there with President Zelenskyy, the chief of his staff, and many of his other team members. It was supposed to be 30 minutes. It went on for almost over an hour and 20. And we were talking about the amazing things that their chefs, the volunteers were doing. Not only doing hot food and delivering it, but also when we began making the bags, taking care of the lack of supermarkets. We began delivering bags for a family of four for a week. Over 7,500 delivery points. We will never miss a day. People will be waiting for us. That's what World Central Kitchen does. Trying to overcome the obstacles to make sure that food will not be one problem. We did 150 million meals, thanks especially to the amazing American people that support what World Central Kitchen does in every single emergency. So to all of them, thank you.
SAFIAN: I watched the documentary, Ron Howard's documentary on World Central Kitchen, which is great. For listeners, it's available on Disney Plus and Hulu. And you see the story of the transition from a scrappy organization to a real established player. But in that documentary, which finishes before the war on Ukraine, you talk about the importance of systems, but also about creativity and chaos. The systems that you put in place in Ukraine had to be different from what you had done before, right? What did you learn in that?
ANDRÉS: The world is functioning too much on creating plans and following plans. Organizations like FEMA in the United States, World Food Program, the International Red Cross, all the organizations that respond to emergencies, I think it's too much planning. And I think the emergencies require immediate response, and the response cannot be a meeting. If you only train to follow a plan, what happens when things don't go as planned in an emergency? Because emergencies are different. You need to adapt the response to every one of the emergencies, especially if you want to be fast.
So I always say that planning, it's something that has to be forgotten. What we need to start is training our teams to be more about adapting. And obviously the meeting shouldn't be happening as people are suffering; the meeting should be happening next to the people that you're trying to help. That's why being in Ukraine, we meet locals, and we meet local restaurants and local chefs and local producers and local distributors and local volunteers. And all of a sudden, as you meet all these people, the plan just happens, creates itself. Obviously you need to have money to pay for all of that, but we are known more often than not sometimes to start big operations without a lot of money in the bank to make them happen.
So in Ukraine, we did a lot of different things. We were the first NGO that came by boat. We were able to partner with Open Arms, which is a Spanish NGO that rescues refugees coming from North Africa.
And I told them, can we use one of your boats to try to see if we can access Ukraine by boat? Remember no boats were going in and out. We were able to use Romania and go up the Danube River and get to the city of Izmail, where we were protected because the river is next to Romania. Russia is not going to be attacking a river next to a NATO European country. So we were safe. We were able to do that boat route a few times. I learned that we had other ways to bring food.
Even at the very beginning in the first two weeks, we brought two planes from Spain. The Spanish Postal Office, we have a great working situation because of the pandemic. The postal workers deliver hot food at the same time as they will be delivering letters to the elderly people that couldn't leave their home. And out of that partnership, it's amazing. They were able to give us two rides on their 747, bringing a lot of things we had in Madrid that could be helping us to feed people in the border. We began doing, as I said, hot meals. How? With restaurants.
Cooks know how to cook and know how to scale. And in one restaurant that does 100 meals, you challenge them: can you do 2,000? They will figure out how to do the 2000. It might multiply this by 500 restaurants. That way for me, restaurants are very important, especially if it's not like in a hurricane, like in the Bahamas, that every restaurant was destroyed. In Ukraine, we have restaurants in Kyiv, in Lviv, and in many other cities that they're not. So what do we do? My God. We can get a network of restaurants quicker. We can do a McDonald's chain in one week. That's what we did.
People in rural areas, we will bring once a week, those bags of food. We were doing over 40-50,000 bags of food every single day, every single day. This is 20 meals in each bag. This is a million plus meals every day through the bags. Plus the 400 or 500, 600,000 hot meals, that's a lot of meals per day we're doing.
SAFIAN: And you're doing all this in a war zone, with your people in harm's way
ANDRÉS: I was very, very worried about anything happening to people in the World Central Kitchen. We got wounded in Kharkiv, when a missile destroyed one kitchen. Thank God nothing happened.
Those men and women, the next day, moved all the equipment to a new kitchen, and they began cooking. Why? Because it's their country. They're defending their country. And they're food fighters; they're defending the country with the way they know how; cooks know how to cook and feed people. That's the way to defend their country.
Unfortunately, south of Kharkiv, in a city called Chuhuiv, two — one man and one woman — perished because they were sleeping in a cultural center, and a missile hit, and they were volunteers with World Central Kitchen. They are World Central Kitchen. This is the risk we are all taking.
Those men and women that perish, and many others, that only because they are bringing relief, and they are paramedics, or they are with the Red Cross, or they are youth citizens helping citizens. That all of a sudden you are, you're just trying to help somebody, and a bomb comes down and ends your life. That's every day in Ukraine right now; it's been for the last six months.
So, what did we learn? That always the best of people shows up in the worst moments of humanity. And this gives me hope in a way, because we need to make sure that the goodness I see in places like Ukraine, or in any other emergency, is what carries on every single day of our lives.
And we need more of "What can I do to help others?" This is the spirit I see in humanity. We need to make sure our leaders, our politicians carry the same spirit.
SAFIAN: The mindset you describe about being adaptable, and finding new resources, and being optimistic, that combination, how much of that is informed by your experience as an entrepreneur yourself, in starting restaurants and having to figure out what works in those more confined situations?
ANDRÉS: We have a tendency to create organizations that are far away too pyramidal. The boss is at the very top, everybody's underneath. I think this is okay for certain things. But if you want your success, why don't we create organizations that are flatter, much flatter?
Yes, the big boss, the leader of the organization. But, all of this time you are not the leader because of the title behind the door of your office; you are the leader because you have boots on the ground. You are leading because you are there; you are making it happen. You are listening to others that may have very unique points of view of how we can adapt quicker and faster to a situation we're facing.
It can be: how do we deliver to 14 islands in the Bahamas, with no kitchens in those islands? How do we make it happen? Well, helicopters. Yeah, but how many? And, where do we get them from? And, where do we refuel when all the airports are down? My God, do you see?
SAFIAN: Yeah.
ANDRÉS: Do we bring a boat to have a refueling base? Oh yeah, let's bring the boat. But there's no manual that says we have to do it this way.
I think it's very important just to create organizations that are flatter, where everybody has a moment, an opportunity to pitch in.
Also, for me, it's very important that everybody sees at once how this works, because it takes many years sometimes to teach everybody the operations. If you have to go one by one, it's very hard; it takes forever.
Nobody is afraid to raise their hand, or used to speak without raising their hand because sometimes you need quickness. This is what I believe should be very well run organizations, especially in emergencies.
Obviously, every system will have its downsides, but I believe a flat organization will always have a much better impact than pyramidal organizations.
[AD BREAK]
SAFIAN: Before the break we heard José Andrés talk about how World Central Kitchen has been able to provide 150 million meals to Ukrainians by leaning into action over planning
Now he talks about how food can be an agent of positive change, and how business leaders can amplify their impact
He also emphasizes the importance of storytelling and connecting from the heart.
Plus he shares lessons, about making the most of every moment, deferring to your team, and why it's good to cry. 
The listeners to the show are business leaders and entrepreneurs, primarily. You've said that food is an agent of change. Can anything be an agent of change? Any business?
ANDRÉS: Every business has a role to play.
One of the problems we face is that we have two parties. Often they keep pointing at each other without sometimes no clear ideas that they are put on the table to solve the problems.
You may have the Republicans right now, you're saying, "Oh, look at all the poverty in the cities. Look at all the people in the streets of the cities." Well, then you go to the rural areas of America, in the states that are heavily Republican, and you see the poverty in those states. So, why are we playing like children, finger-pointing at each other, like putting your finger on your eye versus what can we do together as two parties, looking in the best interest of the American people to solve poverty and hunger, and especially children going hungry forever?
Like number one, let's announce that we are going to have universal breakfast and a school launch, Republicans and Democrats supporting, because there are, on both parties, children that are going hungry. This, wouldn't it be something amazing?
Businesses can be, and their leaders, being outspoken in front of the Senators and Congressmen in the places they are, making sure that that simple idea has the chance one day to be moved forward, because it is more than just giving a freebie to children.
They concentrate better in school; they do better in school. When they leave school, they have a chance to go to university. Those people at the end will be part of the economic system of ever-growing America, where businesses will be able to hire those very talented young people. Let's feed them better quality food. And therefore we don't have to spend so many billions of dollars in keeping America healthier once they're older.
Let's stop throwing money at the problem and start investing in the solution, healthy citizens versus repairing sick citizens. In the process, we are paying the farmers, and we are making rural America better. We are hiring local people, making sure that every kitchen in every school is functional.
When a hurricane happens those schools can be the place where it becomes a shelter. All of the sudden, we can be used in that kitchen to be feeding for the next few days or weeks until the emergency goes away; a refugee emergency center.
Do you see how simple it is? That's why I'm requesting that the White House and the President of the United States maximize the potential that food can have in the betterment of every single community across America and around the world.
Food is a national security issue. We are seeing it right now in Ukraine. We are going to be seeing it in America before we know. This is going to create a lot of crises in the next few years, not only in America, but in Europe, in Asia. That's why I always say: Let's invest in longer tables, no higher walls. This should be the way forward for America and for any country around the world.
SAFIAN: Your passion about this is infectious, and you get great energy out of us. You've launched this "Longer Tables" podcast. There's a TV component planned. How important is storytelling to having a positive impact? I mean, not everyone in your business would say, "Oh, the thing I should do now is start a podcast." I love podcasts, as you know, I'm here doing it, but not everyone would make that their choice.
ANDRÉS: There was this French philosopher in 1826, Brillat-Savarin. He brought a book called The Physiology of Taste. One of the most iconic books about food and gastronomy and psychology in a way. He said, "Tell me what you eat, and I'll tell you who you are." In essence it's what I try to get out of the show. When I have guests, I try to understand who they are through food. What they ate when they were young. What they cook when they were in an emergency helping.
Obviously for me, food is family, it's entertainment, it's creativity, it's art, it's history, it's tradition. Food is so many things, but I think in this "Longer Table" podcast, I'm really trying to get into the spirit of trying to see what's behind the people.
I think storytelling has a fascinating way to ground us, to hook us, to connect us with other people.
I say, as a chef, I'm a storyteller. When I open a restaurant, it's my way to express, not myself, but to express the feelings that I gather through hundreds of thousands of people influencing me. When I open a Chinese-Mexican, this is a way for me to communicate my love for China, my love for Mexico, their people, their cooks. And this is my storytelling of what I see.
It's not any different than a painter or a novelist writing about an issue or writing about a place, or painting about a place. I do believe in essence, storytelling is what makes us human. I don't believe it wouldn't be humanity without the very deep thing inside our DNA that we are at heart storytellers for life.
SAFIAN: You've opened a lot of restaurants in your time. Once you've served 150 million meals in Ukraine, does opening a new restaurant in New York or LA, does it seem small? What's the motivation at this stage for going back to that? Is it like a relief?
ANDRÉS: Well, I'm going through a unique moment in my life. Sometimes it's hard to focus, right? Because you have family, you have children, you have a wife, you have close friends that you barely find time to dedicate to.
That's not happening in my life anymore, and sometimes that's hard. And you miss important moments of your daughters, of your wife, of your friends, because you are … obviously the business requires you to be there. I've been trying to make it always, not so much about me, but about the teams. Sometimes I fail miserably, but I always say it's not me cooking every day in Minibar, in Zaytinya, in China Chilcano. Those are the chefs. It's like when the press wants to talk to him, well, you're talking to the wrong guy.
Sure, I've been the creator, and yes, I'm the owner and everything, but take a look at all those young people we have in every one of these restaurants. Talk to them.
The culinary profession, the restaurant profession, it involves many people, and waiters, and sommeliers, and bartenders, and busboys. You are only as good as the last dish you cook. This is almost like you are always on a triple mortal without a net. You are hoping that you are landing on your two feet. That is the excitement for me. I have  Minibar and my 12-seat which I barely spend all the time I would love. I cook a lot at home where I bring my teams, because sometimes I cannot be in 12 places at once. I have 40 restaurants. I cannot be in 40 at once. It's almost like I am a soccer player, a football player, a quarterback.
Every week you go play at one different place. It's the way I feel sometimes, to go, and you go to a restaurant, and another, and another, and another, and another, because people want to see you and you want to see them. But yes, it's becoming hard. But that's why I keep emphasizing, it's not me, it's the people. Every restaurant has a very big family of very talented people, and they are the ones making it happen. If I didn't believe it was there, that passion and that talent, I wouldn't be opening more.
For me, it's still very interesting. The only issue is that I have a lot of interesting things going on. I have a TV show with my daughters on one channel, on Discovery. I put the boys on another channel in Disney. I have the podcast. I'm teaching at George Washington University right now.
I'm the co-chair of the White House Food Conference. I'm the co-chair of the Bipartisan Council Policy Center for bringing a good farm bill, where both parties will agree on. Why am I doing these things? Because if I don't do them now when I'm alive, I'm not going to do it later when I'm somewhere up there in the sky cooking for the angels. Let's do it now. I'm here.
SAFIAN: I know we don't have too much more time, but I do want to ask you: All these different things you're doing, it's hard, and there's been a lot of, particularly going through the pandemic, a lot of stress that a lot of people and businesses have had to get used to managing. I'm sure you get demoralized sometimes. How do you keep your spirits up? How do you manage your own stress? Do you have advice for people about how to keep the hope moving forward when there are all these obstacles in the way?
ANDRÉS: Listen, it's not easy for me either every day. I have a tear often. I think it's good, especially for men. I think it's good to cry. It's good to cry, and others seeing you cry, especially for men, because seeing as we are always this kind of shell, hard people. I think everybody should cry when you feel like you are emotional. I cry very often for happiness. Sometimes, I cry for not delivering to the people that need you the most. For me, World Central Kitchen is hard sometimes when I leave some of the missions, because even though I know people are in a better place, they are still far away from what they should be, and they don't complain, and they go on with their lives. And then, I go to the comfort of my shower, and I have the feeling of complaining that the water is not hot enough, when people didn't even have for weeks water to drink, even less to bathe. I think if anything, World Central Kitchen has given me, and the people who work with World Central Kitchen gives you another perspective on life. Everybody should enjoy life. I go and I open my bottle of great Rioja wine, and I buy lobsters from Maine, and I make a great Spanish paella, and I celebrate life with my friends and family.
People should not feel guilty. But I think it's good to balance life and understanding the places we're living in, the world we are living in. I'm aware of who I am, and the life I have, but I'm aware of the life others have. It's not to be sad; it's just to be pragmatic. And then, what can you do just to make the lives of others at least try to move up to get closer to yours? This is in a way what keeps me going. When I've seen cooks that become with us 20, 30 years ago, and some of them became sous-chefs or chefs, or they move on on their own restaurants, and now they own one house, or two houses, and they send money to their countries, and they live well, and their children are going to university. This is what keeps me going.
I think if anything, I would say that we all have a tendency just to concentrate and give too much time to everything that is wrong in our lives. We barely celebrate the things that are in front of us that we take for granted, and this is actually what we should be proud of and concentrate on. They say, "If you are in a hole, stop digging."
If you feel sad, if you feel down, if you feel overwhelmed, you just stop digging. Just look up. Don't look down at your sorrows; look up at your opportunities, because the sorrows are there anyway. There's nothing you can do about them sometimes. But look about everything else, because that's what is going to keep you going.
SAFIAN: Well José, thank you for sharing, giving us permission to feel, and to celebrate, and to be inspired, and thanks for spending time with us. I hope you'll come back another time. This has been great.
ANDRÉS: I will. Thank you for having me on yours. I invite everybody to join mine too. I hope I'll do fine. I hope my podcast will be okay; it will be half as good as yours.
SAFIAN: I'm sure it will be a lot of fun. I'm sure being at those longer tables will be fun.