How Covid lessons get tested by inflation
After slashing his NYC restaurant team from 2,400 people to just 45 in the teeth of the pandemic, Danny Meyer has rebuilt Union Square Hospitality Group back to its former size. But in his fifth appearance on Rapid Response since Covid struck, Danny says he isn't yet triumphant. With inflation creating fresh challenges even at Shake Shack, Danny shares lessons on the good and bad of leading through a crisis, plus explains why he's handed off his CEO title — and where he finds inspiration to fuel new innovations.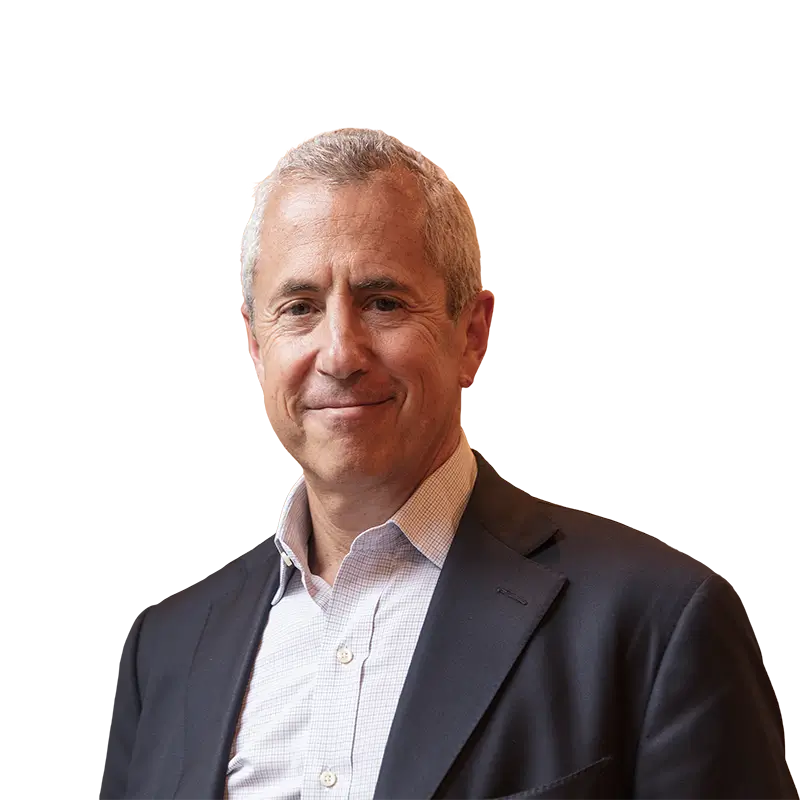 After slashing his NYC restaurant team from 2,400 people to just 45 in the teeth of the pandemic, Danny Meyer has rebuilt Union Square Hospitality Group back to its former size. But in his fifth appearance on Rapid Response since Covid struck, Danny says he isn't yet triumphant. With inflation creating fresh challenges even at Shake Shack, Danny shares lessons on the good and bad of leading through a crisis, plus explains why he's handed off his CEO title — and where he finds inspiration to fuel new innovations.
Transcript
Transcript:
How Covid lessons get tested by inflation
DANNY MEYER: From 37 years of experience, I've never seen this before. I've never seen this confluence of so many stacked-up issues at the same time — in the economy, in politics, in people's health, in people's willingness or unwillingness to come back to work.
Entrepreneurs need problems in the same way that surfers need waves. So when have we ever had more problems to solve?
With the right idea and the right passion and the right leadership skills, entrepreneurs are actually facing what could be a golden age right now.
BOB SAFIAN: That's world-renowned restaurateur, Danny Meyer, founder and executive chair of the Union Square Hospitality Group and founder and board chair of Shake Shack. 
This is the fifth time we've welcomed Danny onto Rapid Response as we continue to chronicle his companies' pandemic-era journey. 
Under the weight of inflation, and in the shadow of COVID-19, the hospitality industry remains a telling barometer of evolving business challenges and opportunities. 
I'm Bob Safian, former editor of Fast Company, founder of the Flux Group, and host of Masters of Scale: Rapid Response.
I wanted to talk with Danny again to explore both the latest twists and the lasting implications of our unprecedented times.  
When we first spoke in early pandemic days, Danny shared the painful decision to lay off 80% of the Union Square Hospitality team. In later episodes, we talked about restaurant closures, vaccine and mask mandates, and the stress of running a business in an unending crisis.  
Now, with Union Square Hospitality Group back to its pre-pandemic size, Danny reflects on the lessons we've learned, and the uncertainties still ahead.
He recently handed off his CEO role there, he explains, to focus on new strategic opportunities that he enthusiastically shares with us.  
He's also mindful of the ongoing obstacles confronting all businesses, including rapid cost increases that he says defy anything he's seen in 37 years as an entrepreneur.
He's not ready to be triumphant about what he's enabled for Union Square Hospitality and Shake Shack, but he is optimistic again about how business can address the problems of the future, if we're willing to make the right, tough choices, and keep focused on an aspirational north star. 
[AD BREAK]
Chapter 1: Danny Meyer reflects on leading through Covid-19
SAFIAN: I'm Bob Safian, and I'm here with restaurateur Danny Meyer, founder of Union Square Hospitality Group and Shake Shack. Danny, thanks for coming back on Rapid Response.
MEYER: Well, you promised that this story that we've been weaving for many, many, many months would have, hopefully, a happy ending. So we'll see just how happy it is or isn't right now.
SAFIAN: This is your fifth appearance. The first one was right at the start of lockdown when the Union Square restaurants were shuttered in New York, and you just had to lay off most of your employees. Now, the last time we talked was a year ago, and there've been a lot of ups and downs over that year. Do you feel like it's a triumphant moment, or has the journey been so arduous that it's hard to know how to categorize it?
MEYER: I think triumphant is not the word I would use; I would say that we're in a much more stable period right now. It does not appear that we're going to have to close again, so that's a really good thing. And a year ago, let's remember, we were just encountering Delta.
We muddled our way through, but then we got Omicron, and we actually did have to close because we couldn't field enough people on our team. We just didn't have enough who were healthy on any given night. Those closures were during the busiest weeks of the year, Christmas and New Years. And that would be like asking an accountant to shut their shop on April 1st, leading up to April 15th.
So here we are a year later, and the vast majority of people understand that you're probably not going to die from COVID. People are still dying from it, which is of course tragic, but it's not preventing people from going out. It's not preventing people from working.
We're all trying to figure out, right now, what actually did change? What changed about people's habits of working? What changed about when they dine out, why they dine out? People learned how to order digitally for two and a half years. They could eat food from anywhere, anytime. We're all just trying to get used to the new new right now. And we are emerging, which feels really good to be able to say.
SAFIAN: And in the midst of all this, we've had this change in inflation and costs going up that, if it hadn't been for COVID, it would've been its own challenge to deal with in a business like yours.
MEYER: There's an expression that I've heard used at Passover, which is Dayenu, and the expression means it would've been enough. And I think you're absolutely right, it would've been enough if all we were dealing with was inflation right now. It would've been enough if all we were dealing with was a war. It would've been enough if we had supply chain issues where it takes forever to get anything made and shipped and delivered. So all these things add up.
Everyone's ready to say, "Put that damn pandemic in my rearview mirror; I'm ready to live my life." But we still don't have any idea how to calculate the emotional impact.
Chapter 2: Danny Meyer on handing the CEO title to Chip Wade
SAFIAN: Now you recently announced that you're stepping into an executive chairman role at Union Square Hospitality, handing off the CEO title to Chip Wade. I know that succession had been planned, had been discussed before the pandemic, but I wonder how the stress of the last couple of years may have impacted the timing?
MEYER: It was exhausting, and yet this industry's always been exhausting. My license to grow as a leader has always been the degree to which I can delegate things that I used to do to people who could do those things as well or better than I can, and then increasingly do fewer things, but make sure that those things are things that uniquely coincide with my gifts.
For the last five to 10 years, I've been conscious about saying, "Wouldn't it be great to have a CEO in the company?" So that, rather than being responsible for the day-to-day operations, spending more of my time outside of the business, getting ideas, bringing back the creativity so that our restaurants can continue to innovate and improve. Having had an amazing leader Chip Wade, who's been the president and chief operating officer of our company for the last three plus years, it became evident to me that he was the guy. There's not even a crack of space between the two of us in terms of how we approach workplace culture, hospitality. He happens to be way more experienced and gifted than I am at running large organizations. He also acknowledges that I should still continue to focus on, who are the chefs going to be? What's the wine going to be? How do we represent ourselves to the public in terms of everything from graphics to design? So we've flirted with a whole lot of different titles for me. And finally, I don't need a title at this point. I'm happy to just say Danny Meyer, but my official title is founder. The great thing about founder as a title, you can never get fired from that one, and executive chairman.
I had a journalist recently say, "So does this mean you're stepping down or stepping aside?" And I said, "Actually I'm stepping up." Because what I want to do is to get higher up into the tree, so I can see a lot more of what's going on in the company and use 37 years of experience to hopefully make some more strategic observations.
SAFIAN: And it sounds a little bit like maybe this would've happened sooner if the stresses of the pandemic hadn't happened?
MEYER: That's right. I didn't want to abandon the role of CEO or ask anyone else to take that on while we were struggling to get to the other side. And so it's not that I'm doing it because I'm exhausted, it's that I'm doing something that I wish I could have done probably two or three years sooner.
It was certainly fatiguing to get this company to the other side. I don't have the stomach, by the way, to go back and listen to any of the previous conversations we've had, so there is some post-traumatic stress disorder, there truly is.
Chapter 3: Danny Meyer on the problems that arose during Covid-19
SAFIAN: We were talking just before the recording started about how the previous interviews we've done you were in a different space, physical space. And I asked you, "Does that room give you bad flashbacks?" And you said, "Well, there's some stuff that's bad and there's some stuff that's good."
MEYER: So the space you're talking about was where my family and I were quarantining, in my little den with the wooden pinewood walls, almost no light. And I was making a ton of decisions in there. 
So a friend shared this amazing insight with me once that it helps me almost every single day of my life. And he said, "No matter what your title is, it should really just be chief problem solver. And you know what the great thing is? There's only two kinds of problems in the world, the same way you've got two front pockets to your pants. You got one pocket for the problems that are genuinely tough to figure out. Then you got a second pocket for the problems where you already know the answer, but it's just too damn unpleasant to deal with, so you put it in that pocket. And when that right pocket starts to get full, you are not doing your job because those problems, they only get more unpleasant as time goes by."
So when I think about that room, Bob, I think about both pockets. I think about really, really difficult to figure out things. How do we actually survive without having to lay people off? And then about the second pocket, which is how unpleasant it was for everybody to deal with those tough issues. I think about sitting in that office when George Floyd was murdered, and thinking about, how do we handle that as a company? Having all day to talk about the racial inequities that exist in our society and in our industry and in our company.
But I also think about the good stuff, and the good stuff is that we did have to empty that right pocket. We had to deal with a lot of decisions that were unpleasant. But having done so, I definitely feel a lot better.
SAFIAN: I think back to that first conversation we had that was March, April of 2020, and you'd made this really tortured decision for you to do as many layoffs as you did. But you had this belief that it was what was required to get the business to the other side and to be able to be hiring people again, and Union Square Hospitality Group is almost the same size that it was at the beginning. When you look back at these decisions, are there ones that you feel particularly proud of? Are there ones that you regret, or do you not go back at all because there's just too much torture to go back into those places?
MEYER: You're right, Bob, we're actually back up to full strength in terms of our employee numbers. We had 2,400 employees when we started talking in March of 2020. Then we went all the way down to 45 employees over the course of three different cuts. I wanted to do it all at once, but the goal post kept getting moved.
It's kind of amazing because 70% of our 2,400 employees today were not part of our company two and a half years ago. The decision that I'm proudest about was we hired someone by the name of Dr. James Pogue to help us become a company that would really not only face up to our responsibility to be a diverse employer, but to actually be really good at it. And he worked very, very intensively with us as individuals, as a group, but he said, "You, Danny, need to be the Chief Diversity Officer. I understand that Chip Wade, your president and COO is Black, but you need to be the Chief Diversity Officer because until your organization knows that it's important to you, it's just not going to happen, or it's going to be hollow."
So I'm proud of the decision to make sure that when we did rebuild our team, we'd be able to repaint the canvas the way we should have done in the first place. And we now post all of our diversity statistics job by job on our website. Not so much because I think that you or any one of our prospective customers in our restaurants care, but we want to hold ourselves accountable to looking like the city we do business in.
I'm also really proud that we built a community with our guests, and together raised $2 million in an employee relief fund. It was a way to acknowledge to the people who we had to lay off, the last thing we want is for you to be out on the street. And that was in increments of up to $2,500 a person, to get them from the point where they were laid off, to the point where the United States government created the CARES Act, which provided additional supplemental income.
Chapter 4: How Danny Meyer thinks about the role of government and business
SAFIAN: The city is still, in some ways, struggling to get back to where it was. I know you were involved in some councils related to trying to help the city and the restaurant industry. What do you feel like it's going to take for the city to get back? And I guess the same thing about the restaurant industry. Is it not helpful to look back, you just have to keep looking about where you are?
MEYER: I did serve on three different entities. One was the governor's committee to bring back New York. One was NYC & Company's committee. And then for the last nine months of his term, the mayor asked me to be the chair of the Economic Development Corporation, the NYEDC.
A lot of the efforts that went into all of those felt better than they were actually effective. I only had one idea for EDC, I think, that was useful, and that was to have a homecoming event, which was August of 2021, and it was broadcast live on CNN with all kinds of amazing musicians who came to Central Park to put on this great concert, but it was to broadcast to the world: New York City is back. And the idea of a homecoming was to come home. Maybe you're someone who moved away temporarily. Come home.
And it was a really cool thing, except about an hour and a half into it, the skies just completely opened up with the greatest deluge of rain I think I've ever seen here. And it was kind of a parallel to what New York was like, because that was right between Delta and Omicron. And it was like the sandpiper that takes a few steps to the edge of the sea, and then has to run back when the wave comes in. And that's kind of how New York was feeling.
So I don't know if our efforts were helpful. It turns out there's no amount of cheerleading that's going to get someone to walk into the subway if they don't feel like it. There's no amount of cheerleading, today, that's going to get somebody to choose to work out of an office if they have a choice of not commuting to wherever they go. People got very, very used to their new habits. Now that's not true of everybody. If you work in a restaurant, you can't do the dishes on Zoom. You can't pour a glass of wine on Zoom. There's a lot of people who don't have a choice.
SAFIAN: These experiences you've had on these committees, does it make you think any differently about what the role of business is, and what the role of government is. Do you feel like, "Oh, I'm going to get more involved in politics," or it's like, "Nah, I'm going to spend more time focusing on business."
MEYER: I think business is politics. I think that we are running for office every single day. It's just that our constituency are the people who work for us and the people who choose to spend money with us or not. And I think businesses and governments can be more effective if they listen to each other.
Now, all those issues are finding their ways right into the restaurants. We made a decision a year ago to mandate that both our staff and our guests be fully vaccinated. Our staff wanted us to do this because they didn't want to be serving guests without masks, talking, breathing. We actually did it before it was a citywide mandate.
But we had at least three occasions that I'm aware of where anti-vaccination activists would come into our restaurants and stage a protest. The other kind of thing is that there's a certain movement to boycott the use of the hamburger bun that we've used at Shake Shack forever, because the now retired founder of the hamburger bun company had made a very large contribution to a far right gubernatorial candidate in Pennsylvania. We didn't give the money.
If we were political, that wouldn't have been the guy we'd give money to for sure, but that doesn't stop people from saying this could be a good target. Well, not going to change a hamburger bun that is a massively important part of our recipe. And God forbid, if we would start asking all of our suppliers who they voted for, who they support, we'd really be in tough shape, but it's the way of the world right now. I think that there are no barriers between consumer companies and politics. And so you can either pretend it's not there, or you can try to be constructive with it. For me, the most constructive thing is to engage in conversations with public officials.
And then when we're asked to take a stand on something, to make sure that that stand is consistent with what our company values are anyway. It's something I think about myself all the time, which is: what's your compass for making decisions? And if you have that compass and you know what your true north is and what matters to you, what you wouldn't change, even if it meant making more money you would still do something the same way because it mattered that much.
[AD BREAK]
SAFIAN: Before the break we heard restaurateur Danny Meyer talk about the tough decisions he had to make over the past two years and his most recent decision to hand off the CEO title.
Now he talks about how inflationary pressures are creating unprecedented shifts, but also why some of his employees could actually benefit in the long run.
He also shares insights on what gets him to invest in a new business, what it means to look for the next Shake Shack, and how access to start-up ideas helps improve his creativity.
Plus he shares some final lessons about the upside of facing problems, and why we should all have optimism about the future of entrepreneurship. 
Chapter 5: How inflation impacts the restaurant industry
Entrepreneurs who are listening to this show are concerned about inflation rising and the risk of recession. You have been through 37 years of running your business. Do you look at the cycle where we are now and feel like, "yeah, I know this game?" Or are there things that are different because of the conditions right now?
MEYER: There are definitely things that are different. I've never seen this before. I do know, from 37 years of experience, that this is not the thing that's going to end the world. I think the toughest thing about inflation is that, as a business person, it's hard to feel like you're giving good value. Nobody that I know loves raising prices. Now I could argue that our industry has been underpriced for too many years because we've probably not paid our talent enough money. We've been willing to pay for years for organically raised vegetables, and humanely raised animals.
What about the people? And there's something fascinating counterintuitively that inflation has actually done what the government had failed to do for people. In that, yes, your cost of living's way up, but your earning power is dramatically up. If you work in one of our restaurants today and you're a tipped employee, you're making way more money because our menu prices are way higher. And that's actually helped bring people back to work.
It doesn't feel good to go to a restaurant and see that a salad is now $18. But if you can also make more money while you work, maybe that's a good thing. While commodity prices are going to come down, and supply chains are going to loosen up, once you start paying somebody a higher rate per hour to work, you're not going to lower that. And so that will be a sustained benefit outcome of the whole period we're going through.
SAFIAN: One of your colleagues shared a story about Shake Shack's ketchup conundrum — that Heinz reached out to the CEO, Randy Garutti, about whether raised prices meant you'd go without or not. Is raising your prices something that in an environment like this, you just have to do?
MEYER: That is what we have to do. The Heinz Ketchup story is mirrored by French fries. It's mirrored by all kinds of things where we will actually have a contract that we signed with a company, where we agree to buy this much product, and the company agrees that this is what you will pay for it. And there are companies coming to us, not just Shake Shack, but to all of our restaurants saying, "I don't really care about that contract. I'm changing the price." And that's just never happened in my entire career.
But when a company like Heinz Ketchup says, "Nope, can't help it, but our costs have gone up," we see this all over the place. And we have to raise our prices. Now, we didn't have a contract with our guests saying, "I promise you for the next three years that the roast chicken is going to not budge in price," but we don't have a choice because restaurants already have incredibly thin margins. And so where does it end is really what the question is. I don't know the answer. I just know that we will emerge on the other side.
Chapter 6: Danny Meyer speaks about his private equity fund, Enlightened Hospitality Investments
SAFIAN: As you move up to the executive chairman role, does that mean you'll be spending more time with your private equity fund?
MEYER: Yeah. So, our fund is called Enlightened Hospitality Investments. We're now in our second fund. The first fund is completely invested in businesses. We invest in companies that are led by really enlightened leaders who came up with an idea we only wish we had come up with, and they're all at an early enough stage. It's later than venture, but before a big liquidity event. And so it really means that I'm able to spend more time with the founders and CEOs of these businesses, who are looking for someone they can bounce ideas off of, who's probably made some of the same mistakes just a whole lot earlier than they did.
When you look at the kind of businesses we invest in, they all have a very similar heart set. We believe that the best way to create the best outcome for your shareholders and investors is to have them be the outcome, not the input. And to have the inputs be the team who works there, your customers, your community, and your suppliers. And so that's consistent about every investment.
We are not only able to learn from those businesses but, in many cases, we're able to use their products and be a better business at Union Square Hospitality Group as a result. Sometimes it's software. It's a kind of coffee. Inventory ideas, or marketing ideas. But it's creating an ecosystem where we get to stay at the top of our game. We invested in Goldbelly, way before the pandemic made it a household name, literally. So the businesses are all over the board.
SAFIAN: There are some things about hospitality that are timeless. And then there are other things that are just changing so rapidly. I was reading something about Shake Shack's digital sales during COVID going from zero to 40-45% or something. So you're looking at both kinds of tools to accelerate that and brands that maybe, I don't want to say you think of as the next Shake Shack, but something that can take a hospitality idea to a next place.
MEYER: If it is a food company, I don't think that's an unfair way to look at Bob to say, "Could it be the Shake Shack of blank?" So we just invested in a company based in Atlanta called Slutty Vegan, which — the name itself was debated. Is this something our limited partners are going to go for? But you know what? They just opened their first New York store in Brooklyn, this past weekend. And the opening line is close to a half a mile long to get into this little storefront. That's what we call earning a tribe. So if it's a food business or a restaurant company, I think it's fair to say, could they become the Shake Shack of their category?
But we also have a company called PreciTaste, through artificial intelligence, helping to set up cameras in kitchens and in dining rooms to show just from a body heat standpoint how many human beings are standing in there and then predict for the kitchen how many orders they should be preparing. Which cuts way down on waste, which increases the productivity of the team, and which decreases the time you have to wait for your food. So we're looking at just about everything, and one of the companies I love is called NotCo, N-O-T-C-O.
And rather than using chemistry to create non-meat protein, they're actually using fruits and vegetables, and they have created this computer-based algorithm that can figure out the flavor, texture, and appearance of any food. And then figure out which fruits and vegetables in combination will actually replicate that. So for example, they launched NotMilk; you can get it at Whole Foods. And wouldn't you know, it tastes great. It's made from pineapples and cabbage. It doesn't taste like pineapples. It doesn't taste like cabbage. It tastes like milk.
Every time, we get to learn from somebody who's got these amazing ideas, and they come from the same heart set, not mindset, but heart set, as we do. There's just a fantastic opportunity to not only back them, but then bring back all kinds of lessons that, then from my higher perch up in the trees, we can bring the really good ideas to our company.
Chapter 7: Danny Meyer on the state of entrepreneurship today
SAFIAN: I asked you a question, one of our other conversations. I asked you whether you were optimistic, and you said, "I'm not sure I'm optimistic. I'd say I'm hopeful." Are you optimistic yet?
MEYER: I'm optimistic. I am optimistic. I think hope is somewhat passive. Optimism implies I'm really on the balls of my feet, not the heels of my feet, and I'm ready to go.
SAFIAN: Looking at the role of entrepreneurship, are you more optimistic about that moving forward?
MEYER: Absolutely because entrepreneurism is, I think, a very conscious act of seeing a problem before others saw the problem, having a solution before anyone even thought there could be a solution and then marshaling a team of people who agree and who want to help you create that solution. And I think that entrepreneurs need problems in the same way that surfers need waves. So when have we ever had more problems to solve? There is still a lot of money on the sidelines waiting to back good entrepreneurs, notwithstanding the fact that the public stock market today has much, much lower valuations.
Part of the reason they have much lower valuations is people are waiting it out, and they're not putting more money into the stock market right now, but that money still exists. And I think entrepreneurs with the right idea and the right passion and the right leadership skills are actually facing what could be a golden age right now.
SAFIAN: Well, Danny, as always, it is great to talk with you, and congratulations on making it to this next stage of your journey.
MEYER: Thank you, Bob.