Build your culture like a product
Your company's culture is the bedrock of everything you do. So you can't afford to just let your culture emerge — you need to build it with the deliberate approach of a product designer. Then you need to bring that culture to life by winning buy-in from your team.
This is exactly what Dharmesh Shah did at HubSpot — as laid out in the famed HubSpot Culture Code. This living document continues to inspire founders and business leaders to adopt a product design approach to building their own vibrant and adaptable company cultures.
In this episode, Dharmesh talks through the inspiration behind the Culture Code, and reveals how he built and rebuilt some of its most inspiring elements — all while keeping his team invested.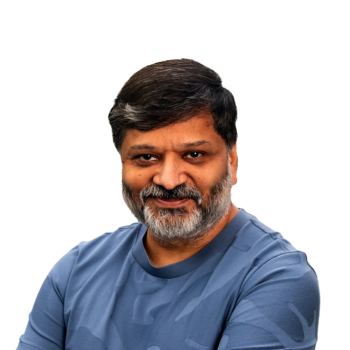 Your company's culture is the bedrock of everything you do. So you can't afford to just let your culture emerge — you need to build it with the deliberate approach of a product designer. Then you need to bring that culture to life by winning buy-in from your team.
This is exactly what Dharmesh Shah did at HubSpot — as laid out in the famed HubSpot Culture Code. This living document continues to inspire founders and business leaders to adopt a product design approach to building their own vibrant and adaptable company cultures.
In this episode, Dharmesh talks through the inspiration behind the Culture Code, and reveals how he built and rebuilt some of its most inspiring elements — all while keeping his team invested.
Transcript
Transcript:
Build your culture like a product
DHARMESH SHAH: We didn't really use the word culture for the first five or six years of HubSpot. It was not a thing we talked about. And I know this because I went through the email logs.
REID HOFFMAN: That's Dharmesh Shah, co-founder and CTO of HubSpot. Dharmesh only started to take culture seriously several years after launching the company, when his co-founder and HubSpot CEO, Brian Halligan, found himself at the center of an uncomfortable exchange with his peers.
SHAH: He joined this CEO group that got together once a quarter. The way I always pictured it was like group therapy for CEOs. The theme for this particular meeting was culture. They would go around the group and when it was Brian's turn, he was like, "Well, that's not something we're really spending time on. Culture is something that we will  deal with some other day."
They came down on him hard. They were like, "Brian, I don't think you understand. There's nothing more important than culture. That's the thing that will define the company's destiny over the long term. If you don't get that right, nothing else will matter." And so he nodded his head and that meeting was over.
HOFFMAN: The meeting was over, but for Dharmesh, his journey as a culture builder was about to begin.
SHAH: Brian tells me about his meeting that he just had about culture. There's a pause in the conversation and he's like, Dharmesh like, why don't you go do that.
HOFFMAN: It's fair to say Dharmesh wasn't totally on board with Brian's proposal.
HOFFMAN: Dharmesh fell back on what he knew best -— his skillset as a product designer and software engineer. So his first step was market research. His employees would be the ones buying into this culture. So he sent out a tentative company-wide email to test the market. 
SHAH: It was a very, in my mind, innocuous request. It's like, Hey, I'm working on culture. I'm gonna be asking for your feedback. I might do some surveys and things like that.
HOFFMAN: With the email sent, Dharmesh sat back and waited for the insights to pour in.
SHAH: Some of the most acidic, negative, harsh commentary I've ever received, came back in response to that email. And these are all people that I'd hired, I'd worked with them. And it shocked me.
HOFFMAN: Your product is awful, and we ain't buying it: it's the most distressing feedback a product designer can imagine. But for Dharmesh, this feedback was invaluable. 
So he dug deeper.
SHAH: What I came to learn is that people had this preconceived notion that the only companies that talk about culture are the ones that have already lost their way. They take fancy sounding words and fancy sounding quotes and put 'em on posters and put 'em on coffee mugs. But it actually has no discernible purpose at best and at worst, it's actually toxic because it misrepresents or is just a wrong, bad thing.
HOFFMAN: For Dharmesh, these were specific, actionable insights from his customer base. Now he had to set about intentionally building a culture for HubSpot and selling it to his employees. It would be the most important product development challenge he'd ever faced. And it would take all of his product design skills.
That's why I believe that to create a company culture you're proud of, you need to build it like your product. Define it, iterate, and sell. 
[THEME MUSIC]
HubSpot's Dharmesh Shah on his Culture Code deck
HOFFMAN: I'm Reid Hoffman, co-founder of LinkedIn, partner at Greylock, and your host. And I believe that to create a company culture you're proud of, you need to build it like your product. Define it, iterate, and sell. 
Even if you've never built a product before, you might have a good idea about some of the key aspects of the process: designing the original idea and outlining its features, functionality, and user experience — collaborating with a product team and iterating on the product as you go to address bugs, feedback, and shifting vision.
This product approach can also be used to build a strong, adaptable culture at your business. To create an honest culture that lasts, that same dedication to outlining, collaborating, addressing user feedback, and ongoing iteration is required.
I wanted to talk to Dharmesh Shah, co-founder and CTO of HubSpot about this, because in creating the HubSpot Culture Code, he's helped establish a culture known for its transparency, customer focus, and commitment to employee empowerment.
HubSpot is a platform that helps businesses manage their customer relations and marketing operations. Launched in 2006, it now has annual revenue of over $1.7 billion. Meanwhile, the HubSpot Culture Code has inspired many founders and business leaders to adopt its approach when building their own vibrant, adaptable company cultures.
At the top of the show, we heard how Dharmesh reluctantly took on the task of building culture at HubSpot. Following that initial burst of scathing blowback from his employees, he decided to build a deck to record what the current state of the culture was at HubSpot. And he fell back on what he felt most comfortable doing: coding.
SHAH: When I wrote the culture deck, I thought of it as a piece of code. If I were to write like Python code to kind of run the company, what would that code look like?
HOFFMAN: Yeah, it was culture python.
SHAH: It was exactly, that's what it was. It was culture python.
HOFFMAN: Dharmesh also fell back on the central principles of coding: define your problem as narrowly as possible, launch early, then iterate.
SHAH: I was very deliberate and very limited in scope in terms of what that first culture code deck tried to answer. And it answered exactly one question: what are the attributes that people have that increase their likelihood of being successful and happy at HubSpot?
SHAH: Let's just tackle this problem, iterably, let's get the first version out there for a commentary. 
HOFFMAN: That version 1.0 was just 16 slides. It documented the culture that had naturally emerged at HubSpot. Now, it was time for Dharmesh to get feedback on that first release.
SHAH: The team came back. It's like, "Oh actually, that thing has turned out to be useful." I'm like, "Okay, good." 
HOFFMAN: The customer feedback was in, and they were sold on the idea. But, they had some feedback.
SHAH: "But it doesn't answer enough. It tells us the "who" but it doesn't tell us how to make decisions. It doesn't go far enough." 
Wouldn't it be more useful if it also helped us with, like, how we do things and describing to people how we make decisions and why we would do this way versus that way?
HOFFMAN: A product designer refines and improves their product based on user needs, preferences, and real-world testing. So Dharmesh kept putting the Culture Code through this iteration cycle, using surveys, focus groups and one-on-one meetings with team members.
The initial Culture Code prototype soon became a living document. And by seeing it grow before their eyes based on the feedback they gave, the once-skeptical customer base were now avid power users.
And this is another key advantage about treating your culture as a collaborative product development project: you'll get huge buy-in from your team.
Feedback from your team isn't the only tool in your product designer's kit. Inspiration can come from other products. 
SHAH: There was another culture deck that was the, in my mind, the canonical culture deck, which was the Netflix culture deck. Very, very widely read. I think they were the first ones to do a deck like that and actually kind of share it with the world. And it was brilliant. And the entire management team at HubSpot had read it multiple times. We could recite parts of it by heart because it was just so well done.
HOFFMAN: Dharmesh and Brian weren't just inspired by the deck, but by the way Netflix had made it public. They wondered if, by doing the same, they could get even more feedback that would help them refine it.
SHAH: She's like, it was life changing for Netflix. Even though it's gonna feel uncomfortable because you are going to get, you know, lots of feedback once you put something out there. It's worth it. And she looked at and provided commentary on the pre-public version of the HubSpot Culture Code, and had great feedback on the deck.
HOFFMAN: Soon after that call ended, Dharmesh got some more feedback that was unexpected, but certainly not unwelcome.
SHAH: I get an email from Reed Hastings, the CEO of Netflix. Says "Dharmesh, Patty McCord sent me your culture code deck. I think it's brilliant. And I'm like, drop the mic. My life is over. My work here is done."
HOFFMAN: Of course, Dharmesh's work wasn't done, and as a seasoned product developer, he knew it full well. Remember — one of the main reasons he had made the deck public was to get even more feedback.
SHAH: Once we published it on the internet and had tens of thousands, hundreds of thousands, millions of people read it, it was really nice to see feedback come back on that.
HOFFMAN: This is why Dharmesh is still iterating on HubSpot's culture to this day. Since it was first published in 2013, the Culture Code deck has grown from 16 to 128 slides.
SHAH: No great product team ever thinks it's like, oh yeah, some user somewhere reported this bug in the thing or whatever. It's like, well, I wish they would not have told that to me. And that's just gonna, it's like, no, like feedback is a gift. And the same should be true for a culture, is that feedback is a gift. You do have to change the culture over time in order for it to continue to deliver the value for which it was created.
HOFFMAN: For the rest of this episode, we're going to focus on four key components of the Culture Code to see how Dharmesh defined, iterated and sold each component as if it were a product. 
Component 1: Solve for the customer.
The first component we're going to look at in the HubSpot culture deck is how they make sure everything they do is focused on the customer's experience and needs.
This sounds like an obvious cultural directive to build your business around. But it's surprisingly easy for businesses to lose sight of this. Dharmesh experienced this from a customer's perspective when he had issues with his internet provider.
SHAH: So my internet connection went down, and I have a well known internet service provider. And they sent me an email and here was the sentence: "We're aware that you may have lost connection to your internet." And my reaction is, "I've been a customer for 12 years. You know that I live on the internet. You know that my internet connection went down because you know what? The bits stopped flowing from my computer to your network, so don't open with this, 'Oh, hypothetical possibly, we may have caused you some inconvenience,' and not even acknowledging the fact that there's an actual problem."
REID: What infuriated Dharmesh about that email wasn't just the mealy-mouthed explanation.
SHAH: Nowhere in this email did they actually say that they were sorry for this outage. And that's the cardinal sin of customer experience. Even if it's not your fault, maybe it was a partner or something outside of your control, that doesn't really matter to the customer. And it was just blindingly obvious, how could you send an email like that out without using the word "sorry?"
HOFFMAN: For Dharmesh, this experience clearly defined the importance of making "solving for the customer" a core component of HubSpot's company culture. 
To do this, Dharmesh makes sure his team keeps as close as possible to the customer's perspective.
SHAH: We have a monthly meeting where the entire exec team gets together and we talk about customer issues. We have an actual live customer join us on that call.
They're often customers that are not completely thrilled with us — we may have had a misstep or something like that. So it's not just the, "Oh, we're hearing the customer's pain." And it's not even just the, "We're hearing it directly from the customer, super valuable," but we are collectively experiencing that customer pain as a group, so then we can chat about it, which we do. It's like, "What have we learned? What could we have done differently? What was the root cause of this thing?"
Just that forcing of a company to say, "Okay, we are going to make ourselves experience the customer pain," would avoid a lot of future pain for customers.
SHAH: Nothing helps an engineer appreciate the pain they're creating when they have a bug or a missing feature that just needs to be there, then actually to feel that pain directly from customers. So we're very encouraging, sometimes draconian about pushing engineers to talk to customers and really understanding the business, not just their particular part of the product.
HOFFMAN: Notice how this cultural drive to foster a deep understanding of the customer viewpoint is self-reinforcing: when every member of the team is encouraged to talk to customers directly, then every member of the team will see just how valuable this tenet is. They'll be exposed to insights they couldn't get any other way, and they'll form a deeper empathy with their customers. This in turn means a stronger product, higher motivation in the team, and a drive to continue keeping the customer at the heart of the company's culture.
But Dharmesh is careful to make sure the focus isn't on solving for individual customers on a case-by-case basis, but rather for the entire customer base. 
SHAH: When we say, putting the customer first, we really mean, putting the collective of our customers first.
We will have individual customers on certain things that are less than right. It's like, okay, well I know you're asking for that, but what we're solving for, what's the thing we can do that kind of raises the value that we can bring to all of our customers.
HOFFMAN: With a product designer's precision, Dharmesh carefully defines exactly what it means to solve for the customer. It could easily be mistaken for a restatement of that flawed adage: "the customer is always right." But it is actually a carefully-engineered tenet to keep the entire company focused on the wider customer experience, and to continually strive to refine that experience.
Another way to keep decisions on track is by letting everyone see the big picture. Which brings us to… 
Component 2: extreme transparency.
SHAH: This notion of transparency — the reason I think it's so valuable, is empowering all individuals to kind of make good decisions on behalf of the company. 
HOFFMAN: This transparency grew out of HubSpot's earliest days.
SHAH: We were two people and a house plant sitting in a room, and we hired our first employee. What are the things we share with this employee versus not? And the natural decision that we made was like, well everything. And so we did that for the first employee and the second one and the 10th one and the 50th one. And we just never modified that rule.
HOFFMAN: When it came to creating the Culture Code, Dharmesh knew that this transparency was one of the defining factors of HubSpot's culture. And like the killer feature in any product, he knew he had to keep it, whatever the cost. 
It's a principle Dharmesh and his co-founder Brian found themselves fighting particularly hard for when they were preparing their IPO in 2014. During that preparation, their legal team asked them to list HubSpot's designated insiders. 
SHAH: I'm like, okay, so what's a designated insider? It's like, oh, well there's these handful of people that you designate will have access to all the core financials and this very sensitive information. I was like, okay, so how many do we get to put on the list? And they're like, five to seven, is usually, and so then I'm like eight. And they're like, yeah, you can do eight. Then my co-founder's like nine. I knew exactly where we were headed with this.
HOFFMAN: Dharmesh and Brian discovered that there is no SEC regulation limiting the number of designated insiders you can have in a company. With that, they came to their decision. 
SHAH: The decision we made was, we are going to designate every individual employee at HubSpot a designated insider when we went public. 
HOFFMAN: At the time of their IPO, that meant HubSpot had close to 800 designated insiders. Today, that number has risen to around 7,000.
SHAH: Our motivation for doing it was very, very simple. One of our core cultural values was transparency. And had we not designated everyone an insider, we would've had to break that cultural value.
HOFFMAN: This is another way creating culture is like building a product: if you compromise on the quality of one component, it can have a huge, and unpredictable, knock-on effect that impacts your entire business.
If Dharmesh and Brian had followed the conventional route of limiting the pool of designated insiders, the majority of the HubSpot team would suddenly find their vision narrowed, and a pillar of their culture would be gone.
So Dharmesh and Brian made an unconventional move to keep that transparency intact.
It was a risk that paid off, and as we'll hear after the break, the willingness to take risks is another core component that Dharmesh built into HubSpot's Culture Code.
[AD BREAK]
HOFFMAN: We're back with Dharmesh Shah of HubSpot, on building your company culture as if it were a product. 
Before the break, we heard how Dharmesh constructed two of the core components of HubSpot's culture: solving for the customer and being remarkably transparent. Now we're going to look at Component 3: the willingness to be bold and take risks.
Component 3: Be bold and take risks
SHAH: One of the most constant things that I always work on at HubSpot is are we taking appropriate risks in order to be the company that we aspire to be? 
The reason something big happens is that someone, somewhere along the way, took a relatively big risk and tried something that wasn't natural. It didn't feel comfortable and it was different from the core business.
HOFFMAN: Like every component in the culture code, Dharmesh has been intentional about weaving this attitude towards risk throughout HubSpot. 
SHAH: Everyone should be like, "Okay, well, I'm going to spend 90% of my calories on making sure that we do the things we're doing and continue to move the company forward, but I'm going to try and take some percentage of my team's time, my personal time, whatever it is, on things that could be big successes that are risks."
HOFFMAN: But Dharmesh knows that simply telling people to take more risks isn't enough. You need to build a culture in which everyone knows the company has their backs for when the risks don't pay off.
SHAH: If everything succeeds, then it wasn't really an experiment. You did something that you knew was going to work in the first place. So you need to have some number of failures.
HOFFMAN: Note that everyone is encouraged to bring risks to the table. But that doesn't mean Dharmesh is creating a culture of recklessness. He's very specific about who is responsible for greenlighting and overseeing risky ventures.
SHAH: Everybody in the company has a voice, but not necessarily a vote. We don't make decisions based on consensus.
Some middle road that tries to appease everyone is probably the worst of the possible options and so we try to avoid that by having a single person that's directly responsible for hearing all the voices, taking all the inputs and make that decision. 
HOFFMAN: Putting a clear commander at the helm of each risky venture isn't about having someone to blame if things go wrong. It's about making sure there is a key person on point who can nimbly set a course through unseen hazards. And there is another key element in enhancing their chance of success.
SHAH: We will line up behind that decision. We try not to second guess ourselves. We call it sailing a ship. Once the ship has left the harbor, we all cheer it on and root for it and then move on to the next thing.
HOFFMAN: Both risk taking and responsibility are baked into the HubSpot culture. It's also a culture in which everyone feels supported to make the best decisions for the right reasons, which brings us to the final component we'll be looking at: Component 4: strength comes from diversity.
Component 4 – strength in diversity
SHAH: My co-founder and I met in graduate school at MIT — we were in business school. And then employee number three, employee number four, employee number five, employee number six, employee number seven, employee number eight — all MBAs. It was partly just out of convenience. Those were the people we knew. We have this shared vocabulary, so we approach problems in a similar way. There's value to that efficiency, and this is what makes it such an insidious problem, but there's a massive downside in terms of just having a much more narrow view of the world.
HOFFMAN: As the company grew, it hired from outside of that MBA pool. But there was still an unsettling lack of diversity.
SHAH: In the early HubSpot office, we had a photo of every employee in this long hallway. We just keep adding them. So it was a chronologically ordered series of photographs of people. As we walked down that particular hall and saw the faces and the people that were on the team, then it kind of struck us. It's like, this is not just a management team. This is actually the company that is lacking diversity. And then we started to, you know, see the light, so to speak. A: this is important. B: we totally effed it up. Let's see if we can change that over time. 
HOFFMAN: It's a striking example of what can happen when you neglect culture building at your company. But it's also a danger for companies that think they're doing a good job of constructing a positive culture. 
SHAH: Lots of companies like to say that they hire for culture fit. And my personal belief on this is that in order for you to be permitted to use that phrase, you have to be able to describe and define and show someone what your culture is. Otherwise, what ends up happening is you are at a high risk of using that phrase as a substitute for: we hire people just like ourselves.
HOFFMAN: Dharmesh then set about re-engineering HubSpot's hiring practices, and making sure diversity was the central plank. Changes included appointing a director of diversity, inclusion and belonging and tracking diversity metrics. The benefits of this renewed focus filter through not just employees, but customers.
SHAH: Your customer base is diverse. They're different. They're from different walks of life, if your team doesn't reflect the diversity of your customer base, that's a problem because it's really hard to have empathy for your customers if they're super diverse and different and you're a monoculture. You're just not going to be able to empathize with them. It just doesn't work.
HOFFMAN: We've only examined four of the main components that Dharmesh has built into the HubSpot Culture Code. There are many more. And each one is constantly being iterated upon. In fact, this constant change is key to the Culture Code's longevity.
SHAH: The mistake so many entrepreneurs make is they think their job is to preserve their startup culture. And I think that's misguided. There are two products every company builds. One is for their customers, and the other product is the one they build for their people. No product is ever done. That means culture is never done. 
HOFFMAN: Culture evolves and is dynamic and adapts and changes, which I totally agree with. I mean, people tend to too often think of culture is, you know, the 10 commandments written in stone, and that's just not the nature of these organisms, these communities, these evolving markets. Anyway… 
SHAH: Yep. And so we iterate on our culture to say, "Okay, well, here are the things that worked for us when we were a startup that no longer fit anymore. Or here are new things that… these were not feature requests in the early culture of HubSpot, but they are feature requests now. And do we actually add those to the culture?" We think of everything as an iterative, needs development, it's never done, we're trying to constantly move it to making it better over time and trying to make 1,000 incremental steps towards something better. But it's not just a product thing, it's a everything thing.
HOFFMAN: Thinking of culture as a product means you're constantly ensuring it's a fit for you, your team, and your customers. But there's another advantage to thinking of culture as a product: it helps your team feel more invested in the culture, as they help build it with you.
So grab a napkin, a notepad or a laptop and write down your culture, if you haven't done so already. And if you've already written it down ask yourself: when was the last time I rewrote it?
I'm Reid Hoffman. Thanks for listening.