Better metrics for better culture, part 2
In part 2 of this episode with veteran founders and investors Mitch Kapor & Dr. Freada Kapor Klein, we get into the data of building human-centered cultures. In part one, we heard how Mitch and Freada went all-in on investing their values, committing 100% of new investments in "gap-closing" companies that aim to improve society, even as they aim for scale and liquidity as well. Now, Mitch and Freada can share how that's played out in practice, with both positive examples … and some negative ones as well. (Yes, they were early investors in Uber!)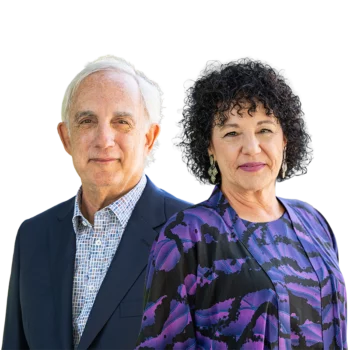 In part 2 of this episode with veteran founders and investors Mitch Kapor & Dr. Freada Kapor Klein, we get into the data of building human-centered cultures. In part one, we heard how Mitch and Freada went all-in on investing their values, committing 100% of new investments in "gap-closing" companies that aim to improve society, even as they aim for scale and liquidity as well. Now, Mitch and Freada can share how that's played out in practice, with both positive examples … and some negative ones as well. (Yes, they were early investors in Uber!)
Transcript
Transcript:
Better metrics for better culture, part 2
REID HOFFMAN: Welcome to Part Two of our episode with Mitch Kapor and Dr. Freada Kapor Klein on choosing metrics that uplift your culture and improve your bottom line. If you missed Part One, go back and listen.
When we last left Mitch and Freada, they had formed their early-stage investment firm, Kapor Capital. And, they'd just committed to only funding startups that include a social impact mission. 
The Kapors' investment story of Pigeonly
This commitment took a leap of faith — at first. They didn't know whether using mission-focused criteria would help their financial returns. But they had a theory. Now, it was time to put it to the test.
FREADA KLEIN: I remember going to meet with Frederick Hutson. He started a business to radically disrupt the hugely extractive cost of phone calls to and from prisons. So where did he get the idea that this would be a great business? In prison.
MITCH KAPOR: We should explain, he was successfully engaged in an enterprise, which is now quite legal, but at the time was not — having to do with cannabis.
KLEIN: He'd be a cannabis mogul if he had started it a couple decades later. He was the best logistics guy for all the neighborhood dealers. But there he is in prison, and his entrepreneurial chops are at work again. And so he starts a company called Pigeonly.
HOFFMAN: Frederick created Pigeonly to help incarcerated people connect with their families. It let family members print photos from their cell phones and mail them to their loved ones. Next, came features like a search tool to help locate people inside the prison system. Every new feature addressed a problem Frederick Hutson had experienced firsthand. 
KAPOR: We wanted to be guided by the data. He had really good answers to very tough questions. He was unapologetic, he was straightforward, and I said, "Oh, this is somebody who is committed, who knows the sector, who has a plan. He's thought things through. Okay, this is the kind of person we want to be backing." And that was a kind of a template for many founders we've subsequently invested in. 
HOFFMAN: Frederick matched the type of founder they were looking for — by any of the metrics they'd set, including a unique one we heard about in Part One.
KAPOR: We were giving credit for distance-traveled. 
HOFFMAN: 'Distance traveled' isn't measured in miles. It's a Kapor Capital metric that takes into account not simply what a founder has accomplished, but where they started from to get there. To Mitch and Freada, this is a far better predictor of success than a person's alma mater. And as they scaled Kapor Capital, investing in more and more founders, it was this metric that helped shape the culture of their firm.
That's why I believe when you choose your metrics, you also choose your culture. So set benchmarks that you can be proud of for the life of your organization.
[THEME MUSIC]
HOFFMAN: I'm Reid Hoffman, co-founder of LinkedIn, partner at Greylock, and your host. And I believe that when you choose your metrics, you also choose your culture. So, set benchmarks that you can be proud of for the life of your organization.
If you've watched any track and field races longer than 100 meters, you may have noticed a peculiar detail. The runners are staggered at the starting line, with each athlete a couple feet ahead of the last, as you move from the inside to the outside lane. 
The reason for this is geometry. Because a racetrack has curves, the person on the outside lane has farther to go than the person on the inside lane in order to reach the finish line. That's why we talk about the advantages of having the "inside track."
But at some point, some enterprising designer realized that you can measure, and thus counteract, this mathematical inequality. Hence, the staggered starting line. 
It's this kind of thinking that has shaped Mitch and Freada's investment strategy at Kapor Capital. As you just heard, they use the unconventional yardstick of "Distance Traveled" to consider a founder's potential, and their likelihood of success. Because if a founder has spent their life on the outside track, they've had to run faster than their competition advantaged on the inside.
Kapor Capital has used this insight to identify talent and opportunities that others overlook. Companies like BlocPower, ClassDojo, Aclima, Promise, and many others. 
To demonstrate how Mitch and Freada's investment theory works in practice, we'll begin with a story they write about in their book, Closing the Equity Gap.
The Kapors' investment story of Bitwise Industries
Let's jump to another of the stories in the book, Irma and Jake from Bitwise Industries. 
KLEIN: They are a great complementary pair. Irma is the engineer, Jake is a lawyer by training, and they just work phenomenally well together.
The idea for the business and the passion and the determination came from their own lived experience. 
HOFFMAN: Irma Olguin, Jr. came from generations of migrant farm workers. But through scholarships and study, she became the first in her family to go to college. Becoming an engineer transformed her future path.
Jake Soberal also knew how a tech education can change lives. His father had emigrated from Mexico to California, and was an overnight security guard, until he saw a commercial for a computer learning center. He enrolled, and it put him on a high-wage, high-growth career track. 
Irma and Jake wanted others to experience that same life-changing transformation. So they founded Bitwise Industries to provide tech solutions for clients that now include the state of California. 
Bitwise's major innovation is in how it trains its engineering workforce. They offer paid apprenticeships to those traditionally shut out of tech, like veterans, the poor and unhoused, undocumented people, and the formerly incarcerated. 
Their scouting benchmarks actually look a lot like the ones Mitch and Freada use to find founders. Bitwise was also looking for candidates who'd traveled a long way, metaphorically speaking. 
KLEIN: Irma's insight was that the things that keep low income people, underestimated people, from pursuing tech, and especially learning how to code, are the obstacles of daily life for poor people, not their inherent talent or smarts or interest.
So she began focusing on things like, "Okay, we're going to pay the apprentices. They need childcare, we'll provide it. They don't have a way to get to school, we'll pick 'em up. Their family is food-insecure, we'll drop off some groceries."
HOFFMAN: But Jake and Irma's mission didn't stop at uplifting their workforce. They also wanted to revitalize what they call "underestimated cities." Starting with their own hometown. 
KLEIN: Jake and Irma are from Fresno. No one thinks of Fresno as an epicenter of tech or innovation.
How can people in Fresno be trained to enter into the tech ecosystem for jobs in Fresno?  Not, "we're going to take them out and transfer them to Silicon Valley or someplace else," but how can we teach them tech skills, let them live in and uplift their communities?
HOFFMAN: Lifting people out of poverty, and jumpstarting a city's ecosystem, all while making profits, sounds almost too idealistic to be possible. But these goals are actually connected. When you provide jobs and training to underserved communities, the buying power of those communities goes up. That kick starts the local economy, and sets a flywheel spinning that leads to improved outcomes for all. 
As evidence this works, Bitwise's success can be seen in one surprising metric: 
KLEIN: Realtors in Fresno will tell you that about 30% of the new home buyers are all Bitwise employees or trained at Bitwise. They actually transformed the economy of the city. And they went on and did this again in Bakersfield, in Merced, in Oakland, and then they expanded nationally.
HOFFMAN: In February 2023, the Kapors led an $80M round for Bitwise that will help fuel an expansion into Chicago's South Side. Telling the Bitwise journey has become something of its own mission for Mitch and Freada. Not just because it's a great story, but because the culture of Bitwise is what helped them make their decision to invest. And hopefully, this thinking will spread throughout the VC world.
KAPOR: When we made a trip to Fresno, the atmosphere in their building was palpable of inclusiveness and belonging, of energy, of momentum, you could see people changing on the spot. 
KLEIN: Irma wears a t-shirt or a sweatshirt almost every day that says, "No one belongs here more than you." 
The lived experience of our founders translate into the core products and services of the business, but also the culture of the companies that they start.
HOFFMAN: Exactly. When you build using human-centered metrics, you get more human-centered companies. But as you'll hear when we return, the opposite is also true.
[AD BREAK]
HOFFMAN: We're back with Mitch Kapor and Dr. Freada Kapor Klein. If you're enjoying this episode, share it with friends by clicking the 'share' button on your podcast player.
Before the break, we heard how Kapor Capital used human-centered metrics to find founders worth investing in. Their theory? That founders who've spent their lives running on the 'outside track' are ready to outrun the competition. These founders can spot market gaps where others fail to look. And they tend to scale with inclusivity at the heart of their cultures.
The Kapors' investment story of Uber
But ironically, one of the Kapors' most famous investments scaled with the opposite approach to culture. And it led to an implosion that rocked the company, and all of Silicon Valley. 
That's right. They were one of the very first investors in Uber.
KAPOR: I knew Garrett Camp—
COMPUTER VOICE: Garrett Camp. Canadian entrepreneur. Co-founder of Uber.
KAPOR: He had this incredibly intriguing idea. It was at a time when the technology was still pretty primitive. Connectivity on iPhones still wasn't great, 3G was just coming in, GPS barely worked, the maps were terrible. Travis—
COMPUTER VOICE: Travis Kalanick, co-founder and former CEO of Uber.
KAPOR: When I got involved at the very beginning, he was only in the picture as an angel, not as an executive. Had he been, I think it would've been a different analysis.
But what I saw trying to look around the corners, I said, "Oh, if you can use your phone to summon transportation, that could be a game-changer." And on that basis, I went in at literally the very, very, very first round.
KLEIN: Black people, especially Black men, from the early, early, early days of Uber said, "Now, I can get a safe ride home." Suppose I'm a hospital worker and I'm in a dicey neighborhood and public transportation isn't running, I know I can get a safe ride home because the taxis won't stop for me.
HOFFMAN: Freada still makes a point of asking her Uber drivers their stories. 
KLEIN: There's a woman who picked me up at SFO, a single mom. She only drove at night, when her mom could watch her daughter. There's no other job where she could pick her hours, it gave her maximum time with her daughter to take her to school, to have dinner with her. Then, when her daughter's ready for bed, mom goes out and drives for Uber. 
HOFFMAN: These are all ways that Uber accomplished what Mitch and Freada hope for all their portfolio companies. But as the company scaled, it did so aggressively, often fighting with cities for their right to exist alongside the taxi medallion system. This combative spirit, stoked by Travis Kalanick and others, spilled into the culture. And the employees felt it.
KLEIN: I was invited in by different employee resource groups to come do presentations on bias. Travis was halfway around the world, of course, when I was giving a talk about bias. 
But then what started to happen quite ironically is Emil Michael, who was a senior exec there, started calling only on the weekend. He would call Mitch's cell phone and say, "Can I speak to your wife?", which probably tells you a little about some of the culture at Uber. 
HOFFMAN: Freada spent hours talking to Uber senior executives about what she thought needed to change. 
KLEIN: They would call with crises, and I would say, "Okay, here's what you need to do." And they followed exactly none of my advice, but they kept calling.
HOFFMAN: Then, in 2017, an Uber engineer named Susan Fowler wrote on her blog about her terrible year with the company. Her post blazed a fiery path across the Internet, as she detailed instances of sexual harassment Uber's HR department ignored.
It was exactly the kind of abusive behavior Freada had fought against for decades. The Kapors were at an uncomfortable crossroads.
KLEIN: Ideally, loyalty to principles and loyalty to a portfolio company are one and the same thing. With Uber, they diverged dramatically. 
KAPOR: The culture was toxic. It needed to be called out. We couldn't remain silent. 
HOFFMAN: So they didn't. Instead, they wrote an open letter to Uber's board and to other investors, calling out Uber's behavior and arguing for change. 
KAPOR: It was very controversial at the time. Other VCs came to companies in our portfolio and said, "You got to get rid of Kapor. You should take money from us. These are the hot companies because they're going to turn around and do to you what they just did to Uber." So it's really the knife in the back.
HOFFMAN: You heard that right. Certain VCs used this moment to try and poach Kapor Capital investments. 
KAPOR: Fortunately, the companies just came and —
KLEIN: They came and told us.
I was on stage at South by Southwest and a woman entrepreneur asked me the question, "What should I say to this person?" And I was stunned. I did not know this was going on. And our entrepreneur said to the first VC who approached her, "Thank you for telling me who you are. I will never take money from you."
HOFFMAN: Yes, exactly. Yes. Like, "They have principles, we don't. Don't you want our money?" Like, "No, thank you". Yeah, no, I thought your letter was super important because it shows that above everything, it's doing the right thing and being right for humanity and for who we aspire to be, and that's where everything targets to. It's not like, you just have to be whatever the equity value of the business is, like, well, no. It's like, that's tobacco company thinking. It's terrible.
KLEIN: Right. 
KAPOR: Right.
KLEIN: Indeed.
HOFFMAN: The experience with Uber was a major lesson in why building around human-centered metrics is sound business advice. When you build with only short-term shareholder gain in mind, you may be setting your company up for a major fall down the road. 
But culture problems aren't always as glaring as the Uber example. Cultural corrosion can happen at any organization if you're not measuring for it. Which is why, even before the Uber scandal broke, other Kapor Capital companies were looking for more uplifting benchmarks for success.
The origin story of The Founders' Commitment
KLEIN: Brian and I were running a focus group together… 
HOFFMAN: 'Brian' is Brian Dixon. 
KLEIN: … on campus at UC Berkeley of our founders.
HOFFMAN: He started as one of the firm's first summer associates. And today, he's co-managing partner of Kapor Capital. He'll help tell the next part of the story.  
BRIAN DIXON: The group that we assembled at UC Berkeley, they were great. They kind of told us some of the challenges that early stage companies were facing.
HOFFMAN: As Brian and Freada listened to these founders, they learned there was one challenge that rose above the others. 
KLEIN: Across the board, what they said is, "We need help hiring engineering talent. We can't compete with Google and Facebook on compensation. And we need some way to signal that we are different.
DIXON: They wanted to be able to show the world and potential candidates what they stood for, why they were building these types of companies. But they also wanted something that was actionable. That feedback for us was gold. 
HOFFMAN: As you've already heard, scaling companies around a clear mission is good business. But that success sometimes comes on a longer timeline. And if you can't stay competitive on talent in the short term, your chances of hitting those long-term goals go down. 
What these startup founders needed was some kind of competitive differentiation that set them apart. 
In 2016, they found their answer: the Founder's Commitment. 
DIXON: The Kapor Capital Founders' Commitment is the commitment companies make to build a diverse and inclusive workplace from the start, not waiting till you're 100, 1,000, or more employees, but when you're just getting started.
HOFFMAN: The Founder's Commitment wasn't retroactive, which explains why Uber never signed it, but many other companies already in the portfolio did. Because the desire to build diverse cultures didn't just come from the investor side.  
DIXON: The goals come from the founders, and not from us. Because at the end of the day, it should be authentic to the founder and they should set goals the same way that they're setting goals for financial goals or headcount goals or the number of customers.
HOFFMAN: Not only do these diversity goals need to be specific; the founder needs a strategy to achieve them. But that's something Kapor Capital helps with too. Brian has an example.
DIXON: I won't name the company. From an investment standpoint, it was a rocket ship of a company and the founder had a challenge where they had diverse employees on the sales team, on the HR team, but the engineering team was mostly white and mostly male.
HOFFMAN: This company's founder recognized they were falling short of their diversity and culture benchmarks on the engineering side. 
DIXON: The founder was, "I'm at a thousand engineers, when am I going to make this right?"
HOFFMAN: They needed a path forward to meet the metrics they had set. So Kapor Capital helped them formulate a strategy. Listen to their solutions, because it may remind you of the Bitwise story from earlier in the show.
DIXON: They ended up implementing an internship program, so they can attract candidates when they were still in college and helped build that pipeline for when they would graduate and they ended up getting a bunch of candidates through that. They ended up having essentially a boot camp-like program, where they were able to attract non-traditional candidates and get them into their workflow as well. And they also partnered with some of the boot camps who had great engineering talent but just didn't have a traditional path. 
HOFFMAN: These solutions helped the company change the makeup of their engineering team, which in turn changed their culture for the better.
DIXON: Ultimately they did end up changing the culture. It's not a problem today, I can confidently say that, but back then there weren't any blueprints of how to do this work. And I think that that was what was so important about what Mitch and Freada in particular brought to the table.
HOFFMAN: The Founders' Commitment helped Kapor Capital companies set their benchmarks and meet them. And not meeting those benchmarks had consequences. 
KLEIN: If a founder kept putting it off and then they were raising another round, we would not participate in follow on.
This was not performative nonsense, this was not check the box, this was we're going to help you build a team that looks like your customers. And if you think about it, that is simply good business. 
HOFFMAN: However you set them, metrics matter. And when you can show those metrics to others, they can be very persuasive. 
How the 2019 Kapor Capital Impact Report was a game-changer
In 2019, Kapor Capital released a powerful set of metrics that kicked off a wave of conversation in the business community. It was a comprehensive impact report, looking at the financial performance of their portfolio since committing to their social impact criteria. There were a couple companies they surprisingly left out. 
KAPOR: Early on we decided we were not going to include any of the results from the earlier investments in Twilio and Uber. 
HOFFMAN: That's right. They excluded two blockbuster investments that would have made Kapor Capital's returns look even stronger. But there was a good reason. 
KAPOR: For one thing, they would have skewed the results enormously, so we would've been in the top 1%, but it also happened during the formative period of Kapor Capital when we weren't a hundred percent impact-focused.
We said, "No, we are going to pick a narrower data set to show that we're really serious." 
All of the companies had to meet our investment criteria, even though it meant eliminating the two absolute highest performers. 
HOFFMAN: Even using those rigorous criteria, the 2019 Kapor Capital Impact Report bore shocking news. Well, maybe it wasn't shocking to Mitch and Freada. But it did stun the venture world a bit. 
DIXON: The original Impact Report was a game changer because it did a couple of things. 
HOFFMAN: That's managing partner, Brian Dixon, again.
DIXON: One, we released our progress to date. We also showed the world that we were a top quartile venture fund. We had a 3X TVPI, we had a 29% IRR, and we pretty much showed that we could do it by building it with a diverse founder base — 59% of our founders were underrepresented and also women founders.
HOFFMAN: If you didn't follow all of those metrics, that's OK. The VC community did. 
KAPOR: We were able to show that we had top quartile financial returns in comparison with all firms of a similar size. 
KLEIN: Carla Harris, who was Vice Chair I think at the time of Morgan Stanley, was just beside herself with joy that we had made an unequivocal case for things that she had been arguing for years.  
KAPOR: Carla and literally dozens of other folks came up and said, "Thank you for doing this. I am using your report with people with the power that I need to convince to move in this direction.
KLEIN: We've provided the data that this is not concessionary and turned conventional wisdom on its head.
HOFFMAN: Kapor Capital followed up on the 2019 report with another in 2022 that continued the success stories of their portfolio companies through the turmoil of 2020 and beyond. 
2022 was also the year Mitch and Freada stepped back from day-to-day leadership of Kapor Capital, putting the firm in the hands of Brian Dixon and his co-managing partner, Ulili Onovakpuri . It was a thoughtful succession, in contrast to when Mitch stepped down from Lotus in 1986.
KAPOR: By that point, they'd been partners for many years, they had led successful investments. We were confident that they were going to carry on in the spirit with which we started, and that had been the idea all along. So they went out and raised this $126 million fund, which is one of the largest Black-led funds that has been done.
DIXON: We ended up raising one of the top ten largest funds from a Black fund manager. And so I'm really proud of that work, but more proud about the founders that we're able to back and the companies that we're able to support. Instead of writing a 250K check, we can now write a million dollar check and lead a seed round.
We're still backing the same type of founders, which are extremely diverse, but extremely mission oriented. And that's exactly what we do and we're proud to do this work every day.
HOFFMAN: Brian and Ulili plan to deploy this fund to push the boundaries of human-centered investing. Because your successors should be able to uphold your metrics for good culture and advance them farther down the field. 
While Mitch and Freada have handed over the reins of Kapor Capital, they have not stepped back from sharing their theory with the world.
KAPOR: In most quarters of the financial world, there is still a core belief that if you're doing anything for impact or diversity, you're being concessionary on returns. You will see us, and Freada in particular, trying to do something about the larger investing ecosystem and changing that.
KLEIN: We think that how you make your money is as important as what you do with it.
HOFFMAN: I'm Reid Hoffman. Thank you for listening.