Better metrics for better culture, part 1
Can you build with conscience and still succeed? Mitch Kapor & Dr. Freada Kapor Klein certainly think so. As tech industry veteran founders and investors, Mitch and Freada have long embraced non-traditional metrics that put humans at the center. Mitch co-founded Lotus, the 1980s software giant, and hired Freada to help make the company "the most progressive employer in the U.S." And years later, their early-stage VC firm, Kapor Capital, aligns their portfolio with their values, investing in companies that close gaps in access and opportunity. Human-centered metrics don't just improve cultures — they improve the bottom line.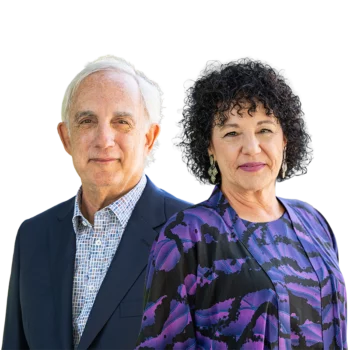 Can you build with conscience and still succeed? Mitch Kapor & Dr. Freada Kapor Klein certainly think so. As tech industry veteran founders and investors, Mitch and Freada have long embraced non-traditional metrics that put humans at the center. Mitch co-founded Lotus, the 1980s software giant, and hired Freada to help make the company "the most progressive employer in the U.S." And years later, their early-stage VC firm, Kapor Capital, aligns their portfolio with their values, investing in companies that close gaps in access and opportunity. Human-centered metrics don't just improve cultures — they improve the bottom line.
Transcript
Transcript:
Better metrics for better culture, part 1
FRED FIRESTONE: In the '60s, I remember seeing a television show called Queen for a Day. The host would interview these ladies and then the audience would decide through something called the Applause-o-Meter. And I'm thinking to myself, "Whoa, my gosh, what a way to engage the audience so that they're part of the show." 
REID HOFFMAN: That's Fred Firestone. He's the cofounder and MC of the long-running comedy pun competition, the Punderdome. 
As Punderdome's co-creators, Fred and his daughter, comedian Jo Firestone, were faced with a challenge: how do you create metrics for something as subjective as wordplay? 
That's when Fred remembered Queen for a Day's applause meter. So he and Jo created their own version — the Human Clap-o-Meter, which is a person who sits on the stage blindfolded, holding a hand-painted barometer. They listen for the crowd's reaction, then translate the cheers — and groans — into a final score. 
HUMAN CLAP-O-METER: That's a 9.6, for a score of "Punderful." We have a winner!
HOFFMAN: But in 12 years and 137 Punderdomes (and counting), Fred has continued to evolve his criteria for what makes a prize-worthy pun. 
FRED FIRESTONE: I'm a dad. I'm a granddad, but I don't want to do dad jokes. I don't want an eye roll; I want a freaking side split. And that's how we roll. Okay? 
HOFFMAN: Fred also realized there was one criterion he'd failed to articulate. 
FIRESTONE: We had a punner who stood up and he dissed on another's individual's appearance. That don't rock with me. I cannot stand comedians that get up and have to put other people down for laughs. What that made us do was put together a Rules of Engagement and we read that every Punderdome. There's no hate. We won't put up with it. And if I hear it, we'll stop it, and they're gone.
HOFFMAN: Creating rules of engagement around the show set a clear metric for success. To win Punderdome, you have to be clever, but you also have to be kind. And this benchmark shifted the culture of Punderdome for the better.
That's why I believe that when you choose your metrics, you also choose your culture. So set benchmarks that you can be proud of for the life of your organization.
[THEME SONG]
Set benchmarks you can be proud of
HOFFMAN: I'm Reid Hoffman, co-founder of LinkedIn, partner at Greylock, and your host. And I believe that when you choose your metrics, you also choose your culture. So set benchmarks that you can be proud of for the life of your organization.
Picture for a moment — a world-class ice skater making their debut at the Winter Olympics. Their carbon steel blades slice a path across the ice. A hush falls over the arena as the crowd — and the officials — lean forward, ready to render their judgment. 
What will the skater be judged on? It depends on whether the athlete in your mind's eye is a speed skater, a figure skater, or part of a hockey team!
You wouldn't judge the figure skater on how fast they get from one side of the rink to the other. And you wouldn't penalize a speed skater for their lack of triple salchows. The benchmarks for success are totally different for each sport.
In business too, the metrics you set define what's most important for your company. The way you meet those metrics naturally shapes the culture of your organization… for better or worse.
I wanted to speak with Mitch Kapor and Dr. Freada Kapor Klein about this, because as co-founders of the investment firm Kapor Capital, human-centered metrics have been at the heart of their approach to scale. And they've shared their strategies in a new book called Closing the Equity Gap. 
Mitch co-founded Lotus, the 1980s business software juggernaut that predated Microsoft Office, and sold to IBM in the 90s for three-and-a-half billion dollars. He was also the founding chair of Mozilla and a driving force in the independent Internet movement. And Freada has spent decades at the forefront of making workplaces safer and more equitable. 
As two of Uber's earliest backers, they also became two of its most vocal critics during the culture crisis that shook Uber's foundations. We'll dig into that chapter in Part Two of this two-part episode. 
How Mitch Kapor founded the Lotus Development Corporation
But we'll start our story in the greater Boston area, back in the wild and wooly days of early personal computing.
MITCH KAPOR: This was the late '70s, early '80s. Personal computers were still very new. Not much in the business world, not really taken seriously, hobbyists…
HOFFMAN: That's Mitch. Unlike much of the business world at the time, he took computers very seriously. In 1978, while pursuing a master's at MIT, he bought his first Apple II, and co-created a program called Tiny Troll. It helped users turn their data into charts and graphs, giving them more power over their metrics. It was an add-on to the early spreadsheet program, VisiCalc. 
KAPOR: VisiCalc was the first spreadsheet for the Apple II, and business started buying it. Then IBM announced a personal computer and it was greeted with skepticism in the hobbyist community, but I looked at it and said, "Oh, I think this is going to be a big deal. A 16-bit computer with 10 times as much memory — 640 kilobytes, oh God, that's huge."
HOFFMAN: Seeing an opportunity, Mitch and a fellow programmer at MIT, Jonathan Sachs, co-founded Lotus Development Corporation to make a spreadsheet product for this wondrous new machine. They called it Lotus 1-2-3. 
KAPOR: We knew we'd built a great product that took advantage of the machine. What we were not expecting was the magnitude of success. 
HOFFMAN: As Mitch raised funding, he set what he thought was a realistic benchmark. He told his investors he hoped that Lotus would make $3M its first year. That's not exactly what happened.
KAPOR: We had 53 million in sales. And this is 40 years ago, so multiply that by three or four to get the equivalent today. And then the next year, it tripled to 156 million. We went public, we had thousands of employees. Lotus really, overnight and unexpectedly, became the high growth software company of the 1980s.
HOFFMAN: Having blown past every conceivable metric for success, Mitch found himself, suddenly, leading a massive organization. Whatever goals he set next would have big implications for Lotus and its thousands of employees. And he found himself asking, "What kind of company do I really want to build?"
KAPOR: My experience growing up was being an outsider, being bullied. I was two years younger than everyone because I skipped a grade, because I was good at math,   and that formed my basic stance of being on the outside looking in. So when, unexpectedly, Lotus was this huge success, I didn't want to send a rocket ship to Mars. I wanted to make the company be a place where people who felt they didn't fit in could actually fit in, to be included. 
HOFFMAN: Mitch wanted to build an inclusive culture, which meant hiring someone who could help him scale it. That's when a young researcher named Freada Klein entered the story. 
How Dr. Freada Kapor Klein founded The Alliance Against Sexual Coercion
FREADA KLEIN: I was finishing my dissertation on sexual harassment in 1984 — 20,000 research subjects, 10,000 men, 10,000 women. And Lotus came knocking.
HOFFMAN: Freada came from a background of activism — starting at age 12, when she cut class to join a farm worker's strike led by Cesar Chavez! As an undergraduate at UC Berkeley, she volunteered at a rape crisis center, answering calls on their hotline. And she continued her volunteer work after graduation at a crisis center in Washington, D.C.
KLEIN: That is when I got my first call, where somebody wanted help who had been an attempted sexual assault by a congressman. I called the Capitol Police — the police officer said to me, "Lady, I'm going to lose my job if I file this report."
HOFFMAN: Freada was taken aback — until she learned that the woman who had called her about the Congressman didn't want to take her boss to court either.
KLEIN: She knew he'd never be locked up. What she wanted was some mechanism that could keep her job and keep her safe at work and to get him to stop harassing her and other women. What we realized is that the rape crisis protocol didn't apply to what we now call sexual harassment. 
HOFFMAN: With that, Freada co-founded a group dedicated to preventing sexual harassment in the workplace. It was the first of its kind in the U.S. 
KLEIN: We called it The Alliance Against Sexual Coercion, because we understood that there was something implicitly coercive about someone who's got more power than you at work or even a peer.
Becoming the most progressive employer in the United States
HOFFMAN: Freada's work with this group deepened her interest in addressing workplace culture violations. So she pursued a doctorate in social policy and research, focusing on employment. That made her a sought-after corporate consultant and trainer, which is how Lotus recruited Freada to become their first Director of Employee Relations. 
KLEIN: The job description was to make Lotus the most progressive employer in the United States. That, I could wholeheartedly sign up for. 
HOFFMAN: I don't know of any other time that that has been put in a job description.
KLEIN: Well, I had not seen that in any job description prior to 1984, and the really sad thing is I haven't seen it since. So I think it's time for a revival.
HOFFMAN: Becoming the most progressive employer in the U.S. was, and is, an unusual goal. (Though as Freada said, it probably shouldn't be!) Her challenge was how to turn this broader objective into an OKR, or Objective and Key Results. Once the objective is set, the key results are the metrics by which you judge how well you're doing. I asked her about this in our conversation. 
How did you go about implementing it? 
KLEIN: I wanted to focus on culture, on diversity, and on accountability of senior management in particular. Quality of work-life surveys were not all that common and we didn't have any of the technology that's now available for pulse surveys. But we started surveying early. That is how I took my marching orders. 
HOFFMAN: Because pulse surveys are shorter and deployed more often than a yearly employee survey, they accomplish exactly what their name suggests: they 'take the pulse' of an organization. With her research background, Freada knew she wouldn't be able to measure the state of Lotus' culture only once; to set the right metrics, she'd have to measure again and again. 
And to get honest data, she'd need to remove the implied stigma around criticizing the company. So she got creative.
KLEIN: We started something called the Lotus Grapevine. We had these big purple boxes on the wall and these paper forms. I wanted them to play the Motown song, "Heard It Through The Grapevine," when you opened the lid, but couldn't quite get senior management to go along with that. 
HOFFMAN: These surveys were either confidential or anonymous, which put employees at ease. 
KLEIN: We had people raise a question, a concern, a suggestion, and we would get better than a 95% response rate.
HOFFMAN: These confidential surveys were valuable in two ways. They gave Freada important data about how to improve workplace culture. But also, the act of asking employees for their input imbued a culture of open communication across the company. Employees felt heard… and then, they saw their words put into action.  
KLEIN: We asked every employee, how did you see your immediate manager, your boss's boss, and the VP who reported to Mitch, how did you see each of them live each value in the day-to-day work life? Those responses got rolled up and translated into variable compensation. So managers got rewarded for taking the time to know their employees and treat them well.
HOFFMAN: Tying managers' and directors' compensation to feedback from direct reports was at the time a pretty radical concept… a decade before the 360 review came into vogue, this was a way to quantify Lotus' success at building an inclusive culture. 
Another way was to start a diversity council, with representatives from all levels of the organization. 
KLEIN: Every division and department was represented. In 1984, we had out gay representation.
HOFFMAN: That is amazing.
HOFFMAN: Having LGBTQ representation on their diversity counsel had a tangible impact on Lotus. In fact, it led to them becoming one of the first corporate sponsors of an AIDS walk in the U.S. 
Today, that act might seem unremarkable. But at the time, there was a layer of panic — and silence — around the disease in most corporate settings. 
Freada knew it would be a risk, especially for a publicly traded company. So she called other businesses around the country to gather data.
KLEIN: I'm calling Levi Strauss, and I'm calling Wells Fargo. I'm calling a lot of San Francisco-based companies, because that was the epicenter of AIDS action, if you will, to say, "What are you doing?" And even these progressive companies that were doing something about AIDS said, "No, we don't have permission to do that. Everybody's worried it's going to tank our stock price. Our shareholders are going to revolt. We're not going to do it." And so I went to Mitch's management team and said, "Let's do it."
HOFFMAN: And because of the 'most progressive company,' was it a straightforward decision or was it a contested one?
KAPOR: It was pretty straightforward. It seemed like the right thing to do. It was consistent with our entire approach. It was an urgent community issue. And we were already so much of an outlier anyway, that doing this was not going to create any more perception issues than we might have already had. So yeah, it was straightforward. 
The fact is, leaders have a choice when it comes to which metrics to weigh. How you choose matters. 
[AD BREAK] 
HOFFMAN: We're back with Mitch Kapor and Dr. Freada Kapor Klein. If you're enjoying this episode, share it with friends by clicking the 'share' button on your podcast player.
Why Mitch and Freada left Lotus
Before the break, Mitch and Freada were telling the story of building a human-centered culture at Lotus through setting specific metrics, including publicly supporting communities dealing with AIDS as early as 1984. But just two years later, Mitch was thinking about his next move. 
KAPOR: I'm a serial entrepreneur. I like to start things. I like to mentor. And Lotus had become a big company, thousands of employees, and I really didn't want to run something big.
HOFFMAN: Mitch felt it was time to make an exit. But as a first-time CEO of a massively scaled company, he didn't have experience making leadership transitions. So this one was bumpy. 
KAPOR: I just said, "I'm leaving. I'm going on to the next thing," and it was disruptive. Disruptive for the company, disruptive for me. In hindsight, I would have spent much more time building a management team, where we were more values-aligned and it would've been a much, much better succession. 
HOFFMAN: As soon as he left leadership, Freada says, the change could be felt.
KLEIN: Mitch's leaving and becoming just chair and no longer CEO made a palpable difference in the day-to-day culture of the company. I had more disagreements and tussles, if you will, with the senior management team.
KAPOR: I regard the succession there when I left as one of my least successful chapters from which I have absolutely learned the most. 
HOFFMAN: Planning your own exit is actually an under-appreciated piece of maintaining a healthy culture. Because it's not just the leader of an organization that sets and upholds that culture; you need the entire company on board. If your directors aren't aligned on human-centered metrics, attention can drift to more short-term measures of success.
With Mitch gone from leadership, and the pushback Freada was receiving over these day-to-day culture issues, Lotus was no longer vying for the title of "most progressive employer." 
About a year after Mitch departed, Freada followed suit. 
KLEIN: I was getting a lot of headhunter calls. And I actually went to the COO at the time, Mick Precopas, and told him that I had these offers and that I was thinking about leaving, and he said, "You're in your 30s, go do it now. You can always come back to corporate America," which was really wise. So I left, and I left with Lotus as my first client, when I started my own consulting training and survey business.
HOFFMAN: Note: at the time, Freada and Mitch were not a couple. They had been strictly colleagues at Lotus.
But over the course of the next decade, their paths sometimes overlapped. Mitch's exit from Lotus gave him the means to start angel investing, and he made a series of smart plays around the opportunities of a budding Internet. And Freada's consulting business, Klein Associates, thrived. Her roster of consulting clients included the United Nations, McKinsey, and the World Bank, placing her as a prominent expert in workplace conduct. 
KAPOR: Every once in a while, there'd be a story in the Boston Globe. I would send her a note. She was on air during the Hill-Thomas hearings as the expert on NBC next to Tom Brokaw. 
HOFFMAN: Those hearings, in which professor Anita Hill testified to allegations of sexual harassment by Supreme Court then-nominee Clarence Thomas, focused a glaring spotlight on the issue of workplace harassment. Freada provided viewers with much-needed context about how to judge coercion and hostility at work.   
And she had an idea for a business that would flip the incentives for companies dealing with complaints.
KLEIN: I wanted to set up a way that companies could effectively handle complaints of bias, harassment and discrimination instead of the awful knee-jerk legalistic response that companies sadly still have.
HOFFMAN: Freada saw how companies calculated the metrics for "winning" discrimination and harassment lawsuits. And those metrics were badly skewed against the victims. Businesses in hot water put the most value on shutting down complaints, even if it meant destroying the victims' professional reputations. 
KLEIN: I wanted to start a third party ombuds business. We had reserved an 800 number: Ombuddy. 
HOFFMAN: Freada believed she could change these organizations' incentives for good behavior. And her third-party complaints facilitation, or ombuds service, could help her do it. Which is what inspired her to reach out to Mitch for some entrepreneurial wisdom. 
KAPOR: We met once in, I think, was it February of 1996?
KLEIN: Mm-hmm.
KAPOR: The plan was still really in formation. I said, "Look, when it's more fully baked, come back and we'll sit down and have the follow-up." And in the interim, a number of things happened. For me, the most notable was that the marriage I was in disintegrated. 
HOFFMAN: Not only was Mitch's marriage ending — it was ending publicly. By the time there was a second meeting on the books, his personal turmoil was in the gossip section of the Boston Globe.
KAPOR: The day we were to meet, her staff, as they did every day, went through the papers, looked at her appointment calendar, saw who was mentioned, and faxed her the clippings so she would be fully briefed. So the conversation took a bit of a different turn. We did have the meeting about her business prospects, but I was kind of a basket case.
HOFFMAN: As Mitch re-lives this painful moment, you can sense the potential discomfort of that meeting. But Freada brought with her the same philosophy to their conversation she did to structuring cultures. She brought her humanity, and she listened.
KAPOR: She was very sympathetic and wound up sending me a note: "If there's anything I could do for you, let me know."
HOFFMAN: Mitch did have one idea, though he hesitated to put it to the test.
KAPOR: I thought to myself, "Oh yeah, you could go out with me." 15 years ago at Lotus, I did not have that opportunity.
HOFFMAN: Of all the people he knew, no one was as attuned as Freada to the damage of an unwanted advance. Asking her out was a risk for sure. 
KAPOR: But I said, "How often do you get second chances?" "Not all that often. Seize the moment." I called her up on the spot and invited her out, and she said yes, thankfully.
HOFFMAN: As they started their relationship; however, Freada was upfront about one metric by which she refused to be judged.
KAPOR: I had kids who were eight and 10 at the time. 
KLEIN: On our second date, I said, "Look, I'll be your transition girlfriend, but I'm not stepmom material."
KAPOR: We saw how that forecast worked out.
HOFFMAN: Yes, exactly. Yes, it's a transition for the entire life. And knowing you as an outside friend, I'm quite certain the stepmom thing worked quite well.
KLEIN: Thank you. My stepkids should have a vote.
HOFFMAN: Naturally, some benchmarks change over time. Mitch and Freada married in 1999, and they relocated from Boston to the Bay Area, close to the new epicenter of tech startups, Silicon Valley. That's when Mitch was approached by an established VC firm, Accel Partners. 
KAPOR: Jim Breyer at Accel said, "So come be a partner at Accel and look, you'll see if it works for you or not. If it works, great. If it doesn't work, that's also okay." 
HOFFMAN: As it happens, this is where Mitch and I first met, as Accel was an investor in my first social platform, SocialNet.
But the new position wasn't an easy fit. And the mismatch came down to how the firm measured success. 
KAPOR: Ultimately, what mattered was making returns for the limited partners. It's the beginning and the end of the day. And so, while you would collaborate and work with entrepreneurs when you could, if you needed to and they weren't the right person, you were expected to be what I considered completely heartless and not founder-friendly, and that just did not work for me.
HOFFMAN: Just like when he was at Lotus, Mitch wanted the firm's goals to include human-centered metrics, as well as financial ones. Of course he wanted Accel's portfolio to succeed. But he felt that being more founder friendly would actually lead to better outcomes. And in this, he felt alone. When you and an organization are mismatched on metrics, it's a sign you're mismatched on mission as well. 
As Mitch was wrestling with these questions, he and Freada were delving into philanthropy. In 2000, they evolved Mitch's solo foundation into the Kapor Center for Social Impact, which focused on the intersection of racial justice and technology. 
How the 'Distance Traveled' metric inspired Kapor Capital
Then something happened that would fundamentally change the Kapors' approach to investing, as well as many others in the financial sector. 
It all started when Freada co-founded a scholarship fund at UC Berkeley called IDEAL —  or, the Initiative for Diversity in Education and Leadership. It was a response to Prop 209, a ballot initiative that killed affirmative action in California public institutions. 
The IDEAL Scholars Fund was meant to close gaps in access that Prop 209 had widened. So as always, Freada looked for tangible key objectives.
KLEIN: I looked carefully at what do privileged kids have when they go to college? And we tried to replicate as much of that as possible. So we replaced their work study, we replaced their student loans, we gave them laptops, we gave them access to tutoring dollars, and tutors if they needed it, and we created a community that set high standards but also created a safety net for them. 
These are all first generation kids: Black, Latinx, from low income families. Their graduation rates, their GPAs, were stellar. So what I learned from day-to-day interaction with these scholars is to look at where they started and how far they got on their own steam. 
HOFFMAN: Pay attention to that last metric, because it would become foundational to their investment theory. They've even given it a name: "Distance Traveled." 
KLEIN: I start with a premise of: We are all accidents of birth. None of us choose our parents, none of us choose the zip code into which we are born. Much of Silicon Valley gives way too much praise to people who happened into circumstances as opposed to earned their way in. We saw a distance traveled in the day-to-day lives of our scholars, who just matter-of-factly think, "Okay, am I going to eat lunch today and am I going to walk several miles home, or am I going to take the bus today and skip lunch because that's what my financial circumstances allow?"
HOFFMAN: This "distance traveled" was reflected in the literal miles some scholars trekked to school. But the distance was metaphorical as well. And it got her thinking about the angel investing both she and Mitch were now doing. 
KLEIN: That translated then into how can we look for that in entrepreneurs who were pitching us? How much does their lived experience generate the idea for their business and their passion for the business, which will translate into persistence that will make it successful?
HOFFMAN: Just like the scholars in the IDEAL program, entrepreneurs who come from next to nothing tend to have an abundance of grit and ingenuity, two essential qualities in founders. They're also in a position to see gaps in access and opportunity, and build solutions. 
A lightbulb turned on. Freada saw how their philanthropic work and early-stage investing work could coalesce. The Distance Traveled metric could help surface entrepreneurs with special potential. Not despite their humble beginnings, but because of them. 
KAPOR: I was uncomfortable and skeptical at first. But first of all, you should know, Freada can be very persistent about it. And two, I trust her. And we wound up saying jointly, "This is worth an experiment. Trying to find ways to do values-aligned investing where we take into account what the company is trying to do, what their mission is."
HOFFMAN: Mitch and Freada started exploring investments with this new lens in place, looking for founders who were trying to have a positive social impact on the world. It led them to some prescient investments, including Asana and Twilio as well as companies with more explicit missions to help under-served communities. 
In 2011, they decided to make this strategy official. 
KAPOR: We said, "From now on, 100% of the companies we invest in…" And this is all at seed, "…will be gap closing," meaning they will close gaps of opportunity or access or outcome for low income communities or communities of color. That's how it got started.
HOFFMAN: Together, they refounded their investment firm, Kapor Capital, to have a total focus on these "gap-closing" startups. Their approach would lead to a thriving portfolio, and eventually, to a report that sent shock waves throughout the investment community. 
But it also led to a public confrontation with one of their own portfolio companies that had let their culture erode. We'll hear more of that story in Part Two of this episode. Here's a sneak peek: 
KLEIN: A senior exec there, started calling only on the weekend. He would call Mitch's cell phone and say, "Can I speak to your wife?", which probably tells you a little about some of the culture at Uber. 
HOFFMAN: I'm Reid Hoffman. Thanks for listening.