4 secrets to building your network
Human beings are social creatures, with a critical need to connect with others. This drive gives shape and meaning to our personal and professional lives. For entrepreneurs and business leaders, the path to success relies on strong, human-centered networks. In this special episode, we revisit the Masters of Scale Summit to hear from leaders, including our very own Reid Hoffman, who share inside stories on how to build — and nurture — professional and personal networks. Learn how to network with authenticity, multiply the positive attributes of your network, and recognize your own biases to prevent blind spots on your journey to scale.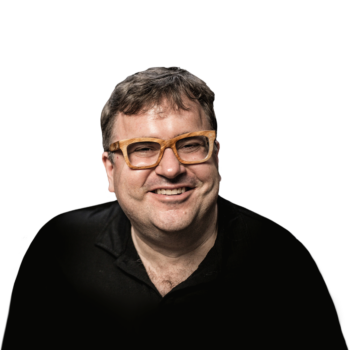 Human beings are social creatures, with a critical need to connect with others. This drive gives shape and meaning to our personal and professional lives. For entrepreneurs and business leaders, the path to success relies on strong, human-centered networks. In this special episode, we revisit the Masters of Scale Summit to hear from leaders, including our very own Reid Hoffman, who share inside stories on how to build — and nurture — professional and personal networks. Learn how to network with authenticity, multiply the positive attributes of your network, and recognize your own biases to prevent blind spots on your journey to scale.
Transcript
Transcript:
4 secrets to building your network
REID HOFFMAN: Hi listeners, it's Reid. You're about to hear a special episode of Masters of Scale, that explores one of my favorite theories of business: The need to build networks with humans at the center. Even in the age of AI, indeed, especially in the age of AI, this is more important than ever.
The four guests highlighted on this episode appeared on stage at the inaugural Masters of Scale Summit, offering critical insights into how you can grow your networks in more human-centered ways. 
This is 4 Secrets to Building Human-Centered Networks.
[THEME MUSIC]
HOFFMAN: I'm Reid Hoffman, co-founder of LinkedIn, partner at Greylock, and your host. And this is 4 Secrets to Building Human-Centered Networks. 
SECRET # 1: Be your authentic self
This first secret comes from David Hornik. He's a founding partner with the early stage venture fund, Lobby Capital, and executive producer of The Lobby Conference.
But a few years before, he found himself in an auditorium, eager to make connections with his fellow conference attendees. 
Let's listen. 
DAVID HORNIK: About ten years ago I was sitting out where you are, looking out at a person standing up on the stage, and I turned to the person to the left of me, and I whispered, "Hey, what's Zuck really like?" Because the person sitting next to me was a reporter, and she was spending a bunch of time with Facebook. And so she whispered some things to me, and I whispered some things to her, and she whispered some things to me. And the people behind us shushed us. So, sorry. Paid some attention.
But I couldn't help myself. I turned to the person to the right of me, and I whispered, "Hey, what's Kim really like?" Because the guy who was sitting on the right of me was running the digital platform at that time for the Kardashians. So he whispered some things to me, and I whispered some things to him. He whispered some things to me. And we got shushed again. Mercifully, at that point, the speaker finished his talk, and people applauded. And I snuck out of the conference room and into the lobby of the hotel where that conversation was taking place.
And I can't tell you who that speaker was, and I can't tell you what that conversation was about. But I can tell you with great certainty that sitting to the left of me was Jesse, and sitting to the right of me was Jeff. And they remain to this day, two of my favorite people. And they're probably giggling, because they're out here, listening to me today. 
I love a great conversation. And I've had so many amazing conversations in the lobby of wonderful conferences like this one. So when I started my own conference, I decided to call it The Lobby.
HOFFMAN: That's right. Inspired by his experience, David decided to flip the traditional business conference on its head. He created an event with a human-centered approach to networking. The Lobby Conference has no speakers or panel discussions. Instead, 250 thought leaders gather in amazing settings like Maui and talk. 
The agenda-less experience sets out to capture that feeling of whispering to someone across a crowded auditorium, without the shushing.
'Networking' can feel hollow, because people often approach it with a laser focus on what they need to get. Most of us have had the unhappy experience of attending a meet-and-greet where everyone seems to be thinking, "I must talk to this important person to tell them about my important thing." That's a very off-putting way of communicating. 
In order to create this unorthodox conference, David identifies three essential components, each of which we can directly apply to building human-centered networks of our own.
HORNIK: The first thing you learn is that The Lobby is off the record, that everything you say will be safe and trusted.
At the core of every great conversation sits trust and safety as a bedrock. You can't have a great conversation if you don't trust the person you're talking with. You can't have a great conversation if you don't feel safe. And so what's said at The Lobby stays at The Lobby. It's the central tenet.
The second thing that is important, I think, is this idea of being your own authentic self. Raise your hand if you were a childhood magician.
You want to have great conversations with your employees, with your friends, approach them as people. Know what they care about. Know what they're excited about.
HOFFMAN: David's right. Finding authentic connection points will serve you in all of your network-building interactions…not just those that happen at conferences. 
But beyond trust and safety, and beyond authenticity, there's a third tenet that pulls everything together. Here's David:
HORNIK: It's really important to approach these conversations with vulnerability. I know that it's tempting in this business context to thump your chest and talk about how important you are, but if you want to have real conversations, you want to have great conversations, then don't do that. Actually talk about the real things that matter. I go to these business conferences, and I spend all my time talking with people about their family. I talk to them about travel, about their hobbies. And I don't present some ridiculous fairytale picture of myself. I spend a lot of time talking about my dyslexia. I spend a lot of time talking about my children's mental health challenges, because it's a lot. I spend a ton of time talking about the stupid mistakes I've made in 20-plus years of venture capital. And those conversations are much more interesting than, "Hey, I really killed it on that investment."
And the same is true in your companies. There's this temptation, if you're a business leader, to lead with the successes: "I make good decisions. I'm powerful and thoughtful." And that's bad leadership. You're much better off talking with your employees about the tough choices you've made, the mistakes you've made, and talk about how you found your way through those.
The beauty of all these things, the beauty of safety and authenticity and vulnerability, is that they're all interrelated. If you have a safe environment, people are much more likely to be their authentic selves. And if they're their authentic selves, they're dramatically more likely to be vulnerable. And if they're vulnerable, you'll think to yourself, "Gosh, this is a safe environment. I better be my authentic self. I think I'll be vulnerable." And this incredible flywheel will get started, and you are guaranteed to have a great conversation. 
HOFFMAN: If you want to build connections that matter, and that last, whether for you personally or within your organization, then start by building a flywheel of trust, authenticity and vulnerability.  
SECRET #2: Be a multiplier
HOFFMAN: The next secret comes from the co-founder and CEO of Endeavor, Linda Rottenberg. Linda has spent the last 20 years fostering startup ecosystems far outside the borders of Silicon Valley, by connecting global entrepreneurs and investors to help them scale their dreams. 
Cultivating human connections that bear plentiful fruit is Linda's superpower. 
She talks about how when a person or company overcomes a seemingly impenetrable barrier, floodgates open for the entire network.
LINDA ROTTENBERG: In 1998, I met a 24-year-old Patagonian sheep farmer named Wences Casares. Some of you here know him as Bitcoin patient zero. Back then, Wences was launching the e-trade of Latin America, Patagon.com. He'd pitched Patagon to every local investor, there were 34, and all 34 turned him down. "I don't have the right last name," he explained. Two years later, Wences sold Patagon at a valuation of $750 million. That's 1.2 billion in today's currency. 
HOFFMAN: Wences' story inspired investors and entrepreneurs across the globe. You can hear the story in full on our 2020 episode "How to Start a Revolution."
ROTTENBERG: Across Latin America, people started saying, "Hey, if Wences can do it, I can too." And two of those inspired by his story were Argentine Stanford MBAs, Marcos Galperin and Hernan Kazah.
The pair moved back to Argentina to found MercadoLibre, an online marketplace that would rival eBay, and later Amazon. In August of 2007, MercadoLibre became the first Latin tech firm to IPO on the Nasdaq. Now inspired by Patagon and Mercado Libre, four corporate employees leave their safe jobs to found Globant, a digitally native software development firm. Globant IPOed on the New York Stock Exchange in July 2014, and that's when we had an aha moment. All of these early success stories in Latin America were being fueled by the role model effect. If Wences can do it, I can too. And we likened what was happening in Latin America to the British runner Roger Bannister.
Now, before Roger Bannister, running a sub-four-minute mile was universally considered impossible. But once Bannister broke through the physical barrier, running a three-minute-and-59.4 second mile, the mental barrier flipped. Bannister's record lasted just 46 days, and today, more than 1600 athletes have broken through the four-minute-mile barrier. Similarly, the mental barrier flips when one emerging market founder breaks through.
HOFFMAN: There's an aspect of scaling networks that we don't often appreciate: the accelerating effect a single person can have on many, many others. Whether it's a Roger Bannister or a Wences Casares, their success brings others along with them. 
Linda and her team at Endeavor refer to this phenomenon as "the multiplier effect." 
ROTTENBERG: The multiplier effect is the process whereby successful entrepreneurs inspire, train, mentor, and invest in the next generation, and it's through the multiplier effect that tech ecosystems are jump started.
HOFFMAN: Linda and her colleagues studied this multiplier effect through extensive surveys and market research. And the data showed them a startling and exciting picture. The presence of even one massive success story in a newer market, strongly predicted the existence of others in the near future.  
Linda talks about these breakthrough startups as "Big Bubbles" — major new players in a region, like Patagon or Mercado Libre. As these initial unicorns grow, you see smaller bubbles crop up around them. 
ROTTENBERG: It takes just three to four big bubbles, just three to four to jumpstart a tech ecosystem anywhere, and it's these early big bubbles that fertilize what will later become unicorn breeding grounds. Latin America today is home to 50 unicorns, many of whom trace their start to one of the early big bubbles.
And this pattern reminded me of something: the PayPal Mafia. Okay, so I've become obsessed with the idea of launching or seeding PayPal Mafias in emerging markets. My good friend and board member, Reid Hoffman, tried to convince me to say, "PayPal networks." Own the Mafia, Reid! 
HOFFMAN: You can hear in Linda's voice that this is a playful ongoing conversation between us. I stand by using the word "networks" instead of "Mafia." The actual Mafia doesn't need any more glorifying. And the name "Mafia" brings to mind a culture of intimidation and silence. Whereas the "PayPal network" gave rise to companies like Yelp, Square, Tesla, and of course, LinkedIn. But Linda teases to prove a point. Whether you call them 'networks' or 'Mafias,' the effect is to multiply success.
Linda points out that the multiplier effect isn't automatic. It takes a mindset of being willing to invest in and mentor the next generation. And if you don't? That has profound effects too. 
ROTTENBERG: Up until now, we've been talking about top founders who actively seek to multiply their impact and build their ecosystems, but the inverse also holds lessons. So here's what not to do if you want to build a healthy unicorn-breeding ground. Whenever I hear or see emerging market founders or VCs pushing NDAs and non-competes, I ask them, "Would you rather model yourself on Silicon Valley or Route 128?" The response is almost always, "What's Route 128?" Route 128 is the highway surrounding Boston suburbs where I grew up, which led the early computer chip development industry. In fact, between the 1960s and 1980s, Route 128 dominated tech, hiring three times as many tech workers as in Silicon Valley. But the big bubbles on Route 128 did not employ the multiplier effect. Instead, they discouraged their teams from peer networking, and they deployed NDAs and non-competes in order to stamp out competition.
Well, the strategy backfired. The 1990s recession hit, the Massachusetts miracle abruptly ended, and today, few remember the impact of Route 128 on tech history. By contrast, Silicon Valley's culture was forged by a group of engineers and scientists dubbed the Traitorous Eight when they defected from Shockley's secretive and hierarchical Semiconductor Lab. 
HOFFMAN: You may already know the stories about this lab, run by inventor and physicist William Shockley. If you don't, picture an environment as rigidly proprietary as Linda described. And the so-called Traitorous Eight? They were eight employees that left the lab to found something new, out West.
ROTTENBERG: Not only did the Traitorous Eight seed Silicon Valley's cross-pollinating culture, they also bred the first super-breeder tech company — Fairchild Semiconductor.
The Fairchild Mafia did deploy the multiplier effect, inspiring, training, mentoring, and investing in the next generation. Today, hundreds of Bay Area companies, the Fairchildren, trace their roots to the Traitorous Eight. So the lesson of Route 128 is this: a unicorn that doesn't breed even more unicorns is just an endangered species.  
[AD BREAK]
HOFFMAN: We're back with "Four secrets to building more human-centered networks." We have two more secrets to share, starting with how our assumptions can sometimes derail progress.  
SECRET #3: Find the humans in the data
Our next story comes from Jennifer Sciubba. She's a demographer — someone who scours data for the human stories inside. As someone who's worked with governments and leaders in the private and public sectors, her work provides a front-row seat to all the ways humans misread data. The consequences go beyond the immediate decisions in front of us. They have a compounding effect as the error travels along our networks. 
Jennifer spoke during a session called, "What Great Leaders Know." Let's listen.
JENNIFER SCIUBBA: I love how you all think this is going to be boring, but let me tell you, demographics is the most exciting thing out there. And how did I get excited? Yes! Just wait. How did I get excited about it? Well, it started on October 12th, 1999, when I was a college student, sitting in my favorite, very eccentric, professor's class. She was late that day and she got there and paused in the doorway, dramatically. We could see that she was wearing a black arm band. Then she started marching in front of the class military style saying, "Today, world population has hit 6 billion people and this is a travesty for our planet. I never had children because there are too many people and you shouldn't either."
I didn't heed her advice, but I was hooked by her passion. Her complete commitment to this idea motivated me to spend my career studying the power and the limits of a demographic lens. If you're out there thinking about risk or growth or scale, you are thinking about demographics, whether you know it or not.
HOFFMAN: Exactly. We might not call ourselves "demographers," but when we study data, like user engagement or audience growth, we're trying to glean the story from the numbers. That's why Jennifer argues that entrepreneurs have things to learn from her field — in particular, how not to fall into certain traps.
SCIUBBA: I think that understanding demographics is actually the key to reading the world, but there's an art to interpreting the world through a demographic lens.
Let's stay on this idea of overpopulation. I actually think it's a perfect example of a trap we want to avoid, and that's because it represents how people's first impressions of demographic trends, including my own in 1999 — they're sticky, they're hard to change, but the data do change. 
In 1968, biologist Paul Ehrlich traveled to India for a research study. While he was there, he felt overwhelmed by the sheer number of people. Now, in 1968, it was pretty easy to get behind the idea that the world was overpopulated, because out of the 200 plus countries, 125 of them had high fertility. Women in these countries had, on average, five children at least. By the time my professor argued to me that there were too many people, the number was down to 38, but what about today? Today there are only eight countries left in the world where women have five or more children, on average.
Two out of every three people on the planet live somewhere with below replacement fertility, just the number needed to replace who's already born. That includes India. Now, we are not still physically in 1968 or 1999, but it's easy to get stuck there mentally. The trends change, but our thinking doesn't. In this case, overpopulation rhetoric is outdated, but more importantly, it is not forcing us to do the harder work of thinking about how we produce and consume and use resources.
And how do we get in this trap in the first place? I think part of it is just the sheer amount of information coming at us. You have to have people on your teams whose job it is to follow the trends as they are today and tomorrow and not be stuck in problems of the past.
HOFFMAN: Jennifer's right. Every data set about humans tells a story. But to read that story correctly, you need to watch out for old stories and outdated information that may have turned into bias, and once you've identified them, address those biases as well.
SCIUBBA: You have to name your biases before you go into it. Is there some trend out there that, if it were true, would really help your bottom line? Name it, own it, and then go into the data.
HOFFMAN: Whether it's confirmation bias — reading a story in the data that reinforces what we already think, or desirability bias — seeing what we want to see, these biases obscure the true human story in the data.
Avoiding this trap requires us to first recognize it, and second, tap into our networks to find those that challenge our assumptions. Doing this will not only strengthen our networks, but also amplify our future impact. This is a key power of human networks, and one that I rely on constantly in my own work, which I'll talk about more in the final section.
Our fourth secret for building human-centered networks.
SECRET #4: Focus on the human part
HOFFMAN: This last secret is going to be revealed a little differently than the others, because the guest in the hot seat is me. During the Summit, I sat down with my friend James Manyika, SVP of Technology and Society at Google, to talk about how networks play into my thinking, my work and my core investment strategy. 
This is not a formally prepared talk. It's a conversation, which is how I most enjoy exploring fascinating ideas. Let's listen. 
JAMES MANYIKA: Reid, I don't know if you realize how much power you've just given me…
HOFFMAN: I do.
MANYIKA: I can ask all kinds of questions.
HOFFMAN: Yes.
MANYIKA: I can go off script.
HOFFMAN: Yes.
MANYIKA: And we'll get away with it.
HOFFMAN: Yes.
MANYIKA: So, be prepared.
HOFFMAN: Always.
MANYIKA: Well, it's wonderful to be here with you, Reid, and have a chance to have this conversation with you. You wanted to be a philosopher, right?
HOFFMAN: So, I've always been most interested in who we are as human beings, and who we should be on path to becoming, and how do we discover that, how we discover it individually, how we discover it together. And so my undergraduate major at Stanford was symbolic systems, which is cognitive science and artificial intelligence. Then I realized we didn't really understand what thinking and language was, and so I said, "Okay, well maybe philosophy is the right way to do it." So, I went to Oxford and I was thinking pretty intensely that maybe being a philosophy professor was the right thing, but my interest in this is…like the lives we're leading, the work we're doing, the path that we're on, and there's a bunch of great things in philosophy. But I was like, no, no, no, how do we… and it gets to Masters of Scale… how do we do this at scale, as a species, as a society, as a company, as an individual? 
MANYIKA: You've thought a lot about, and for as long as you and I have known each other about humans, and human relationships, and all the way to networks. Do you have a theory of the case of how to think about human relationships?
HOFFMAN: Many theories of the case… everything I do, I approach through a lens of theory because it helps me iterate and improve, just like having dashboards, and all the rest. You think about… how do you take this path of elevation, which we want as a species, we want as groups, we want as individuals. And so I think your friends are central to that. Part of what friendship is, is two people agreeing to try to help each other become their better selves. 
MANYIKA: But what you're describing though, Reid… the friendship you're describing sounds very intimate, and probably doesn't scale very well. So, how do you go from that to networks, and scale, and ultimately LinkedIn and connections?
HOFFMAN: Well—
MANYIKA: Is that a continuum? I mean, how do you go from one to the other?
HOFFMAN: My investing career is primarily, not entirely, is: how do you redefine the relationships of human beings by these networks that we live in? And ideally, how do you get them in ways that you are better off as an individual and as a group by participating in them? Everybody in offering a product has some level of theory of human nature. And when you're doing one of these network products, you have a theory of human nature and human interaction.
MANYIKA: Well, you actually said this, I remember, I think it was in 2011, and I think the Wall Street Journal quoted you on this. You basically said something along the lines of, "social networks do best when they tap into one of the seven deadly sins of human nature."
HOFFMAN: Yes.
MANYIKA: Well, I mean, I'd love to talk more about that, but let's actually have some fun with this. Lust. What's an example of a company that taps into lust?
HOFFMAN: Well, lust is one of the two that I don't have a personal investment in, but the whole internet. But by the way, when you think about this, part of the thing that's important is transforming it. The reason why the seven deadly sins have such capture is because we all have some of these reflexes as human beings. And part of this aspiration elevation is how do you capture that, but transform it, elevate it, sublimate it into more. So you could go. Bumble, you could go Netflix. There's a bunch of different things where you say, okay, that's elevating to other kinds of relationships.
MANYIKA: Gluttony?
HOFFMAN: Gopuff, which I'm an investor in.
MANYIKA: Envy.
HOFFMAN: Well, envy, vanity… Facebook? Or Instagram.
MANYIKA: Okay. Wrath?
HOFFMAN: Well, wrath, I also don't have an investor in. Twitter, I initially thought was vanity, and Twitter is wrath.
MANYIKA: Okay, fair enough. Well, let's keep going down. Sloth.
HOFFMAN: Sloth, Zynga was the personal investment. Obviously some of these things can be multiple hits. Netflix also can fit there.
MANYIKA: Okay, well I was going to go to greed, but rather than go to greed, I have a question for you. I mean you've clearly thought a lot about this when you were building LinkedIn.
HOFFMAN: I was thinking greed, yes.
MANYIKA: And LinkedIn could have easily gone down all number of paths. And one of the things that you've actually said quite a bit of over the years is the idea that while entrepreneurs should obviously tap into these human nature, seven deadly sins, and so forth, they have to transform them into something more beneficial. Talk about how you did that at LinkedIn, and what are some of the paths you could have gone down, and you chose not to?
HOFFMAN: The goal of LinkedIn is to help everyone understand that life is a team sport, not an individual sport. And the tools, and the community, and the network is a way of saying, "How do we help each other?" And LinkedIn is… what are the easiest things we can do, such that we can help each other? And so for example, when I connect with someone on LinkedIn, what I'm saying is… there's anyone on the rest of my network that can help you, now by being connected to me, you can find them.
And if you say, "Hey, actually in fact, talking to James about this really interesting thing." It's like, "Oh, yeah, James would be interested in that. Let me connect you with James." Right? And so, it's a way of kind of offering help because life is a team sport. Right? And then you of course want to set a community of what the discourse is, a shared mission across the network. And the mission of the company is: connect talent with opportunity to massive scale. And how do you enable that by having the right kinds of discourse and information? But that gives you a lifetime, a work time, a multiple careers roadmap, for what you're trying to do for people and their lives.
MANYIKA: But I remember specifically back in the day, I mean you chose, for example, not to put photos initially into LinkedIn. 
HOFFMAN: Oh yes. 
MANYIKA: I mean you made choices like that, and then there was a time when in fact you put a cap on the number of connections.
HOFFMAN: Yeah, well cap on the number that was displayed.
MANYIKA: What was the thinking behind those kinds of decisions?
HOFFMAN: So, one of the things that's also an underlying characteristic of competent consumer internet stuff is game dynamics. And we wanted to align game dynamics to things that would be better for people. And so for example, one game dynamic that probably everybody in the audience is familiar with is a profile completeness bar. It's like being complete in your profile. Another one was how many connections? And so we did the number of connections because we wanted to get people to realize, life's a team sport, get connected. Then we found some people going, "I have 10,000, how many do you have?" And you're like "10,000?" There's no way! And so we said, "Okay, well how do we both have that game dynamic, but also have it go to a point?" And that's when we shifted to 500 plus.
MANYIKA: But Reid, if you go down this path of thinking through the seven deadly sins and human nature, a cynical person might say, this is exactly the problem of the internet, because we've done that too much. But you're arguing that we need to transform that. That doesn't sound like it's an easy thing to do. It's so much easier to go down the slippery slope.
HOFFMAN: It's not easy to do. It's one of the, I think, important things that as technologists, company leaders, and so forth, is to keep that pole star transformation in mind. Ultimately you're not just a presence in society, but I think ultimately your members and your community is happier for it too. 
MANYIKA: Sounds like it's a lot of work, but worth doing.
HOFFMAN: It's essential.
MANYIKA: Reid Hoffman, investor philosopher.
HOFFMAN: I want to thank you all for delving into these questions and topics. Building networks that keep humans at the center is personally so important to me. It is more than a smart business model, though I believe that, too! It's a way to shape the world for the better. I'm Reid Hoffman. Thanks for listening.