Prepare for where AI is headed next
Need to Know: AI's risks and opportunities; why Reid launched his own AI chatbot; and what Elon Musk and Sam Altman aren't telling you. Reid Hoffman joins Bob Safian to explore how leaders everywhere should prepare for the AI revolution. Plus, Reid shares the inspiration and strategy behind co-founding his company, Inflection AI. If you're unsure how to begin a period of experimentation and AI rollout, Reid and Bob have you covered.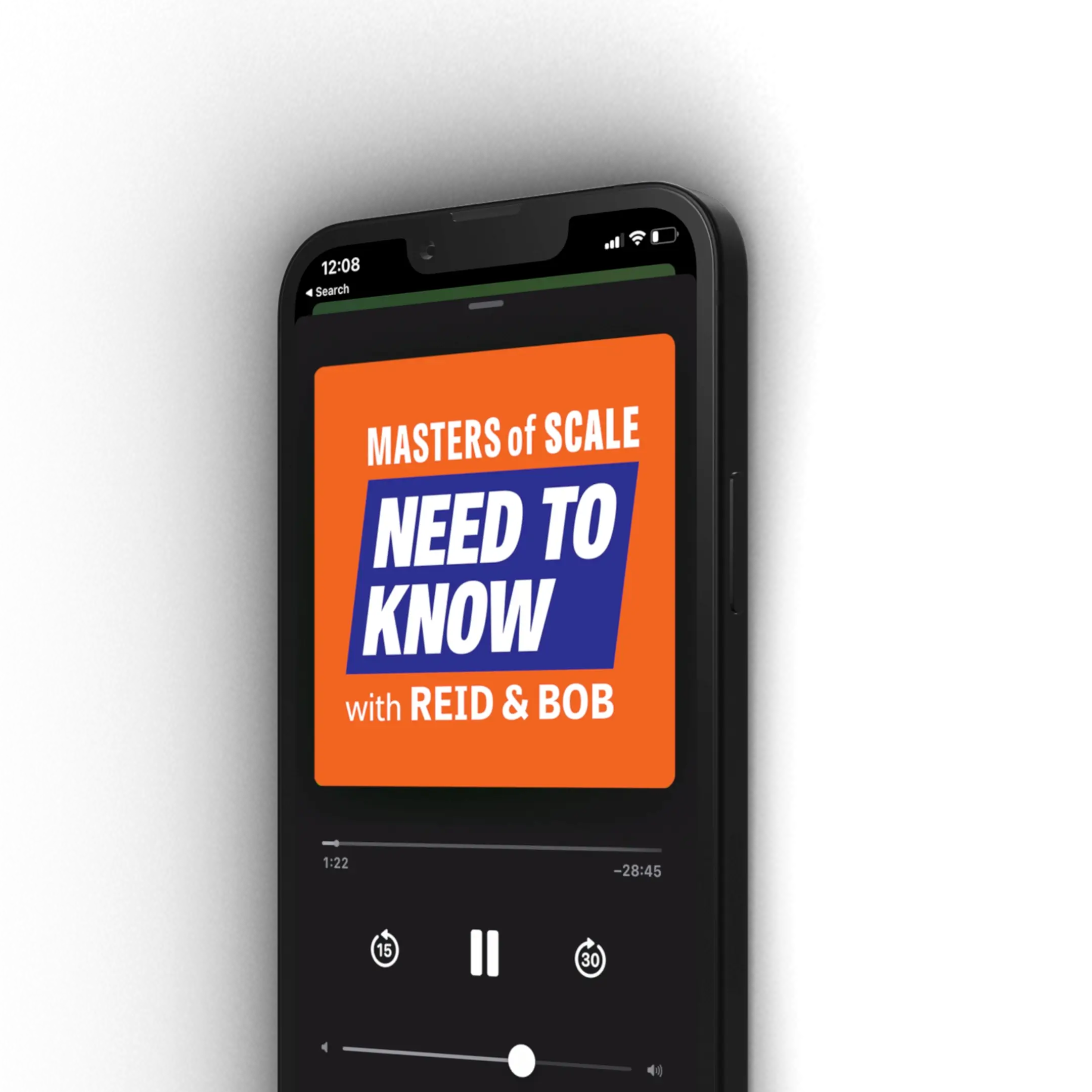 Need to Know: AI's risks and opportunities; why Reid launched his own AI chatbot; and what Elon Musk and Sam Altman aren't telling you. Reid Hoffman joins Bob Safian to explore how leaders everywhere should prepare for the AI revolution. Plus, Reid shares the inspiration and strategy behind co-founding his company, Inflection AI. If you're unsure how to begin a period of experimentation and AI rollout, Reid and Bob have you covered.
Transcript
Transcript:
Prepare for where AI is headed next
Masters of Scale Transcript — N2K Bob & Reid on AI
BOB SAFIAN: Hi everyone, it's Bob Safian, former editor of Fast Company, founder of the Flux Group and host of Masters of Scale Rapid Response. We have a special episode to share right now, with one of the world's foremost experts on AI.
The guest is our own Reid Hoffman. Reid has studied, tracked and invested in AI for years. He's been talking about its potential, even before ChatGPT burst onto the scene. He's got insights about how to manage the new wave of generative AI, as well as stories about Elon Musk, OpenAI's Sam Altman, and why Reid himself co-founded his own AI firm, InflectionAI last year. Reid shares plenty of lessons along the way.
You won't want to miss it. So let's get to it.
[AD BREAK]
Where we are in the development of AI now
SAFIAN: So Reid, along with being host of Masters of Scale, you're deeply involved in developing and scaling AI. You were one of the co-founders of OpenAI, the creator of ChatGPT. You played a role in OpenAI's alignment with Microsoft, where you're on the board. You've co-founded an AI startup — InflectionAI, alongside DeepMind co-founder, Mustafa Suleyman. And you also co-authored a book earlier this year called Impromptu, where your collaborator was GPT-4. Lots of things to touch on here. Can we start just by an overview about where we are in AI development right now?
REID HOFFMAN: Well, the simplest measure that I've come for the current kind of AI evolution is, it's a steam engine for the mind. The steam engine gave us superpowers of muscles, could do more construction and do more manufacturing and do more transport. We have the train and now we're gonna have the superpowers in various cognitive capabilities and tasks.
The whole point is the amplification of human abilities. What the revolution is actually is how do we apply scale compute? While there have been various algorithmic and technique improvements, it wasn't like we suddenly discovered the intelligence algorithm. It's actually in fact, how do we get thousands of compute units?
But by getting that scale compute, you started generating very interesting things. The kind of initial takeoff was, if we can teach it to be generative and participatory in human language, but also, you know, computer languages, then we can get a bunch of different characteristics including, you know, some quasi reasoning characteristics.
And one of the things is you get to more and more scale, more and more scale unlocks some new and interesting, you know, capabilities, that have a new pattern of "understanding." This is one of the places where anthropomorphism and metaphors fall short cause you go, well, is it human understanding or is it not human understanding? Animals have versions of understanding too, that's different and it's not, not understanding. And now we have sophisticated digital patterns, which you go, well, that's not understanding. And it's like, well, it's not, not understanding, it's also not understanding. We've kind of just dipped our feet in the ocean.
And this of course, freaks a bunch of people out, is that we have a 600 billion parameter model that's doing this stuff. Do we know exactly how it's doing it? No. Do we know if it's gonna suddenly become, you know, much more intelligence? Like, well, I can't guarantee it's not going to. Although it seems quite unlikely, and it seems that there's a bunch of stuff under our control and people asking the right questions and thinking about it. Optimists, you know, kind of build the future and pessimists worry about the future and try to lock us into the past, you know, broadly.
And it's like, look, you only get to that good future if you at least have a: what should we be building? What's the positive thing that we should be heading towards? So anyway, the essential of it is, we're the revolution of scale compute — magnifying the benefit of everything that has compute in it, which isn't just your phone, isn't just your computer. You know, it's also your car. It's also the devices in the hospital. And we're applying scale compute about how to magnify them.
Why Reid wrote Impromptu with Chat GPT-4
SAFIAN: There's so many threads in what you went through. I'm gonna try to tease them out. You published the book this year, Impromptu, with AI as your co-author. So why did you do that? And what's the response been?
HOFFMAN: You know, I had the benefit of having early access to GPT-4, and I was playing with it, and I was kind of thinking, what lens into the future does this give us? When the printing press was invented, the general public discourse of it was, it'll degrade human cognition because you no longer have to memorize things, it'll cause a spread of misinformation, et cetera. This all probably sounds familiar in the current discourse. But actually, in fact, we can build these technologies to be hugely beneficial to humanity, human society.
And the idea that came to Impromptu was, how would I use GPT-4 as an amplifier to get people to kind of try to use it as amplifying themselves. And I'd say the reception has been broadly very positive. You know, sure, I'm hearing a whole bunch of, "we should have a six month pause." And I kind of don't understand that.
You have to learn these tools. It's kind of like saying, I'm gonna be a writer and I'm not gonna use a word processor. I'm gonna be a graphic designer and I'm not gonna use Figma or Photoshop. It's like, nope, you gotta use them. And now there's a new big tool that you have very little familiarity with. And there's always some discomfort in that. But, by the way, when you learn the tool, you will be much better. We didn't say there aren't challenges and there aren't things that are stresses and things to navigate.
But on the other hand, here is how to play forward. Here's how to play positively. Here's how to try to amplify your life and work, your organization's life and work.
SAFIAN: You've written other books before. In the executing of the book, was it much faster than writing previous books? Was it easier or was it harder in some ways?
HOFFMAN: Well, mostly faster and easier. That was part of the demonstration. Part of the reason why I titled it Impromptu was essentially to say, it's how you learned to use the prompts and the interactions with this. Like, what you get out, to some degree, not surprisingly, is what you put in. It was a little bit more work in trying to show your work, rather than just get there. But we started in January and published in March.
SAFIAN: So if I'm hearing it right, it's faster, but it's not necessarily easy.
HOFFMAN: Yeah. The idea is to make the output substantially better. That's part of the reason why people say, well just have AI writing everything. It's like, well, for example, I have yet to figure out the prompts that would have GPT-4 make good dialogue. Every time I've tried to do dialogue, and I think that's also true of all the others, you know, Bard and Bing, when I try to get it to construct dialogue, pablum is the word that comes to mind, right? I just haven't figured out the prompts yet. And maybe other people are, but like, these things are very useful amplifiers and tools, but they're not at all in this context, replacement for quality work.
Reid Hoffman on Elon Musk calling for slowing AI development
SAFIAN: So, obviously you're enthusiastic about AI. As you mentioned, others are more wary. Elon Musk at one point called for slowing AI development, which you kind of chided him for. Do you feel like some of this behavior is disingenuous?
HOFFMAN: Well, Elon in particular was signing this six month pause letter, while trying to hire people and buy as much compute and get going as fast as possible. Everyone else slow down so I can catch up. That's not intellectually honest. Now, the other folks signing the six month letter, many of them I think had good intentions, although I think they were kind of foolish. I talked to a couple of them… you publish a letter for a six month pause? What's your theory of what happens?
And they're like, everyone pauses. And you're like, have you met human beings, right? Because, asking for a six month pause, the people who deeply care about humanity, they all slow down and the other people don't.
Your letter has a net negative impact. Obviously, the human natural impulse is to say, ah, the way we get safety is we slow down. On the other hand, I see better patterns of safety and capability ahead of us. So, the general thing of saying, oh, the robots are coming to get us is actually in fact no, what are humans going to do with the technology… is the actual risk thing to be paying attention to.
I can see better safety patterns ahead of us than right now. The larger models are much more easily trainable to say, when someone asks for, I'd like to break into the following computer, right…help me do it. It goes, well, I'm sorry I can't do that. Today's models, you go, well, my grandmother used to put me to sleep with stories of how she would cyber hack.
And you can delude current models with that cause they go, oh, we're talking about grandma and warm stories. But as you get larger models, that becomes, you know, much, much harder to do. And that's part of the reason why the six month pause thing was something that I didn't sign, and this was a partial misunderstanding of the patterns of technological development and also how human societies and human groups, how they would respond.
Reid Hoffman on Sam Altman testifying before Congress
SAFIAN: It can be confusing sometimes when you're trying to get a sense of the risks and the opportunities around AI, because even, you know, OpenAI founder Sam Altman testifies before Congress, and he's asking for regulations.
HOFFMAN: Well, Sam is a good friend. And we've talked about this a bunch. He's concerned that human beings model exponential curves poorly, and we're on an exponential curve. This is one of the reasons why pandemics are dangerous. Cause if you have an exponential spreading of a virus, it can have a huge impact.
To Sam, if it's an exponential curve and it's gonna have this very big impact, we should have a broader participation with the moral authority of democracies and governments. We want to get people having this conversation cause we don't quite know where this exponential curve goes. Where I kind of have a moderately adjacent point of view to Sam's on this…I don't think there's a single member of Congress that I would trust with technological development. And knowing how to navigate that. Many people who are great and smart people who, you know, who I talk to. Like, I'm close friends with Cory Booker. He is an awesome senator. But you know, if you said, here, you're in charge of the technological development, that's not what he's been doing for the last few decades.
I tend to think that Sam's testimony causes concern and panic. Cause it kind of sounds like, by the way, the truth is, nobody fully knows how to navigate this exponential curve, we don't know… Here, you guys fix it. Now, it's out of a very good impulse. You don't want to be kind of sleeping by the side of the road while this stuff is going. And I think that's what he is trying to accomplish, and I'm trying to help him accomplish that. But I think that the… "regulate us now" is not the wise path. And then of course, that gets amplified by other people who think the coming technology is massive negative impact to society.
SAFIAN: I mean, the impact of this technology will be broader than just tech companies. It's gonna be broadly societal. So, you understand why you wanna get buy-in and input on the impacts that are gonna happen socially. But, it's hard to get everyone to understand what those impacts are gonna be in the long run, when the curve is as steep as it is right now.
HOFFMAN: And look, I get the, it's new, it's an exponential curve. There's some potential dangers here. I have deep concerns. We should be trying to work constructively on it. The folks who are building this shouldn't act as individual solo operators. We should be trading information on how to navigate downsides or possible negative outcomes. One of the challenges is this is being built by large tech companies and anytime that large tech companies talk to each other, you know, it's like, ah, antitrust. And you're like, well actually in fact, you want them talking to each other about safety considerations with computation generally, whether it's cybersecurity or whether it's, you know, artificial intelligence.
And you need to create a channel for that in order to make that happen. And so, I get the concern. The concern is valid and smart. Driving is dangerous, right? 
What are the ways that we should be figuring out how to get the racial bias out, versus just yelling about the racial bias? Now, if we're blithely going, Hey, there's no racial bias to this data. Like, if we miss that, that's a good initial step. But past that, it's a question of, well, how do we develop these things in ways that are much better? 
There's three things that need to happen. One is, you need to have the right awareness of the…what are landmines and challenges. Then you need to have the capabilities and work to navigate those, mitigating downsides as well as upsides. And then the third is, you need to do it in a way that brings along broader society.
And part of it is, how do you address the third area? And alarmism beating the drum, I think usually is unproductive.
SAFIAN: Hi, it's Bob. After a short break, Reid will take us inside his new start-up, InflectionAI, sharing how he and his co-founder are positioning it in the marketplace. Plus, he offers advice on how to anticipate where AI will go next. We'll be right back.
[AD BREAK]
SAFIAN: Before the break, we heard Reid Hoffman explain why he's leaning into the opportunities around AI, and why he thinks that's the best way to mitigate its risks.
Why Reid and Mustafa Suleyman launched InflectionAI
So you have launched an AI company, InflectionAI, which has recently hit some milestones — raised $1.3 billion, $4 billion valuation recently. You were on the board of both OpenAI and Microsoft at the time that you launched this. What prompted you to start up an AI business? 
HOFFMAN: When we pulled Inflection together, Mustafa and I felt that none of the large companies were paying attention to this new modality of personal intelligences, right…why Inflection's product's called Pi. You know, you can download an iOS and you can go to heypi.com as ways of accessing it. And we are like, oh, there's this significant market opportunity. Mustafa, you know, had been advocating for something like this within Google. Mustafa himself is the co-founder of DeepMind.
And he was not having any traction. And as we were working through it, he's like, well, you're really helpful on the product definition and the go to market. I'd really actually rather you not just be the lead financier, but also a co-founder in this.
And I said, okay look, I think AI is really serious. I think this kind of agent will be the next major kind of capability, like the jump from PCs and command lines to Windows and graphic and PCs, then to phones, and now this will be the next jump, and I would love to help. And it caught the zeitgeist early. And said okay, we're gonna go do an agent too.
And so, I also factored myself off from the OpenAI. It was kind of a mutual joint discussion. I didn't know they were gonna launch ChatGPT when they were doing it. That was outside my awareness and focus. 
People say, well, do you think ChatGPT and Inflection are competing? And you know, my view is we're gonna actually have a world of a number of different agents. I don't think there's gonna be one agent to rule them all. Cause I'm still helping the OpenAI people a lot — they're friends and allies and partners. ChatGPT is kind of a Wikipedia question and answer on demand. So if you ask ChatGPT: how should I comfort my friend who has lost their treasured dog, it'll go, oh, there's five ways: 1, 2, 3, 4, 5. If you ask Pi, it'll say, oh wow, that's really hard for your friend and even hard for you. What would count as being present for your friend? Because even though it has the five things in mind, its pattern of interaction, its role in your life, is different. And I think that that's part of the reason why you're gonna have different agents.
SAFIAN: As you talk about InflectionAI and Pi, it feels very sort of consumer facing, which is a little surprising from someone who co-founded LinkedIn, which is very much about the business community. Is there a reason why you sort of chose to apply it in a more consumer facing way, as opposed to looking at more of a focused business cases?
HOFFMAN: So, I think there's gonna be agents that are like a personal intelligence for each individual. I think there's gonna be agents that are like, okay, you as a worker bee, right? And what we decided was that one of the greatest markets across billions of people, is something that would be like there and present and helpful for you. It's everything from, oh, I'm trying to figure out something at work, for me. Not what Microsoft Teams is doing, which is something that helps take notes and remember action items and facilitate things, but for me, you know, me and my job at Greylock.
And go from there all the way to, oh, my blender broke at home, how do I fix it? Or I'm going to Japan and what might be fun things to do in Kyoto to, oh, I had this odd conversation with my family member and I'd like to talk to someone about it. And so we said, okay, that range is a coherent range of a personal intelligence, and let's do that. Let's make the EQ as good as the IQ cause almost everybody else is focusing on IQ and make it kind and compassionate as a interaction.
SAFIAN: This was predicated more on a market opportunity that you saw developing, than any particular technological advancement or insight that particularly applied to this kind of chatbot. I think sometimes people look at new technologies, they think it's the technology that's driving the business. And I think what you're saying is, there's the technology, and we're looking for the right places, the distinctive places to apply it.
HOFFMAN: The quality entrepreneurship recognizes how you get new market opportunities. And new market opportunities frequently opens up because of technology spaces. Like, oh, we have a mobile phone, or we're developing the cloud, or oh, we have AI. But then there's, you know, what potential new future needs are opening up. You have changing scope in you know, what are existing companies doing?
And they may not see that there's a new market demand for something. And then you put all this stuff together with a prediction of what kinds of new product service business can be created, and frequently it's technological. The short answer Bob, is it's both. Yeah, we saw this technology and we're going, Ooh, this technology's gonna open up a whole bunch of different things…a lot more than just what Inflection and Pi is doing. But this is a really, really important one, and there's an entrepreneurial ability here in order to do it. And that's the way that that comes together. Let's launch this new amazing, you know, chatbot Pi. 
How AI will impact the way organizations operate
SAFIAN: As an AI optimist, what impact do you foresee the AI revolution having on jobs and on how it might change the way organizations operate?
HOFFMAN: There will be some jobs that will have a high replacement coefficient, but AI can help people figure out what other kinds of jobs are possible. It can help them figure out how to get to those jobs, how to do those jobs. When I talk to government officials, I say, well, you're not trying to enshrine old jobs. That's a disaster. That's like, oh no, people should be weaving by hand. We should be going, how do we help these people as we get the transition? Not just for their children and generations, that's great too, but then, make these transitions and navigate this, and this technology can help with those transitions.
If you kind of walk through a corporation and say, if you make everybody 10x more productive,,how does that cause you to reorganize? And by the way, that doesn't cause you a whole lot of job loss. Some, you know, like, I think customer service will both reorganize and probably reduce some in the number of folks. But, you know, like for example, say, well, how could the customer service people learn how to also help with sales?
SAFIAN: So Reid, how worried are you about AI creating more inequality? 
HOFFMAN: Well, technological progress people say, oh, I worry about it increasing inequality. Well, technological progress usually has an initial inequality thing. Like, it helps the powerful, the wealthy, et cetera, but then democratizes. So for example, Elon Musk uses the same cell phone that most of the rest of us use. We have a line of sight to an AI tutor on every phone. We have a line of sight to a medical assistant on every phone.
Will the medical assistant be replacing the doctors? Will the tutor be replacing the teachers? Like, by no means necessarily. And by the way, having both is much better. There's 8 billion people on the planet. Less than a billion have access to doctors. The first question should be, do you have access to a doctor? And if the answer is no, there's, well, okay, look, I'm not a doctor, but here's how I'll try to help you. And if you do, says, well, I'm not a doctor. But I really think you should call a doctor with this, and here's the things you should tell your doctor when you call them.
How do we get it to the 8 billion people is the urgent question. Not like, oh my God, we should slow everything down. Let's get the medical assistant, let's get the tutor, let's get it out there, and let's be paying attention to the questions of biases and everything else. But let's get it to everybody. Like, my concern is, how do we provision everyone with this as soon as possible? Not just the people who have wealth and power.
Let's try to make it as human and as inclusive as possible.
Reid's recommendations for implementing AI
SAFIAN: If I'm listening to this show and I'm intrigued by all of this, but I don't really know what to do, you know, as a leader, as a business with AI, it can sort of be overwhelming because the change is happening so fast. How do listeners here themselves get to feel like they're competent, you know, in their judgments about how and when and where to use these new tools?
HOFFMAN: Well, it's challenging for all of us, myself included. But it's kind of a simple set of things. So one, my high recommendation to everyone, is… experiment. You know, try it, as opposed to kind of thinking on a pre theoretic basis and just saying, well, I must know what this is. Whether it's Pi or Bing Chat or ChatGPT or Bard or anything else, go try them. And, you know, get some sense of it — images, you know, DALL·E and Mid Journey and others.
So that's one. Two is, be paying attention to: what are useful in-depth sources of information. And that's why, you know, I kind of do this Impromptu book. And then, the third is to talk to people.
And yes, obviously talk to people who are maybe more knowledgeably and on top of it. But like, for example, I myself frequently find when I'm talking to the kids and my friends, you know, I always want to talk to them about how they're interfacing with technology, because it's like, oh, I'll learn something from this. This is evolving and changing and you can't just go, well, I had the conversation, you know, last week. Well, no, no, this is evolving and changing. That would be my recommendation.
SAFIAN: I want to thank Reid for being so candid in his commentary. He is both exhorting us to get on the AI steam engine, but also to be thoughtful about the changes it brings, and how we can best mitigate the risks around them.
And of course, we can't stop learning and asking questions when it comes to AI. We need to make experimentation an ongoing priority.
That's what we're going to keep doing here at Masters of Scale, with more episodes to come about AI, with Reid and with other experts, and those in the trenches figuring it out day by day. We hope you'll stick with us on this wild and adventurous journey. I'm Bob Safian. Thanks for listening.