Download the Masters of Scale Courses App
Short-form audio courses led by the world's most successful entrepreneurs.
With the Masters of Scale Courses app, you'll learn how successful companies scale, directly from the iconic leaders who scaled them. From the fundamentals of fundraising, to how to properly execute a pivot, the Courses app is designed to build your entrepreneurial mindset in just 10 minutes a day.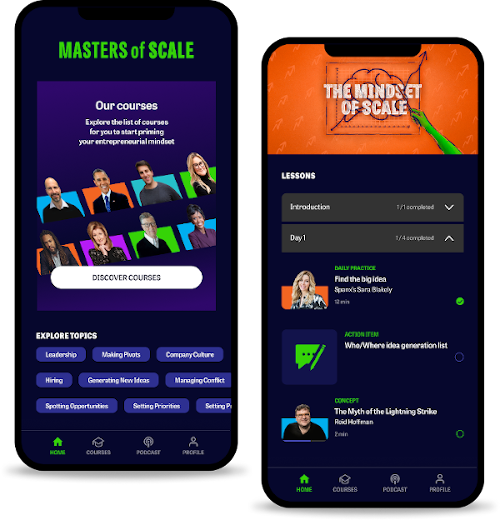 What to Expect
The Masters of Scale Courses app is designed to teach you counterintuitive ideas that have been proven to scale a business. As an app Member, you'll get:
Listen to all episodes free inside the app. Clip and share the best moments of the podcast in a beautifully designed social video. Dive into the full, unedited Masters of Scale interviews between Reid Hoffman and top business leaders.

The Masters of Scale Courses app offers curated courses like The Pivot Playbook and The Leadership test to help you cultivate your entrepreneurial mindset. Each course is broken into 10-minute Daily Practice units, and new courses are added frequently.

Get lesson summaries with actionable insights and activities delivered to your inbox as a tool to cement your learning.

Earn certifications signed by Reid Hoffman to share to your LinkedIn for each course you complete.

Each daily practice is accompanied by action items for you and your team, so you can put lessons into practice.

Annotate lessons & set reminders for key ideas that you don't want to forget.

Grow your network and connect with like minded entrepreneurs and intrapreneurs in our private LinkedIn community — exclusively for members.
Plus
Every Masters of Scale member gets the chance to submit a question for Reid to answer on an upcoming Masters of Scale Strategy Session on the podcast.

This virtual & in-person event series over 3 days in 2024 will be the ultimate business learning event for forward-thinking leaders.
Become a Member
Join today to unlock all member benefits. Interested in the app for your teams? Email [email protected] to learn more about an enterprise license to the Masters of Scale Courses app.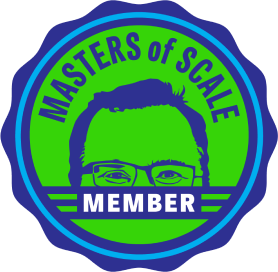 Masters of Scale Membership
$99.00 / 1 year
Recurring membership
Why Audio?
Our audio-first format enables you to listen anywhere, anytime. Whether you're at your desk, in the car, or in the kitchen, learn and grow on your schedule. The intimacy of the audio format will help you build a daily habit, arming yourself with the problem-solving tools to conquer any challenge.
Why Masters of Scale?
Masters of Scale is an award-winning provider of entrepreneurial learning, with multiple Webby and Ambie wins and nominations for Best Business Podcast. Since 2017, Masters of Scale and Reid Hoffman have distilled stories from the world's leading CEOs and founders into actionable insights across audio, books, events and courses. Whether you're a startup founder or a rising star within your company, the world-class insights in Masters of Scale Courses will help you level up and grow your business and career.
Reid Hoffman
Reid Hoffman is the host of Masters of Scale and the Masters of Scale Courses app. An iconic Silicon Valley entrepreneur and investor, he's known for his spot-on insights on how to scale an organization from zero to 100 million users or more. He's a partner at Greylock Partners and co-founder of LinkedIn. He serves on the boards of Airbnb, Convoy and Microsoft. Read more in his extended bio on Linkedin.
Note: Masters of Scale is created and owned by WaitWhat, a startup from the media execs who previously brought TED Talks to the world. We also create Meditative Story, Spark and Fire and other series that we see as essential human content that matters in the world. We work closely with Reid and our guests, in service of democratizing entrepreneurship. In short: We're a business — purpose-driven, but a business nonetheless.