Under a harsh spotlight, how do you remain composed while fighting for your mission? Anti-Defamation League CEO Jonathan Greenblatt joins Rapid Response host Bob Safian to take us inside the story of his public row with Elon Musk. Jonathan also explains how business leaders must ignite hope in the face of hate to help build a brighter future. Plus, he shares lessons about the seasonality of business, the importance of Hollywood, and why leaders everywhere should embrace conflict.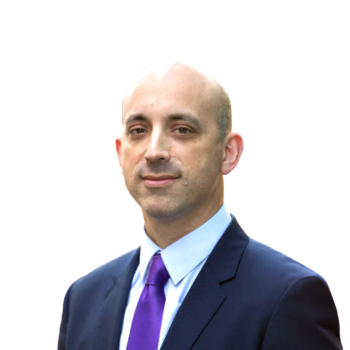 Under a harsh spotlight, how do you remain composed while fighting for your mission? Anti-Defamation League CEO Jonathan Greenblatt joins Rapid Response host Bob Safian to take us inside the story of his public row with Elon Musk. Jonathan also explains how business leaders must ignite hope in the face of hate to help build a brighter future. Plus, he shares lessons about the seasonality of business, the importance of Hollywood, and why leaders everywhere should embrace conflict.
Transcript
Transcript:
Confronting Elon Musk
JONATHAN GREENBLATT: We've been working with Twitter for years. And I started a dialogue with Elon Musk before he closed the acquisition — texting, talking, zooming.
And then everything really went crazy.
And that hashtag, #BanTheADL, started to pick up steam among right-wing extremists. And when Elon engaged with the content, it really took off. 
Tweeting that the ADL is causing antisemitism, blaming the Jews, amplifying people like a rabid antisemite or an open white supremacist, it has real world consequences. I can't tell you what Elon thinks. But what's undeniable is the people who he is platforming are openly hateful, toxic. And I just find that incredibly troubling.
BOB SAFIAN: That's Jonathan Greenblatt, CEO of the Anti-Defamation League, a long-established nonprofit dedicated to fighting antisemitism and hate. He's recently found himself in a very public tussle with Elon Musk, who has threatened to sue the ADL, blaming the organization for lost advertising revenue at Twitter.
I'm Bob Safian, former editor of Fast Company, founder of The Flux Group and host of Masters of Scale Rapid Response.
I wanted to talk with Jonathan because going toe-to-toe with the richest man in the world requires a commitment to mission that other business leaders might learn from. 
Jonathan isn't a proponent of cancel culture. Instead he advocates for what he calls "counsel culture," looking for ways to engage positively. 
He talks about the engagement he's had with Adidas over Kanye West, from a public rebuke last fall, to a high-profile business partnership, to a recent, private dialogue with Adidas's new CEO, Bjorn Gulden, after Gulden seemed to make excuses for Kanye's antisemitic comments. 
Jonathan's recent journey — which also includes introducing Martin Luther King III in front of 150,000 people at the 60th commemoration of the epic 1963 March on Washington —
illuminates both the challenges that organizational leaders face and the opportunities for broad impact. 
Business has an outsized role to play, Jonathan argues, in a world where many people are more fervent about Apple or Spotify than they are about their own religion. 
First, though, Jonathan takes us inside his unexpected confrontation with Elon Musk. Let's get to it.
[Theme music]
SAFIAN: I'm Bob Safian, and I'm here with Jonathan Greenblatt, the CEO of the Anti-Defamation League. Jonathan, thanks for joining us.
GREENBLATT: Thrilled to be here, Bob.
Inside the ADL's history with Elon Musk & Twitter/X
SAFIAN: So you have had a very busy season. You're in DC commemorating 60 years since the March on Washington. You launched a new media and entertainment institute in LA. But I have to start with Elon Musk, who's threatened to sue the ADL for defamation, which is an almost comically ironic turn of events, although I'm sure it hasn't seemed funny to you. Where were you when you first heard about this threat? What did you do and how do you think about it now, a couple of weeks later?
GREENBLATT: So the ADL is the oldest anti-hate organization in America. We've been focused on fighting antisemitism and all types of bigotry for over 110 years. But I don't know if we've ever quite seen a super spreader of stereotypes and slander, like social media. We launched a center in Silicon Valley in 2017. And our approach, Bob, is to work with the companies. I incubated a venture inside Google. I was at a company before it went public.
So I firmly believe that we've got to find ways to work with the companies, and ADL works with all the businesses, from Alphabet to Zoom. We've been working with Twitter for years, since long before Elon Musk bought the company. We served on Twitter's Trust and Safety Council. We had been a trusted flagger based on our expertise, sharing with them specific pieces of content. And I started a dialogue with Elon Musk before he closed the acquisition.
We were introduced through a mutual friend, and Twitter had lots of deep problems before he acquired the company, and I believed, still believe, that if he came on board and did certain things, he could make it better. And a better, healthier, safer Twitter is better for the world, let alone its Jewish users, let alone advertisers. So we had been in a continuous dialogue — texting, talking, zooming. So I was quite surprised when I heard that he was tweeting at me. Now, what had happened a few days earlier, Bob, is I had my first kind of face-to-face zoom with Linda Yaccarino. Linda, as listeners likely know, is the new CEO at Twitter/X. And the way that we got in touch with each other, was Elon put us in touch. And it was a very positive conversation. We talked about our respective backgrounds and mutual friends. She told me a little bit about her plans. I explained some of the things that I thought the platform needed to do vis-a-vis hate. And we agreed to continue to be engaged in conversation. After the meeting, Linda's staffer asked me to tweet out that we met. Now, I don't normally do that. I'm not going to tweet out that Bob Safian and I just spent time together.
But I tweeted out that we had a frank and productive conversation, and Linda replied positively. And then everything blew up. Everything really went crazy. I observe Shabbat, so I'm offline on Saturdays. That's when Elon started tweeting at us. And it was over the Labor Day weekend. What had happened is some white supremacists who saw that Linda and I connected positively, were upset about that, and launched a hashtag, #BanTheADL.
And that hashtag, #BanTheADL, started to pick up steam among white supremacists and right-wing extremists, but it was when Elon engaged with the content that it really took off. He has 150 million followers or something like that. So he's far and away the largest user on the platform, and when he engages someone, it gives them a kind of freedom of reach that they wouldn't otherwise have. And that's exactly what happened here.
SAFIAN: The ADL critiqued Musk's management of Twitter starting back in December when he disbanded the trust and safety issue. But this came so much later. Do you know why he engaged now in this way?
GREENBLATT: I don't know. I mean, it's true that I had organized a relatively large meeting for Elon, it was a Zoom, shortly after the acquisition with a number of civil rights leaders. And Elon made certain representations in that meeting. He was going to preserve the trust and safety counselor, not change anything. And then of course, he did. That prompted some of the parties in the meeting to organize an effort to tell advertisers to pause the advertising on Twitter. There were about 60 groups involved. And we also joined that group. In fairness, we did.
But what we didn't do, Bob, was call advertisers and pressure them. I mean, literally not once. And so it struck me as odd when, I don't know, maybe it's eight months, nine months later, when Elon started tweeting about it, accusing us of trying to kill Twitter, trying to kill advertising. By the way, one of the parties that was advertising on Twitter until this whole debacle… the ADL. So these accusations are all entirely contrived. Look, we have called out antisemitism on the platform because that's what we do.
It's not about censorship. But I deeply believe in this principle that Elon himself talked about — and still does — freedom of speech, not freedom of reach. In a democracy, Bob, hate speech is the price of free speech — things we don't like, things we detest. I think we have to acknowledge… they have a place in the discourse. The question is, whether we are elevating them, whether we are amplifying them, whether we are normalizing them. And these are the things that are afoot on Twitter, and that's why we have not hesitated to speak out. So, why it prompted Elon six months, nine months, whatever later to come after us, why he came after only the ADL, the one Jewish group among the coalition? I don't know.
SAFIAN: And so, where do you go from here in your relationship with him and with Twitter? I mean, do you think his actions have been antisemitic?
GREENBLATT: Tweeting that the ADL is causing antisemitism, blaming the Jews for the bigotry that's targeting us. I mean, that is sort of classic anti-Jewish hate. Whether he intends it or not, amplifying people like a rabid antisemite, an open white supremacist. When you elevate these people, when you enlarge their audience, when you expand their reach, it has real world consequences. So I can't tell you what Elon thinks. I've talked to him enough times. I don't think he's an antisemite. I've said that publicly. But what's undeniable is the people who he is platforming, who he's privileging with his audience are openly hateful, toxic. And I just find that incredibly troubling.
SAFIAN: As you explain this arc of your relationship and discussions with Musk and with Twitter and X over the last year, and I'm thinking back, you've been in this job running the ADL since 2015. It must be frustrating to put all that work into something to try to reach to a certain point of progress and then have kind of the opposite feel like it happened.
GREENBLATT: Well, look, fighting hate isn't easy. The work is a bit Sisyphean, you know? And I'll acknowledge that it was more than a bit bewildering. I remember being equally perplexed when Kanye West went bananas last fall. These moments in time, they seem to happen with some frequency. And I'm reminded that antisemitism is often described as the oldest hatred. In just the past eight years, I've seen politicians and celebrities and athletes say some of the worst things. I don't think anyone is exempt from this disease. I don't think it's unique to any political party. I don't think it's particular to any religion.
Hate can infect anyone. Our job here at ADL is to build up our collective immune system.
Inside the ADL's history with Kanye West & Addidas
SAFIAN: You mentioned Kanye West, and there was a news report this week about the new CEO of Adidas talking about Kanye, and not exactly apologizing for his antisemitic comments, but kind of indicating that maybe he was misunderstood. When this kind of thing comes up, what do you do?
GREENBLATT: Well, literally this morning I took a call from the new Adidas CEO, Bjorn Golden, who reached out to me to apologize. Bob, I believe in this discipline of counsel culture, not cancel culture. So someone makes a mistake, I don't think we should push them away. I think we should try to pull 'em in. Try to explain why we believe what they did was harmful and help them understand our point of view and turn a negative into a positive, or at least create a learning opportunity. And so in the situation with Adidas, goodness, it's maybe 10 months ago, last fall, when everything shook out with Kanye, that was a stunner.
He'd always been known as an entertainer who was a bit uneven. I don't think anyone expected the total unraveling. And so as all this shook out, we were hoping to engage with him. And then it got worse and it got worse and it got worse. And so we reached out to Adidas and said, where are you guys on this? They had this huge multi-billion dollar partnership around the Yeezy line of apparel and footwear. And they at first were like, we'll see what happens. And I was on, I think, Squawk Box and basically said, Adidas, we're going to take this head on. We don't think it's okay. One of the most prominent athletic brands on the planet is, at a minimum, not calling out what your most prominent celebrity partner is saying, especially considering Adidas's history.
The company was founded in Germany. They did the outfits for the Hitler youth in the 1930s. The founders were members of the Nazi party. So there's an ugly history there. Now, with that being said, after we were very public about pressing them, they turned it around. And not only did their CEO stand up and speak out, their North American president came to our big conference last fall. We announced a large partnership. And together, we're going to try to educate young people about intolerance through sports and athletics. Turning a negative into a positive. So when Bjorn said what he did the other day, my first reaction isn't: let's cancel him. It's: let's try to understand what's really going on. And I think if all of us could learn just to take a beat — not to tweet out our first impulse, but to step back, take a deep breath, and then try to work with other people, try to engage again, rather than just reject. I think the world would be a better place.
SAFIAN: And after your conversation earlier today, you're reassured by what you heard?
GREENBLATT: Yeah, I believe him. I believe that he misspoke. He's been public about his apology, not just communicating it privately to me. I know the partnership we have underway with the company. The opportunities are really consequential. So let's hope we can lock arms and press forward together.
SAFIAN: There are many activists who would say, oh, you should never be in business with a company that was founded by Nazis.
GREENBLATT: I mean, look, we live in a country that in large part was created as a result of the genocide of Native peoples. Our industry was built on the backs of enslaved Africans. This country has a pretty complicated history. Does that mean we throw the baby of America out with the bathwater? No, I don't think so. I think we need to recognize its flaws and the genius of our Constitution, which seeks to create a more perfect union and press to do better. At the end of the day, we're created in God's image, but none of us are God. And so all of us have to walk humbly and recognize that yeah, like Adidas, like BMW, like Siemens, like so many of these companies have a very sordid history.
The question is, how are they dealing with that heritage today? Are they ignoring the past or drawing from it to create a more promising present and future? In the case of Adidas, they are. We also work with Volkswagen, which is doing really important stuff. I'm going to acknowledge that we don't always get it right. I've made plenty of mistakes myself as a CEO. And yet we try to be principled, again, not political. We try to be pragmatic, rather than dogmatic. The only thing we won't shrink from, the only thing we won't stop, and again, maybe this is why it irks Elon, is we will be relentless and unflinching in the face of antisemitism. I'm not intimidated by frivolous lawsuits. I'm not daunted by celebrities with big platforms. I could care less.
SAFIAN: Jonathan's emphasis on counsel culture versus cancel culture is instructive, especially coming from someone who clearly isn't afraid of a little conflict. After the break, we'll dig into the societal role that business leaders play, the ADL's new efforts to influence Hollywood, and more. Stay tuned! 
[AD BREAK]
SAFIAN: Before the break, we heard ADL chief Jonathan Greenblatt talk about his ongoing tussles with Elon Musk, and why he believes in a post-Kanye Adidas.
Plus, how the seasonality of fighting hate mirrors the seasonality of business, and lessons about being welcoming to all sorts of people.
How business leaders can take a stand on social issues
Business leaders across industries of late have faced more and more pressure to take stands on certain kinds of social issues. How do you approach this when you're talking to CEOs about what their role in society is more broadly?
GREENBLATT: I cut my teeth at realtor.com. I co-founded this company Ethos that we sold to Starbucks, and I worked there for a number of years. I incubated All For Good inside Google. So I've been inside companies that are very socially conscious. Today, to your point, CEOs are expected to be statesmen, right? They're expected not just to have commercial objectives, but policy agendas. It's complicated and it's hard.
On the other hand, we're living in a moment when so much of our lives are mediated by brands. And in an environment where participation in organized religion is down, when the distrust of political parties and elected leaders has never been higher. Business just has this outsized role to play. I think more people today are fervent about Apple and Spotify than they are most religions, right? Now, I appreciate the CEO who doesn't want to do this, says I'm just going to focus on hitting my numbers and driving the right quarterly earnings. I just think millennials and certainly Zoomers today, from the companies where they want to work, to the brands they want to buy. It's often a function of, do they think those businesses align with their core values? So I get that CEOs don't want to be buffeted about by the latest issue du jour. But I just don't think CEOs can ignore the operating context in which they're working. It's just the world has higher expectations these days.
How the ADL is fighting for the representation of Jewish people in Hollywood
SAFIAN: You launched the new Media and Entertainment Institute recently to work with Hollywood. Is that a reflection to some extent of the responsibility that you think businesses have to take on?
GREENBLATT: ADL does three things. First, we protect communities. We track anti-Semitic attitudes domestically, internationally. We track incidents domestically, internationally. We monitor extremists domestically, internationally, and we train law enforcement. We're the largest trainer of law enforcement in America on extremism and hate — 20, 25,000 officers every year. Secondly, we do a lot of advocacy. We're lobbying in Congress, we're litigating in the courts, we're speaking out in the court of public opinion. But in the long run, Bob, if we really want to stop hate, you can't arrest your way out of intolerance. You can't sue your way out of stereotypes. You need to change hearts and minds. And so I think education and representation are the fundamental variables in that equation.
So we launched the Media And Entertainment Institute, because we're concerned with the way Jews and Jewish people and Jewish storylines are often represented by Hollywood. Now, it's certainly true that Jews have come a long way from the kind of slander and caricature that dominated when we were founded at the turn of the 20th century. But today, so many of the storylines feature stereotypical Jewish characters exemplifying tropes. I think there's an opportunity to create positive storylines to support a richer, more dimensional representation of our community. I mean, almost all the Jews in the media look like they came out of Eastern Europe. But the truth is that look at the state of Israel. More than half of Jews are what we would call in the United States, people of color.
They're brown Jews from the Middle East, they're Black Jews from Ethiopia, they're Mizrahi Jews from around the world. And that diversity of our community is never represented. So again, we talked before about why we believe in counsel versus cancel culture. The Media Entertainment Institute is about counsel culture. How do we work constructively with studios, with production houses, with directors and artists and screenwriters and showrunners, to encourage them and support them as they explore more positive representations of our community? That's part of changing hearts and minds that in the long run, may be the most effective way to stop the rise of antisemitism and hate.
SAFIAN: The trip to DC for the anniversary of the March on Washington, how was that experience? Did that feel like a marking point of progress or a marking point of disappointment?
GREENBLATT: Fighting hate is not just exhausting, it's, like, eviscerating. It's, like, emotionally draining. But if we want to create a better society, it's not just about fighting hate, it's also about building hope. So 60 years ago, ADL leadership was at the March on Washington. My predecessor was there. And so when, earlier this year, Martin Luther King III and Reverend Al Sharpton reached out to me and said, we want you to be a part of the 60th anniversary march, I was incredibly humbled.
And then standing there that Saturday, and to see 155,000 people amassed on the mall, and to be able to speak, to be the opening act, as I happened to be for Martin Luther King III, that was really, incredibly humbling. The days can be long at ADL, and the lows can be really low, but the highs can be really, really high. And they give me a great deal of energy and inspiration.
What's at stake for the ADL right now?
SAFIAN: There's a lot of divergence in values across the country and across the world right now. When you look at the goals that you have and the role that you play, what's at stake right now for ADL and for you?
GREENBLATT: I don't want to get political here, because I don't really care about how people vote. I care what they value. Because antisemitism and hate more generally isn't the sole problem of one political party or the other. I think the soul of our country is at stake. If America is going to live up to its promise, and to be clear, I am long on America. I think this is the greatest democracy in the history of humanity. I can certainly say for the Jewish people in diaspora, there has never been a more welcoming, a more tolerant, a more accepting country than this one.
For all of its problems, and I mentioned them before, there's still so much good this country has done. And I think in many ways, it's just getting started. But, there are no foregone conclusions. Nothing is preordained. If we want this country to live up to its promise, we better be ready to roll up our sleeves and get to work. It's not about what's at stake for me or what's at stake even for my organization. It's about what's at stake for my community and our country. And I think it demands the best of us to show up and bring our A game every day of the week and just recognize that democracy isn't, it's not a spectator sport.
When I was in business, there's seasonality to business. If you don't make your sales, S-A-L-E-S, you can adjust your sails, S-A-I-L-S, spend a little less, and hopefully you can make your numbers. Democracy is different. Fighting hate is a full-time job, and all of us have a role to play if we want to leave the country, leave our communities, in as good, if not better shape to the next generation.
SAFIAN: One last question: you announced an ADL corporate workplace pledge this past June. Can you explain that?
GREENBLATT: We've seen antisemitism reach almost an epidemic level in the country. But most diversity, equity, and inclusion programs don't address antisemitism.
So the idea of just, how do we make it easy for companies to take concrete steps to demonstrate that they're doing something about antisemitism, not just occasionally sending out a tweet, which tends to be much more performative than anything else. So the workplace pledge for a small startup or a Fortune 50 company, allows them to say, we're going to take a stand, by number one, integrating antisemitism into our DEI training. Number two, allowing for a Jewish employee's ERG if there's interest. And number three, ensuring that we provide our Jewish employees with religious accommodations if they request them — pretty simple stuff.
In this moment when Jewish people are feeling vulnerable, when the number of incidences has surged, it's more than 500% greater today than it was just a decade ago. This is an easy way for businesses to walk the walk. So there's more about the ADL workforce pledge on our website at adl.org. And I would encourage companies who are interested to check it out and to sign up. ADL has resources we can provide for free to help them. And at the end of the day, it demonstrates, I think, that creating open and inclusive workspaces is one that's welcoming to all people, including the Jewish people.
SAFIAN: Well, Jonathan, thank you so much for taking the time to do this with us today. I really appreciate it.
GREENBLATT: Bob, thank you for giving me the opportunity.
SAFIAN: Jonathan's high-profile clashes with Elon Musk could distract us from his broader lessons. The role of a spectator can be relaxing, but it's only when we engage that we find meaning and deliver impact. Conflict is rife in today's world — in culture, in business, everywhere around us. But only if we remain open to each other, and do the work to learn, rather than reflexively criticize, can we make progress on the things that matter most.
I'm Bob Safian, thanks for listening.