Betting on the Super Bowl
Sports gambling is on track to grow into a $40 billion industry in the U.S., with FanDuel the lead player. CEO Amy Howe explains why the Super Bowl is so important to the company's aspirations, even as it expands into wider gaming options and broader sports leagues. Leveraging its first-mover advantage, FanDuel is seeking to build an iconic brand around responsible gaming. With so much on the line, this week is as make-or-break for Howe as it is for Mahomes or Hurts.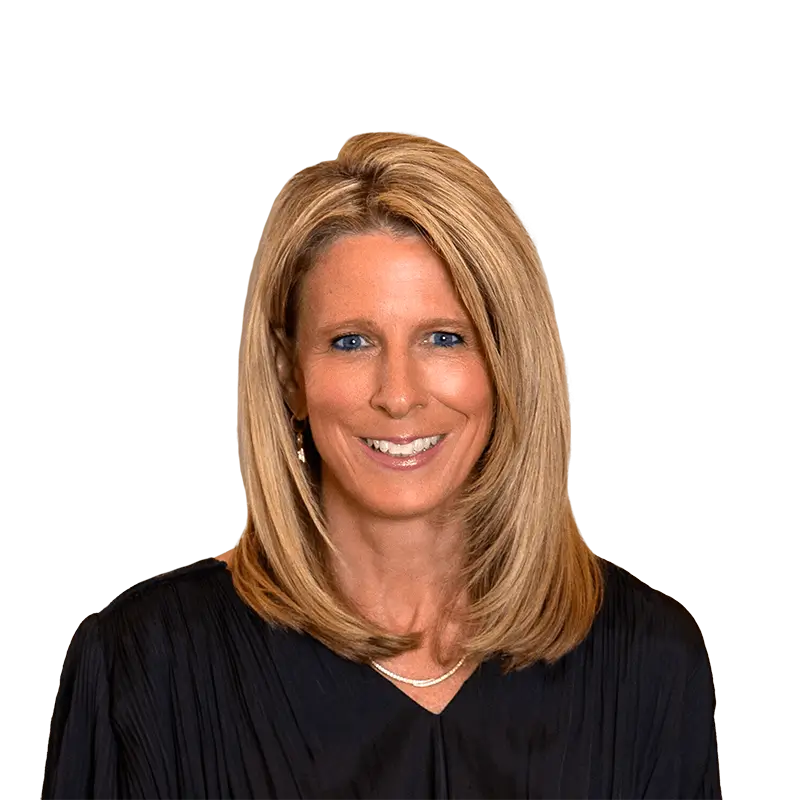 Sports gambling is on track to grow into a $40 billion industry in the U.S., with FanDuel the lead player. CEO Amy Howe explains why the Super Bowl is so important to the company's aspirations, even as it expands into wider gaming options and broader sports leagues. Leveraging its first-mover advantage, FanDuel is seeking to build an iconic brand around responsible gaming. With so much on the line, this week is as make-or-break for Howe as it is for Mahomes or Hurts.
Transcript
Transcript:
Betting on the Super Bowl
AMY HOWE: When the Supreme Court repealed PASPA, which was a federal ban on online sports betting back in 2018, before that, you couldn't bet legally in the United States.
I didn't actually know this at the time, but I came in as the only female CEO, at least in the United States, in the gaming sector.
I can assure you the house does not always win. And the reality is we don't always want the house to win. It'd be hard to have a sustainable business as a consumer if you're losing every week.
Last year we were anywhere between 42% to 50% plus of the market. The Super Bowl is literally the biggest moment in FanDuel — and candidly, it's the biggest moment in sports betting. Let me tell you, there's some heart palpitations going on.
BOB SAFIAN: That's Amy Howe, CEO of FanDuel, the leading mobile gaming company in the U.S. As more states gradually move to legalize sports gambling, the industry is expected to grow into a $40 billion market.
I'm Bob Safian, former editor of Fast Company, founder of the Flux Group, and host of Masters of Scale: Rapid Response. I wanted to talk to Amy because FanDuel epitomizes the fast-changing dynamics that are remaking the sports business. And Super Bowl Sunday is its coming out party.
Linking up with NFL legend Rob Gronkowski to create a first-of-its kind activation on the big day, 
FanDuel is also diversifying into media broadcasting, new gaming categories, and a wide array of sports leagues.  
Amy is the former chief operating officer of Ticketmaster, and a onetime partner at McKinsey & Company. At the helm of FanDuel, she is betting big on the future of easy, secure sports gambling. Amy and her team have an intriguing game plan, but they are also quick to call audibles, when conditions on the field demand it.
A note before we dive into the episode, there are some references to gambling terminology that might be helpful to know: A parlay is a single bet that links together two or more individual wagers, all of which need to happen to win. A prop bet is a wager tied to a specific action or an individual player's accomplishment, unrelated to the final outcome of the game. Okay, let's get into it. 
[THEME MUSIC]
SAFIAN: I'm Bob Safian. I'm here with Amy Howe, the CEO of FanDuel. Amy, thanks for joining us.
HOWE: Thank you for having me. I'm excited.
FanDuels' Amy Howe on how the company is approaching the Super Bowl
SAFIAN: Some businesses talk about the Super Bowl as an analogy. Like, what's your Super Bowl moment? But for FanDuel, your Super Bowl moment is in fact the Super Bowl, right? And this year particularly is a watershed moment. Arizona's the first legal sports-better state to host a Super Bowl, which means right from the kickoff, people inside the stadium can be betting on everything. FanDuel TV is going to be broadcasting on site alongside other networks. What's it feel like as we approach this big day?
HOWE: So we always joke the minute the Super Bowl is over, we start planning for the next Super Bowl. It is literally the biggest moment in FanDuel. And candidly, the biggest moment in sports betting. So if you go back and rewind the clock to 2021, we took 4 million bets on the platform. There were 8 million bets in '22. And so as more states come online every year, by definition you have new records being set.
This year is exciting. If you go all the way back to when the Supreme Court repealed PASPA, which was a federal ban on online sports betting back in 2018, before that, you couldn't bet legally in the United States.
So to think about the fact that for the very first time we are in Arizona, which is the first state to be legalized since then, it's really exciting. This year, we have Rob Gronkowski who is going to be kicking a field goal live.
Creating a memorable moment with Rob Gronkowski
SAFIAN: Why was that activation and that character the one that you chose?
HOWE: Well, set aside the fact that Gronk and I both grew up in Buffalo, New York. That's not why we did the ad. But no, I mean, listen, as we sat down, and we strategized around this year's Super Bowl, we said we wanted to create a moment, and we wanted it to be memorable, and we didn't want to just create another fun advertisement. We actually wanted to be part of the Super Bowl itself.
And so the teams got ideating, and they came up with this idea to say, let's go get Rob Gronkowski and see if he'd be willing to kick a field goal live. His first reaction was, "You want me to kick a field goal? That doesn't make any sense." And then all of a sudden I think he started to get excited about it. We enlisted the support of Adam Vinatieri who has actually been helping him train, and we're working with Kay Adams, who's been one of our phenomenal talents.
And we've got so far… received over a billion impressions, well over 200 stories. And I think the excitement around this is palpable. You hear it's one of those ads that's gone viral. It's not without its risks, but we think it's going to be really exciting.
How sports gambling changes the narrative of sports
SAFIAN: We've rarely seen a brand-new industry scale as quickly as mobile sports betting has. As you say, 5 years ago it didn't exist at all. And FanDuel was just a daily fantasy company, and now it's a multi-billion dollar business. You came to FanDuel just 2 years ago. What about the trajectory since then has surprised you?
HOWE: I came to FanDuel in the middle of the pandemic where I was at Live Nation Entertainment. I knew the industry had these phenomenal tailwinds, and I was in the sports industry already, but not gaming. And I think the biggest surprise to me is just how quickly the industry is scaling. But I think more importantly is the role that it is playing in the lives of sports fans.
I mean, if you look at Super Bowls, that is a great example. Well over 70% to 80% of the bets will be on player props. And so you think about the game, even if the game is a blowout, you're completely invested in that game because you want to see if you predicted the first TD score, and did you get the score correct, and did you predict how many yards a so-and-so is going to have. So it really is kind of changing the narrative of sports, but we view ourselves very much as an entertainment platform, not just a sports betting platform. I came from the entertainment industry, so to walk into an industry that is on fire with the leading company in America, it's been very gratifying.
SAFIAN: I imagine you now watch sports through a different lens than the casual viewer. Can you still enjoy the game, or are you distracted by the thought of FanDuel's win probability? Does it make you particularly anxious for a major event like the Super Bowl? 
HOWE: It's the biggest acquisition moment we have. But there's some heart palpitations going on because you never know really how the game is going to turn out. Last year we were in SoFi Stadium, my husband and my kids were there with me, and we're there with all the executives, and there's an executive, his name is Conor Farren, and he runs our risk and trading in our sports product organization.
And he has decades of experience of setting odds and determining prices and innovating these markets. And so anytime something would happen, we would look at Conor, and he'd either give us a thumbs up, a thumbs down, or, "Eh, that was okay."
So the coin toss for instance: 50% of the states you can actually bet on and whether it's going to be heads or tails. So after the coin toss, our suite would erupt if we actually got it right. So at some level you might argue it takes a little bit of the romance out, but at the end of the day we're all fans.
Interestingly enough, if you actually look at the way consumers bet, it's not always rational. People bet on what they want to happen. They want a high scoring game; they want a lot of touchdowns. So you typically tend to see same game parlays that will have high scoring games and multiple players scoring touchdowns. So again, it kind of comes back to that narrative and how sports betting is really shifting.
How FanDuel has created a trusted platform
SAFIAN: My impulse was always that, sort of, the house always wins. It's set up that way. But it sounds like some of these games can be loss leaders for you depending on how the performances pan out relative to people's hopes.
HOWE: I can assure you the house does not always win. It's funny, my husband said the same thing. He said, "Well honey doesn't the … the money falls on even side. So you're always going to be fine," and that's actually not the case. And the reality is we don't always want the house to win. It'd be hard to have a sustainable business as a consumer if you're losing every week.
SAFIAN: You mentioned that you have to make sure that the fans are winning sometimes, right? How much of your role at FanDuel is making sure it remains trusted as a brand as opposed to about what the product is?
HOWE: Listen, I will tell you, these are not predetermined outcomes. The risk and trading organization, they're calculating odds. They have highly sophisticated models that are taking in powerful data signals, but there's also a fair bit of judgment that they overlay on top of it.
But, at the end of the day, if we cannot build and maintain a trusted platform, we're not going to be in business. We're a highly regulated industry. Consumers are trusting us with a lot of confidential information well beyond what you would ever have to provide if you're signing up for an Amazon or an Uber. So making sure that we can keep their private information confidential and that we're protecting the platform from bad actors is one of the most important things that we do.
Amy Howe on DraftKings and competition in the online gambling space
SAFIAN: FanDuel is twice the size of DraftKings, its closest competitor. Why is that? I mean, is it about the technology and the speed and the ease about why it works? Is it about the brand and why it's trusted?
So if you look at the numbers, we're acquiring customers much more efficiently than many of our competitors. Some of that has to do with what we've invested to build the brand, but we've also just been a lot more disciplined, I think, around how we're spending those marketing dollars.
At the end of the day, your brand and what you're doing to acquire customers, all that does is it actually gets customers in the door. And ultimately we believe it's a superior product that is going to prevail. And if you look at our retention numbers, we're almost 80% year-over-year retention. I think there's a, candidly, a misconception in the marketplace that all products are created equal, and that's just simply not true.
In most categories, we tend to have a broader assortment. We were the first to market with products like Same Game Parlay, but also we have what we call a structural margin advantage because we price a lot of those markets in-house. And so you add all those things up, and it adds to better retention but also better economics in terms of how we're able to grow that business.
There's also ways to differentiate around what the betting customer cares about. They want to be able to deposit easily, but they also want to be able to withdraw their earnings when they win. And so things like withdrawal time actually matter.
In the end we think 2 or 3 at most scale players will exist. If you look at the field right now, there are almost 60, 60 online sports betting operators. And over 50 of those will have single digit share positions. And in steady state, that's not what the industry is going to look like.
How Amy Howe approached being hired by FanDuel
SAFIAN: We had Las Vegas Raiders CEO, Sandra Douglass Morgan, on the show not too long ago who talked about being an avid fantasy sports participant herself, although once she joined the Raiders, she set that aside. You're a sports fan, but I understand you're not historically a gambler. Did that make the transition to this job odd, a certain different kind of learning curve for you?
HOWE: I didn't actually know this at the time, but I came in as the only female CEO, at least in the United States, in the gaming sector. They didn't hire me because I was a deep subject-matter expert in online gaming. But Bob, if you look at my background, I came from Live Nation where I was running Ticketmaster, so I had pattern recognition in how to run a technology company. But I think more importantly, I was a partner at McKinsey & Company for almost 15 years. And so when you're working across a broad range of industries, by definition, you have to get up to speed quickly, whether it's a new industry or a new client.
And so that muscle was already there; it didn't take me that long to actually figure out the industry. And listen, on a personal note, I have three boys. So sports absolutely dominate my household.
SAFIAN: With this market growing and changing so fast, looking back over the last 2 years, are there a few decisions that you think, "Oh, these were the key decisions that I had to make in this environment?"
HOWE: When I came into the organization, it was very clear to me that the pace at which we were growing was exponential. If you look at some of the market projections, we think the addressable market could be $40 billion in maturity. So as you think about that pace of growth, you know, you have to think differently about the structure of the organization and what kind of leadership team you need to surround yourself.
But we were also at that point in time where we had to start making tradeoffs around how you allocate resources and what gets on the roadmap. In the early days you could kind of say yes to everything, and not that it wasn't complicated, but what you needed to do was to have a product, and you needed to be in the market on day one.
Well, as the complexity of our business started to grow — we're in fantasy sports, we're in iGaming, we have the largest racing business — you have to make the right trade-offs. We needed to start to say no to certain things and then really lean into parts of the business where it was very clear that the growth was going to come from.
SAFIAN: Sports is such a broad canvas. I know the NFL has been a particularly critical partner for you, but FIFA is a different business than the NBA, and the Olympics are different than the PGA, and college sports are different than professional, and people bet on all of them. How do you balance the different rules and regulations in each one? Do you grow them differently? Do you prioritize them differently or is it the same playbook?
HOWE: We do prioritize them differently. So the NFL is a critical acquisition moment. The NFL season is typically when I can bring in a lot of new sports betting users to the platform, and there's a ton of excitement around betting on those games. The NBA is also an important acquisition sport, but the handle on that is significant just because you have significantly more games in the NBA than you would in the NFL.
And then if you look at a sport like tennis or a golf, they're not going to have the same level of prominence that an NFL or NBA does, but they're still a very important part of the portfolio. When you have the Master's and you have Tiger Woods competing, or when Serena Williams was playing last year, those are really key moments that attract consumers to our platform and many types of consumers, not just people who are avid fans of golf and tennis. And so there's different roles that these sports play in the portfolio and strategically you have to think differently about what you're investing and how you manage those. So, we don't have a single playbook for all sports.
[AD BREAK]
SAFIAN: Before the break we heard FanDuel CEO Amy Howe talk about the growth of the platform, the role of the SuperBowl, and what might be on tap for other sports.
How FanDuel aims to keep their customers & partners protected
As you mentioned, you have 3 sons. So do I, and as a parent, I sometimes have mixed feelings about gambling because I never know what they're going to do. And I wonder how you think about that, whether you feel like you have to protect your customers like you would your children to act and bet responsibly.
HOWE: I do, Bob. Honestly, when I was contemplating coming to FanDuel, I thought long and hard about this. I knew I was coming into a global organization where responsible gaming was embraced at the top of the org. And last year, we put out a target that 75% of our customers need to be using one of our responsible gaming tools by 2030.
And you're right, I'm a mom of 3 boys, but nobody can bet legally until they're 21 and until they're in a state where it's legalized.
I'm sure you know Craig Carton, well-known personality. Craig has a well-documented challenge with gambling, and he's in a great place right now, and he has been elicited as our responsible gaming ambassador to go out and educate young men who we know are more at risk. We invest in tools, we're partnering with the NFL to say, "Hey, can we establish together a code of conduct where regardless of what the regulators are telling us to do, we're going to go above and beyond that because it's the right thing to do to protect our consumers." If we don't build this industry the right way from the ground up, we're not going to have a very viable business in the long term.
SAFIAN: When you talk to the NFL, do you try to help them evolve their rules around gaming? Like, Gronk's a retired player, so he can be a spokesperson. If Patrick Mahomes really believes his team's going to win, he can't bet on himself.
HOWE: The NFL was actually the last major league to formally forge partnerships with online sports betting operators in large part because they wanted to make sure they were doing it the right way. 
But we have a lot of conversations right around: how do we collectively make sure that we're putting the right protections in place? Not just for players, but obviously there's big coaching staffs and trainers and a lot of folks that potentially could have access to information. And so I think we've been incredibly vigilant and that partnership is very strong.
SAFIAN: In the investment world, trading on different financial products used to just happen in Wall Street, and that has become sort of democratized. More people are essentially trading for their own accounts. The proliferation of platforms like yours makes that a more democratized possibility. This is aside from the issue of gambling addicts, but do you look at the market of professional gamblers as a community that is an opportunity for you? Or is it a worry that people who do this all the time might come up with risk strategies that make your own risk calculations more complicated?
HOWE: I'm not sure the average sports betting consumer understands there is still a massive illegal or illicit betting market. There are 18 states where sports betting is legalized, which translates to roughly 40% of the population. And oh by the way, the 3 biggest states — California, Florida, and Texas — it is not legal to place a bet in those states.
And so if you're betting on a Bovada or MyBookie or pick your favorite site, you're typically betting on an offshore operator that doesn't have the same standards that we have. My 16 year old son could go sign up for an offshore operator. It's a big part of obviously why we're trying to regulate the industry.
Our platform is designed to go after more sophisticated sports betters, but also the casual user. Not surprisingly in the early days, you tend to get folks who are more comfortable and they understand how sports betting works, but over time you get more and more of that recreational user coming onto the platform.
How FanDuel thinks about breaking into new markets
SAFIAN: So you mentioned many states, big states still yet to come on the platform. Despite all the growth you've had, there's a lot of opportunities still ahead. There are also new competitors looming like Fanatics. How do you think about protecting what you have while also extending with each new market?
HOWE: It's something that I and my leadership team are focused on every day. We do believe very strongly that a scale advantage is going to matter, but we also believe that a first mover advantage helps in this market.
So if you take a market like New Jersey, New Jersey has been legalized since 2018. So if you're just coming into the market now, you're playing a little bit of catch up, right? You have to either convince customers that they should switch from another platform, or you've got to go after the customer, which at this point will be a more recreational user.
So, I can't control what other competitors are going to do, but we're focused on trying to strengthen every moat we have.
SAFIAN: It's an interesting situation you're in with your competition that, on the one hand, obviously you compete. On the other hand, you're collaborating to try to make this whole field trusted so that more states do open up.
HOWE: You're exactly right. We have great relationships with the folks at DraftKings and BetMGM and Caesars and others because we do have to work together to make sure that it is the right thing for the consumer. It's the right thing for local governments as well, right?
Because you think about the tax revenue the states that legalized are now getting. Nobody was getting that revenue before.
SAFIAN: And when a new state opens up, is it like a land rush?
HOWE: A little bit. Well, it's interesting because this is where our legacy of being in the fantasy sports business comes back to help us. In nearly every state I have an engaged set of users who are already on the platform using a fantasy sports product, and so I can leverage that engagement and make sure that they understand legalized sports betting is coming in the state.
And the way we've designed the product is we've integrated what we call our account and wallet system. So if you're on our fantasy sports platform, it's actually very easy to move into our sports betting product.
Ohio is a great example. Ohio went live on New Year's Eve, so as the ball was dropping in New York, flip a switch, and Ohio is now legal. We had close to 70% of our daily fantasy users who moved over and placed a bet legally in the state of Ohio. So it's been a huge advantage.
SAFIAN: Well, Amy, this has been fun. Thanks so much for joining us.
HOWE: Thank you so much, Bob. Really enjoyed it.