AI + You: 4 ways to scale your personal growth
In part two of our 3-part series on AI + You, we offer an actionable playbook on how AI can help us scale ourselves personally. Personal scale is all about broadening your skill set and strengthening your human relationships. To guide you, host Reid Hoffman speaks to Stanford HAI's Fei-Fei Li, Inflection's Mustafa Suleyman, tech-centric artist Holly Herndon and more AI pioneers. You'll discover how AI can amplify your ability as a leader, coworker, collaborator and friend.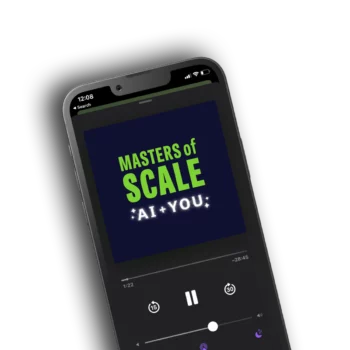 In part two of our 3-part series on AI + You, we offer an actionable playbook on how AI can help us scale ourselves personally. Personal scale is all about broadening your skill set and strengthening your human relationships. To guide you, host Reid Hoffman speaks to Stanford HAI's Fei-Fei Li, Inflection's Mustafa Suleyman, tech-centric artist Holly Herndon and more AI pioneers. You'll discover how AI can amplify your ability as a leader, coworker, collaborator and friend.
Transcript
Transcript:
AI + You: 4 ways to scale your personal growth
HOLLY HERNDON: The voice is a kind of communal organ. You learn through mimicry. We learn through language, we learn through technique. It's in this really interesting gray zone, where it's kind of inside the body and outside of the body. It belongs to you, but also it belongs to the community that you come from. That's why it's such a great inflection point for discussion around AI. 
REID HOFFMAN: That's Holly Herndon. Holly's a musician and artist known for pushing the boundaries of technology's role in art. 
HERNDON: I've always been really fascinated by what I can do with a computer to make my voice do more than my physical body will allow me. Can a computer help me sing forever or sing pitches that I can't physically accomplish? 
HOFFMAN: During the Covid lockdowns, Holly had ample time to pursue this curiosity. She began recording her voice to build a vast vocal catalog. She fed that dataset into an AI model she named Holly+. 
HERNDON: Holly+ is really an art project that's an experiment in open sourcing and decentralizing a digital twin of myself. 
HOFFMAN: When Holly+ sings, she's nearly indistinguishable from Holly. Like any vocalist, Holly is most comfortable singing within a certain range in style, but Holly+ is boundless. Holly adapted this model into a vocal instrument. She invited creatives around the world to use Holly+. 
HERNDON: I have a version that sounds like my natural singing voice that is a real time instrument that people can just pick up a microphone and sing through me. 
HOFFMAN: I certainly wouldn't call myself a singer, but with the power of Holly+, I can channel Holly's talent. Let's play around with it. Sweet Caroline, bah bah bah. Now, let's feed that through Holly+ and hear how it sounds. 
HOLLY+: Sweet Caroline, bah bah bah.
HOFFMAN: AI's impact on creativity isn't just skills-based. It can also give you the confidence to take bolder creative swings. 
HERNDON: I feel liberated to allow her to sing things that I don't know if I would feel comfortable singing myself. It's almost like my cringe factor has been lifted. I'm from East Tennessee, so Dolly Parton is kind of like the queen of my region. It would be too intimidating to try to sing something that she wrote. It's holy, but I would allow Holly+ to do it. 
HOLLY+: (Singing Jolene by Dolly Parton) 
HOFFMAN: To Holly's surprise, AI has scaled her entire creative process. 
HERNDON: It completely has rewired my brain. Sometimes I look at the world and I see prompts. I think AI's really allowing me to make the kind of art that I want to make now, that wasn't possible before. 
HOFFMAN: Holly uncovered AI's power to amplify her creativity, scaling what she's capable of achieving as an individual creator. You don't need to be a creative for AI to evolve your workflow, though creativity is central to business success. The more time you spend exploring AI tools, the more likely you are to find new ways that AI can make you more productive, agile and confident. That's why I believe that AI's potential for human amplification is an unprecedented opportunity for personal scale. 
[THEME MUSIC]
HOFFMAN: I am Reid Hoffman, co-founder of LinkedIn, partner at Greylock, and your host. And I believe that AI's potential for human amplification is an unprecedented opportunity for personal scale. Anyone committed to embracing the infinite learner's mindset will benefit from the exploration of personal scale. By personal scale, I mean the amplification of you as an individual or a business leader. While your business may grow and succeed around you, personal scale is all about broadening your skillset, becoming more efficient, and strengthening your human relationships. 
Normally on Masters of Scale, we dissect the story of an iconic entrepreneur to prove a theory of scale, but as we continue our series, AI + You, we're bringing you something a little different. We'll hear from an array of experts, who have played a major role in scaling AI over the past decade. Their experiences with AI provide a perfect lens for any leader, even in an industry far from the hot core of tech trailblazers. While many entrepreneurs are excited to discover how AI can fuel their business' scale, some of the most exciting potential for AI comes from human amplification. No longer should the conversation center around human or AI. It should be human plus AI. With the emergence of this profound new power tool, you'll uncover countless ways that AI can scale your ability as a leader, coworker, collaborator, and friend. 
So here are four ways to accelerate your personal scale with AI. The first way AI can accelerate your personal scale: offer you a new unique perspective.
#1. Offer you a new, unique perspective
HOFFMAN: Let's begin by hearing from the co-founder of DeepMind, Mustafa Suleyman. In 2015, DeepMind began training its AI models to learn and play the notoriously difficult strategy game, Go. 
MUSTAFA SULEYMAN: Go is one of the hardest and most complex games that has one of the most simple rule sets imaginable. It's a 19×19 board of black and white stones. You just take turns with your opponent, of placing stones down on the board. And when you surround one of your opponent's stones or a couple of your stones of an opponent, you remove them from the board. And the idea is to kind of conquer territory. 
HOFFMAN: The game dates back four and a half thousand years. The total possible configurations of the board is 10 to the power of 170. This is more atoms than they're in the observable universe. What would it take for a computer to master this game? 
SULEYMAN: The goal was to try to design a system, in this case, AlphaGo that could learn strategies of effective behavior by interacting with a simulator of the Go environment. So initially it took the top 200,000 games from expert players that had been recorded over the centuries and used that to kind of bootstrap its performance. 
HOFFMAN: To illustrate the model's ability, Mustafa and his team decided to take AlphaGo to a hub of Go's fanbase: South Korea. The match would be held over five days and live streamed to the internet. 
SULEYMAN: And I had never seen that many cameras all flash at the same time. It was wild. I think it was watched live by a hundred million people. 
HOFFMAN: That's roughly around the same viewership as the Super Bowl. AlphaGo would take on Lee Se-dol, the Tom Brady of the Go World. 
SULEYMAN: Lee Se-dol was a league above anyone that AlphaGo had ever played. So we genuinely didn't know if it was going to be successful. And I remember a lot of worries in the team about whether there would be bugs or there would be other issues or weaknesses in the model. So there was genuine concern. The stakes couldn't be any higher. 
HOFFMAN: Finally, day one of the match arrived. 
SULEYMAN: We took over an entire hotel for the week and we set up a live match room, where one of our team members was implementing the moves that AlphaGo proposed. And Lee Se-dol was sort of sitting there playing on the other side of it, and it was just incredibly tense. You could really slice through the atmosphere with a butter knife. 
HOFFMAN: AlphaGo took game one of five. As both players began to settle into the series, AlphaGo did something that took everyone by surprise. 
SULEYMAN: We got a sense that something unique was happening when we saw the commentator's reaction to move 37, which really was just a remarkable move. 
COMMENTATORS: That's a very surprising move. I thought it was a mistake. 
There might be the first mistake, kind of clear mistake that right made. 
HOFFMAN: AlphaGo placed a stone to enact what's known as a high fifth line shoulder hit. To many experts, this move is ill-advised and goes against common practice. 
SULEYMAN: I mean, the commentator thought that it was a mistake. No human player would ever play such a move, and it confused Lee Se-dol so much that he actually took a 15-20 minute break and walked away to collect his thoughts. We thought, okay, this was the bug that we were anticipating. 
HOFFMAN: The model's limitations were seemingly on show. Mustafa and his team slumped down into their seats. AlphaGo revealed that there was a one in 10,000 probability that a human player would've made that move. Slowly, the mood in the room began to shift, as Lee Se-dol evaluated the board. 
SULEYMAN: It turned out to be the historic move that was genius creativity of AlphaGo. 
HOFFMAN: Move 37 proved to be the turning point in the series. AlphaGo used it to take control of the board. 
SULEYMAN: That was just an incredible roller coaster of emotion. 
HOFFMAN: This shook Lee Se-dol's confidence and things only got worse for Lee from that point on. AlphaGo had the ability to think 50 to 60 moves ahead, helping the model to win game two. Soon, AlphaGo snatched games three and five, beating Lee Se-dol, and making waves throughout the AI world. Not only did Google donate the $1 million winnings to charity, but AlphaGo's deft game strategy proved to have a long lasting impact. 
SULEYMAN: Lots of other experts got to see AlphaGo's games and study them. They reported that it actually advanced their understanding of the game enormously and opened up new insights that they could then develop themselves. 
HOFFMAN: Go players around the world went on to study AlphaGo, sparking events like Pair Go, where experts partnered with AlphaGo to showcase the potential for AI generated strategy in other complex fields. DeepMind also developed a teaching tool which used the model's own analysis of go positions. This shows that AlphaGo's victory didn't spark a replacement of human Go experts. It helped them to improve. 
SULEYMAN: I believe that AIs can teach us new knowledge. And that quest to discover new insights, new strategies, new techniques, new scientific knowledge, new technologies. I think the combination of human and machine is actually to this day still the strongest combo. 
HOFFMAN: A major aspect of your personal scale is the ability to grow and learn. AI can introduce you to unique perspectives and strategies that can revolutionize the way you lead and develop new skills. Imagine for a moment the immense potential for AI to amplify your own work and leadership. The key to amplification is that you're still in the driver's seat. This working relationship will be wholly on your terms. When you want a creative sounding board for new strategies or perspectives, AI will be there for you. Now for the second way that AI can accelerate your personal scale: ignite a collaborative workflow.
#2. Ignite a collaborative workflow
HOFFMAN: Any leader could benefit from a creative teammate that travels with them wherever they go, from brainstorming on a walk to sifting through spreadsheets late at night. One entrepreneur that has successfully integrated AI into his workflow is Elan Lee. Elan is a renowned game designer and co-creator of the popular card game Exploding Kittens. 
ELAN LEE: I use AI three to four times a day at this point. 
HOFFMAN: When designing packaging and branding for a new game, Elan has found AI to be an essential teammate. 
LEE: I ask it: I need three sentences where when you're done reading them, here are the emotions you feel. And here's a title. And what kind of artwork does this evoke? And here's a picture of what a target game shelf looks like. Show me art that's going to stand out from this. 
HOFFMAN: Even if Elan isn't always impressed with AI's ideas, he still sees it as a valuable part of the process. 
LEE: It's a research buddy for me, where it's not ever going to give me the right answer. It's going to help me focus my thinking to hit that formula exactly as I need to hit it. 
HOFFMAN: The realistic approach to using AI is knowing that it isn't going to do your work for you and solve all of your problems. It's a tool best suited to amplify or streamline the work you're already doing. For Elan, any help to condense and simplify complex ideas is often helpful. 
LEE: I will feed in all of the instructions, like six pages of instructions and say, show me this in one page, let's go. And it's really good at that. 
HOFFMAN: One of the things I do to limber up is I'll go write these instructions as a sonnet or as a rap song. Do you do any of that? 
LEE: Absolutely. So my favorite one is just rhyming couplets. I'm not looking to make it rhyme, obviously, but the word choice to get to a rhyme often reveals words that I never would've thought of. 
HOFFMAN: Yeah. I'll write an argument and I'll say, give me the counter argument. How would people critique this point of view to make sure that I'm paying attention? 
LEE: One of my favorite examples of AI… If I supply a sentence, from game instructions, I'll say, draw five cards. You can play any one of them. And I'll say, tell me all the different ways this can be misinterpreted. And it'll spit out these incredible lists. Can I look at my cards? Can I hold them in my hand? Can I show them to another player? What if I draw more than five? What if I draw less than five? I'm just like, right. I missed all of this. I said, draw five cards. I took for granted, keep them secret. And to have that revealed is so lovely. 
HOFFMAN: AI can help shine a light on the limitations of your thinking. Leaders are often busy putting out fires and navigating multiple projects, so the ability to ask AI, what am I missing here, is extremely valuable. Elan hasn't started his journey with AI by mindlessly delegating tasks. No, he's being creative and agile, bouncing ideas off the models and testing the prompt less traveled. If you enter this new exciting chapter with half the enthusiasm and zeal of Elan, I think you'll find yourself making many surprising discoveries along the way. While AI is primed to impact your personal scale professionally, it's equally important to discover how this new technology can impact us interpersonally, making humans even more human. We'll dive into that after the break, so stick around. 
[AD BREAK]
HOFFMAN: We're back with four ways to accelerate your personal scale with AI. To see exclusive clips from my interview with some of our AI thought leaders featured in this episode, head to the Masters of Scale YouTube channel. 
Before the break, we heard how AI can accelerate your personal scale by offering new, unique perspectives and amplifying your productivity as a collaborative teammate. But now it's time to navigate how AI can help us reframe our goals and how we see ourselves as humans. 
The third way AI can accelerate your personal scale: strengthen your human connections. 
#3. Strengthen your human connections
HOFFMAN: While some people fear that AI could weaken human connection, I firmly believe that AI actually has the potential to strengthen it. Someone who shares this belief is Mustafa Suleyman. 
SULEYMAN: We've designed Pi, which by the way stands for personal intelligence, to be really sensitive and kind and supportive. 
HOFFMAN: Pi is a model that Mustafa and I have built together at Inflection AI. 
SULEYMAN: Our thesis was, what makes for great conversation. So Pi needed to be very respectful, very patient, very kind, always curious. 
HOFFMAN: Rather than focus on AI that amplifies our IQ, we were more interested in amplifying the user's EQ, meaning emotional intelligence. 
SULEYMAN: It's not just going to be about directions or getting factual information. It's about venting your frustrations. It's about asking a stupid question that you're sort of too embarrassed to ask a friend or a colleague. Or it's going to be sharing in a quiet, private moment when you sort of want to reflect. 
HOFFMAN: Yeah. And one of the ways that I put a different lens is…the goal of Pi is not to take a lot of time and to distract you from human beings. The goal of Pi is to help you in your interactions as human beings. So if you're like, I have this difficult discussion with a friend, and you start talking to Pi, it's not, oh, just talk to me and I'll make you feel totally better and you can ignore your friend. It's like, no, let me help you kind of, how you engage with your friend and understand each other and have a great conversation as part of the design ethos. 
HOFFMAN: Earlier in the episode, Elan Lee talked about AI's ability to shine a light on the questions he's not asking himself. Similarly, Pi is able to help voice alternative viewpoints in a difficult conversation that you might be glossing over or struggling to comprehend. In addition to being a companion for healthy conversation, Pi is also going to serve many use cases to make your life more productive and efficient. Without the daily rigmarole of administrative tasks, you'll suddenly find yourself with extra free time. 
DAN SCARFE: It'll be a question for you as to how you want to spend that time. I hope that it means that it will free us up to spend more time with our kids and our friends and our family and our loved ones. Equally, it could be that you now have more time to pursue your hobbies and your passions and your new learning interests. Or it might be that you're trying to upskill yourself to change jobs, switch careers, move cities. Each of those things will be something that your personal AI can help you with, too. 
HOFFMAN: Many envisage a technology led future with even more daily screen time than today. However, the power of AI points towards the opposite. If you trust AI to complete tasks on your behalf, you'll uncover more time to nurture relationships and advance your personal scale. As we consider AI's impact on human connection, I wanted to talk to an entrepreneur, who has discovered firsthand, the incredible power of AI to bring people together. 
SCARFE: The Christmas before last, I was back in the UK with my granddad, who was 96 years old. 
HOFFMAN: That's Dan Scarfe, the CEO of XRAI Glass. 
SCARFE: And like most 96 year olds, had unfortunately lost most of his hearing. My granddad was surrounded by his family, just sat there vacant, staring around. He had the most sophisticated hearing aids on the planet, but unfortunately he reached a certain point where they just stopped working. 
HOFFMAN: Dan noticed that his grandfather was fully present and engaged while watching TV with the subtitles on. 
SCARFE: And I had this epiphany: why can't we combine real-time subtitles with augmented reality and create life subtitles? 
HOFFMAN: When Dan returned home from Christmas, he built an app that collected countless real-time AI transcription services into one place. He then partnered with augmented reality hardware manufacturers to sync his transcription app to wearable glasses. In real time, users could look around the room and see subtitles floating alongside the person they're speaking to. 
SCARFE: I can pin these subtitles in 3-D space, lock them next to the person that I'm talking to, and I can then move my head about and the subtitles stay locked, so it's full spatial computing. 
HOFFMAN: When the product launched to the public, its impact was immediate. 
SCARFE: We unfortunately broke the application for a couple of hours a few weeks ago, and we got panicked emails from users saying, it's broken. I can't leave the house. And that's when you know that you're on to something. 
HOFFMAN: You also might be wondering if Dan's grandfather uses XRAI glasses too. 
SCARFE: He does. It's transformed his life. He's able to listen to podcasts for the first time in five years. He's been able to go and have a conversation at a restaurant for the first time in a decade. Things that you and I might take for granted, which are really quite transformational for other people. 
HOFFMAN: There are infinite possibilities for AI to reshape our world. Even if we just consider large language models, this singular form of AI can transform everything from scholarly work to sales, marketing, finance, and law. Groundbreaking evolution doesn't happen at the moment of technological discovery. It's how we use that technology that's most impactful. To direct these transformations, humans must communicate, relate and coordinate, harnessing our collective imagination to make this seemingly impossible, possible. 
Now, for the fourth way AI can accelerate your personal scale: propel you towards your North Star.
#4. Propel you to your North Star
FEI-FEI LI: We can use machine learning AI techniques to really help clinical researchers to search for drugs or create drugs that can cure cancer. That's a huge North Star. 
HOFFMAN: That's Fei-Fei Li. Fei-Fei is a professor in the computer science department at Stanford University and co-director of the Stanford Human-Centered AI Institute. Just as every business has their own mission, every individual has their own goal and moonshot aspirations, their North Star. AI is increasingly making many people's North Star one step closer to reality. 
LI: Another North Star is a superpower in learning. This is a technology that can superpower students anywhere in the world to learn and actually help our educators to empower the teaching and learning process. These are all potential human-centered ways of using AI to reach either your own North Star or collective North Star. 
HOFFMAN: While AI has the potential to help you achieve your goals across any field or discipline, Fei-Fei's own interest was firmly rooted in technology itself. As a student, Fei-Fei became fixated on a couple of mind bending questions surrounding visual intelligence. Loosely, visual intelligence refers to the ability to tell objects apart, like a house from a cloud. 
LI: What is visual intelligence? How do you define it? Those questions really, really piqued my interest.
LI: In the early days of machine learning, we were experimenting with different models on object recognition, where you use probabilistic statistical models to try to describe, say, a cat or a chair, by identifying relevant parts, whether it's ears, tails. But it became very difficult to do. Just because humans see ears and tails, doesn't necessarily mean machines have the same way of putting together those pixels. 
HOFFMAN: This was the problem that Fei-Fei was trying to solve. Her North Star crystallized, gifting machines the power of human-like visual intelligence. Soon, she experienced a revelation. 
LI: I was one day thinking, wait a minute. Developmental psychologists have kind of showed us that kids experience the world in a much bigger scale than what our models are seeing. Our models are seeing hundreds and thousands of pictures, but our kids are spending years and years experiencing the world in a continuous way visually. And not to mention, there is also about a billion years of evolution from the day that a single cell or some form of preliminary life happened on Earth to who we are. 
HOFFMAN: Fei-Fei decided to feed her models more data than anyone could fathom. In the past, Fei-Fei or a fellow researcher had to manually take photos of various shapes and objects, upload them into the computer and label their defining features. But fortunately for Fei-Fei, she began this data collection in 2006, during the surging popularity of the internet. 
LI: Suddenly, you have the world's information at your fingertip. We downloaded so many images across the internet and spent three years to curate a dataset of 50 million images across 22,000 categories. 
HOFFMAN: Fei-Fei named this dataset, ImageNet. It quickly became the biggest archive of photographed objects in the world. In 2009, Fei-Fei published a paper on their progress to very little fanfare. Fei-Fei believed that this dataset would be integral in the study of visual intelligence, but she struggled to gain any attention. 
LI: That North Star might not even be accepted by others yet, but you identify it and you really go after it. 
HOFFMAN: To showcase ImageNet's importance to the global research community, Fei-Fei decided to let anyone use the dataset for their own experimentation. 
LI: The best way to energize in our world is open source. You make this invaluable resource available and invite everybody to participate in a benchmark test. 
HOFFMAN: This benchmark test became the inaugural ImageNet Challenge in 2010 — a competition where researchers and scientists around the world use the ImageNet to train models and illustrate their AI's capabilities to recognize images. For example, the models would be tested to see if they could distinguish between the image of a cat or a microwave. If it labeled the image correctly half of the time, the error rate was 50%. By the third year of the competition, the challenge began to generate more interest. It was during the competition of 2012 that Fei-Fei received a phone call from one of her students, who was attending the competition in Italy. 
LI: My students notified me saying, there's a result that is really surprising. 
HOFFMAN: Deep down, Fei-Fei knew that something special was happening. 
LI: I bought a last minute airplane ticket to fly to Florence, Italy. I ended up squeezing in the middle seat.
HOFFMAN: However uncomfortable she'd be on the 13 hour flight to Florence, Fei-Fei didn't want to miss out on seeing a major breakthrough towards her North Star. After landing, Fei-Fei headed straight from the airport to the auditorium. 
LI: I met Alex Krizhevsky, who is a very, very shy and talented research scientist, and announced the result. It cut the error rate by half or something, compared to previous year. 
HOFFMAN: Using a neural network algorithm, Alex Krizhevsky and his model AlexNet achieved an error rate of 15.3%, which was more than 10.8 percentage points lower than that of the runner up. An error rate of this size meant that the pursuit of a computer visualization was suddenly years ahead of what experts predicted. 
LI: I had no doubt it was a very historical moment, even though the rest of the world was still not aware of that. 
HOFFMAN: There's a certain beauty, obviously, to having that christening rebirth result at one of the ground zeros of the renaissance. 
LI: That's true. 
HOFFMAN: So it has a certain historical echo. 
HOFFMAN: AlexNet's success made massive strides toward Fei-Fei's North Star. Just five years after AlexNet's victory in Italy, the lowest error rate has dropped to below 3%, surpassing human performance. 
Every leader should take note of Fei-Fei's dogged pursuit of her own North Star. AI could be the rocket fuel needed to achieve your most daunting mission. The further you are in achieving your wildest goals, the greater your personal scale. Whether it be Holly+, XRAI Glass, AlphaGo, or ImageNet, AI's use cases are wildly diverse. There's never been a better time to embrace innovative technology, while making strides alongside your personal scale journey. As the dictum goes, we become what we behold. We shape our tools, and then our tools shape us. 
With easy access to these amplification tools, the playing field is more level than ever before, so take advantage. I'm Reid Hoffman. Thanks for listening.